Liberal Lahore
The liberal tradition is being carried forward in Lahore, even in the face of stiff opposition. Perhaps it has to do with how Lahore remains a magical city and its essence is personified by three great souls: Saeen Miãn Mir, Shah Hussain and Guru Arjan Dev – apostles of tolerance, love and peace
Nirupama Dutt
THERE is an interesting tale about the famous 16th Century Punjabi Sufi poet Shah Hussain, whom the Lahoris still refer to as Madho Lal Husain. Madho Lal, a Hindu Brahmin, was the closest friend and companion of Shah Hussain. However, there was a vast age difference between them. Shah Hussain was a celebrated and seasoned poet with a large following and Madho was but a boy. One day Madho said to his friend, "You are famous but what will become of me when you are no longer there? No one will ever know me." That instant, the great master of the kaafi changed his name to honour his friend. The tombs of the two friends have been built side by side in the mazaar. The last Saturday of March saw thousands of devotees, activists, intellectuals and artists marching with flaming torches in hands to participate in Mela Chiragan (The Festival of Lights) at the mazaar, adjoining the Shalimar Gardens, of Shah Hussain. Late evening on the last but one day of March when I call Zubair Ahmad, a friend and a Punjabi writer in Lahore, he can barely hear my voice. "I am going to the mela of Madho Lal Hussain. I can't hear you because a thousand drums are beating," he shouts.
Drums and dance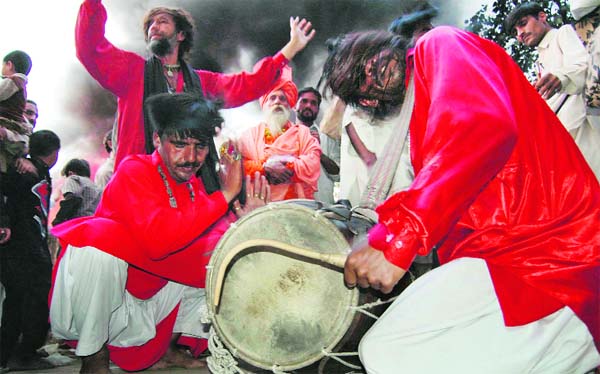 Syeda Diep, who heads the Institute of Peace and Justice at Lahore and is a frequent visitor to India, recounts with delight the three days of festivities: "It was such joy to hear the music and see thousands dancing the dhamaal on the last day, which was especially for women who outnumbered the men. But all three days saw the participation of women. This festival means much to us for it is part of what was once a composite culture. It is very dear to us and it stands for all the values that religious fundamentalists oppose." It may be recalled that during the long and oppressive regime of Zia-ul-Haq, the practice of playing the drum at the mazaar and dancing was brought to an end.
After the suffocating quiet of some seven years, activists from the Panjab University, Lahore, reached there beating a drum and dancing, as they chanted: "Madho Lal, Madho Lal, Mehangi roti, mehangi dal, Ho gaye poore sat saal." Leading them was the renowned Punjabi scholar Najm Hosain Syed of the Sangat fame who holds the weekly Sangat at his home in which multi-religious Punjabi scriptures are read and discussed.
Composite Sangat
It is this face of Lahore which inspires London-based Punjabi poet Amarjit Chandan to say: "Can any Sikh or Hindu fundamentalist imagine the baani of Guru Nanak, Guru Arjan and Bhai Gurdas being discussed and sung in Lahore? That's what happens in Najm Hosain Syed's weekly Sangat, which epitomises the humanist spirit of our times. Lahore is a magical city. Its essence is personified by three great souls: Saeen Miãn Mir, Shah Hussain and Guru Arjan Dev — apostles of tolerance, love and peace. The media these days thrives only on the news of greed, hatred and violence and does not highlight the positive aspects."
Well the month of March that has just gone has seen many positive aspects and the one which has thrilled many is the appointment of a known liberal, Najam Sethi, as the caretaker chief minister of Punjab. Sethi is a known television personality and editor of the Lahore-based weekly The Friday Times. He has been in news earlier for other reasons: Winning awards, being detained without charges, for talking about corruption in his country over the BBC and constantly receiving threats of death for his anti-fundamentalist views.
While some are wondering if Sethi did well by accepting this assignment for he is a well-regarded journalist, with a large fan following. Will he compromise his status in this position? This is a doubt being voiced. The activists have perhaps too great expectations of him. Will he be able to bring the much-loved festival of Basant back to Lahore? Will he be able to bring back the name of the chowk where once stood the Lahore Central Jail to Shadman, in honour of Bhagat Singh and his companions who were martyred here, instead of the new Namoos-e- Rasool Chowk?
Turning point
Sethi, who has long been advocating democracy and secularism for his country, has his eyes on fair elections. Describing it as a turning point in the 66-year history of Pakistan, he said in his popular television show Aapas ki Baat that he wanted the elections to go smoothly because therein lay the future of the country. Appreciating his caretaker status, artist Akram Varaich says: "It is a happy sign that a liberal intellectual has been chosen thus. Sethi has been a principled person. He is a true Punjabi and has always spoken to his son Ali in Punjabi." Ali Sethi is the author of the novel, The Wish Maker. Trained in music, he likes to sing Bulleh Shah and Faiz Ahmad Faiz.
Dilemma of a liberal
In spite of this and more, "liberal" continues to be seen as a dirty word in Pakistan.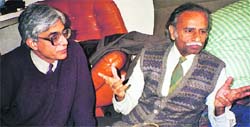 Amin Mughal and (right) Najm Hosain Syed. The latter keeps Sangat alive. Photo: Amarjit Chandan.
Yaqoob Khan Bangash, an assistant professor of history at the Foreman Christian College, Lahore, describes the dilemma of a Pakistani liberal in an opinion piece in The Express Tribune, saying: "A Pakistani liberal is a multifaceted animal. He, and I believe, also she, likes their T-shirt and jeans one size too small; likes to go around in big cars; eats at expensive restaurants; drinks alcohol like a fish; spends holidays abroad; is variously in the pay of the United States, India, or Israel. They keep quoting Mohammad Ali Jinnah's August 11, 1947, speech; are responsible for Pakistan being dragged into the war on terror; are responsible for the continuation of drone attacks; support and pray for Malala Yousafzai but not people killed in drone attacks; supports (and does not support) the Great Khan; and, lest the erstwhile general gets annoyed, likes dogs."
Going by these popular albeit caricatured images, one has little choice but to cluck the tongue and say that what cannot be, will not be and add if one may the refrain of Que Sera Sera! But those who have had the fortune of seeing in Pakistan more than the cricket matches, Anarkali Bazaar or the gurdwaras bring stories home of the other Punjab where liberals will be liberals, no matter what the price they have to pay. Diep says: "We have seen martial law, dictatorship, people's movements crushed mercilessly, religious fundamentalism, and now the fundamentalists are well armed. Many are afraid to speak but there are some who will speak always."
Intellectuals' voice
There is indeed a liberal face of Pakistan but it exists more among the intelligentsia: Poets, professors, writers, artists, peace activists, mediapersons, musicians, women activists, leftover of the Left and the like. Well, this would be true of most countries, including India. However, if one were to compare the liberals of Pakistan and India, it would not be amiss to say that the intensity, spirit and fearlessness is more across the border, even though they are at a greater risk. But for selected pockets of India, we show greater apathy. Visits to Lahore give me a sense of déjà vu. It's rewind to the India of the 1970s, with readings in homes, poetry recitation, intense exchanges and sure signs of struggle. In India, the majority among the minority of liberal intelligentsia seems to have bid adieu to struggle for a just society and is condemned to a race of individual achievements. For many, "liberal" would be a dirty word even here at home too.
Women who dare

Tahira Mazhar Ali Khan
In mid-eighties and in frail health, is a pioneer in women's rights & workers' rights. The daughter of Sir Sikandar Hayat Khan, prime minister of united Punjab from 1937 to 1942, had Jinnah and Nehru as her ideals. Despite her feudal background, she married a communist student leader and became an activist. She is mother of the well-known writer Tariq Ali.
Asma Jilani Jahangir


A leading lawyer and President, Supreme Court Bar Association of Pakistan. She relentlessly works to prevent persecution of religious minorities and exploitation of women. She protested against Zia's decision to enforce religious laws, which would compromise the rights of women. She says: "We cannot remain shackled while other women progress." Set up a women's shelter home in Lahore.

Salima Hashmi
Artist and activist, upholds the progressivism of her father, poet Faiz Ahmad Faiz. Was professor and head of the National College of Arts, Lahore. Activist for women's rights and against nuclear weapons. Record of the sub-continent's history through her father's letters to her mother Alys under the title of Many Paritions, Many Legacies has been widely appreciated.
Madeeha Gauhar


Founder and artistic director of the Ajoka Theatre Group, Lahore. A social activist, has fought for human rights and peace. Received the International Theatre Pasta Award in 2007. Her plays reflect her beliefs and ideology. Staged a play on Sufi poet Bulleh Shah's life. On stage and off stage, plays a role in calling for peace between India and Pakistan as well as depicting their shared culture.
Memory fights forgetting
March 23, the death anniversary of martyr Bhagat Singh (1907-1931) and his comrades Rajguru and Sukhdev, for some years has been a day of altercation between the liberals and the rigid in Lahore. The latter want nothing to do with the patriot who was born in a Sikh home. While the Lahore Central Jail, where the three freedom fighters were hung to death by the British, was long ago bulldozed to make a housing colony, the Shadman Chowk was the spot of remembrance. This year, the writing was clear on the wall as Islamic aid group Jamaat-ud-Dawa, largely believed to be a front for the
militant group Lashkar-e-Toiba, warned the progressives: " "Do not dare to come near Shadman Chowk , Namoos-e- Rasool Chowk now .. Bhagat Singh was terrorist and an atheist."  Yet they went carrying pictures of the hero of a shared heritage and history, opposing erasing of memory and forced Islamisation. Among the activists were Syeda Diep and theatre activists Madeeha Gauhar and Huma Safdar. The police had to intervene to save the liberals from the rage of the other group that has succeeded in getting a court order changing the name of the traffic circle.



Progressives in Lahore defied fundamentalists' threats and came out to remember Bhagat Singh on March 23