M A I N N E W S
Pune blast: Baig, man who assembled bombs, convicted
Tribune News Service/PTI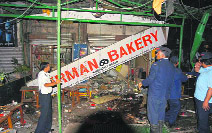 Mumbai, April 15
A Sessions Court today convicted Mirza Himayat Inayat Baig (30), the lone man arrested in connection with the German Bakery blast in Pune on February 13, 2010, of murder and criminal conspiracy. At least 17 persons were killed and 64 others injured in the blast.
"Taking into consideration the evidence before me, I am holding Baig guilty," Additional Sessions Judge NP Dhote said pronouncing his judgement. He will pronounce the quantum of sentence on April 18.
The prosecution had claimed that Baig had sourced explosives used in the blast and helped assemble the bomb planted at the bakery. The bakery is located near the Osho Rajneesh Ashram in Pune's posh Koregaon Park neighbourhood.


Crucial role
March 2008: Baig meets Abu Jundal and Fayyaz Kazgi in Colombo where they plan an attack
Baig returns, starts a cyber cafe at Udgir in Beed district
Jan 31, 2010: Goes to Pune and surveys the targeted site
Feb 13: Yaseen Bhatkal and Baig execute the attack by planting a bomb at the German Bakery
Sept 7: Baig is arrested by the Maharashtra ATS
A resident of Beed in Maharashtra, Baig was arrested in September 2010. Baig was present in the court, which held him guilty under Sections 302 (murder), 307 (attempted murder), 435 (mischief by fire or explosive substances), 474 (forgery), 153(A) (promoting enmity between different groups on ground of religion, race, place of birth, language and doing acts prejudicial to maintenance of harmony and 120 (B) (criminal conspiracy) of the IPC.
Baig was also convicted under various sections of the Unlawful Activities Prevention Act and Explosive Substances Act.
The court accepted the prosecution's contention that it was a "carefully planned and executed attack calculated to terrorise the public in general by causing extensive damage to life and property."