M A I N N E W S
12 die as jeep plunges into gorge in Chamba
Balkrishan Prashar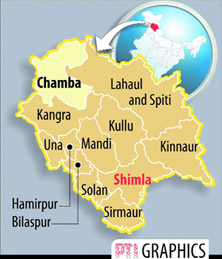 Chamba, April 15
Twelve persons were killed when the Bolero vehicle (HP-73-2533) in which they were travelling veered off the road and plunged into a 700-m-deep gorge on the Bharmour-Harchhu road, about 16 km from Bharmour tribal township of Chamba district, last night. The vehicle landed in Kuthar nullah that runs across the gorge.
Chamba SSP BM Sharma said the deceased included 11 boys and the driver of the ill-fated vehicle. The boys were on their way back home after playing a cricket match at Badgran.
Local people helped the police in extricating bodies from the nullah. Those killed were: Driver Raj Kumar (29), Yog Raj (23), Amit (15), Laky (16), Ramesh (26), Sarwan (24), Ravinder (15), Santosh (18), Rakesh (24), Anoop (11), Kahan (24) - all residents of Palan village - and Pritam (26) of Dhurainka village.
The deceased were cremated at their villages.
An immediate relief of Rs 10,000 was given to the next of kin of each deceased and a magisterial inquiry has been ordered into the incident.
Governor Urmila Singh, Chief Minister Virbhadra Singh and Forest Minister Thakur Singh Bharmouri, who represents the Bharmour tribal Assembly constituency, have expressed grief over the accident and conveyed condolences to the bereaved families.
Vidhan Sabha Speaker Brij Bihari Lal Butail and former Chief Minister PK Dhumal have also mourned the death of the youths.