Band-wagon rolls on
When it comes to exploring its young creative talent, especially in music, Chandigarh unknowingly sabotages its repute of being the artistically impotent town for the retired! Had it not been for the virtue of these young artists and their musical talent, the city hotels and lounges would not have gone beyond the ghazal singers, stationed at a cornered stage, making futile efforts to entertain the disinterested crowd.
Traditional ties
A man goes door-to-door and offers plums in exchange of garbage; he is actually in search of a wife who is caring and sorted... confused? This is the story of the puppet show titled Garbage for Plums by Bulgarian artists.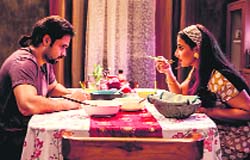 Different take
Out-of-the-box is the word…in business ventures, in creative fields and even in relationships. These are the same words that make filmmaker Raj Kumar Gupta think, act and make films that are different. From Aamir, No One Killed Jessica, and now Vidya Balan and Emraan Hashmi starrer Ghanchakkar, this director would walk and even run an extra mile to bring a fresh whiff to his films.
A still from Ghanchakkar

Par Excellence


Joint effort
The overhead deep squat is the most important exercise/test for golf fitness. The ability to perform this test requires good ankle movement (dorsi-flexion), ability to bend correctly from the knees and hips (flexion) as well as extension of the thoracic spine. which is the ability to pull your shoulders back and keep your chest extended. If there is a weakness in any of these areas you will not be able to perform this exercise. Therefore, it tests almost all the golf-specific muscles as well as joints and is the most important test.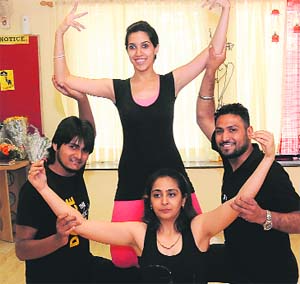 Spring in step
Are you looking for some familiar faces who have trained over four thousand students in the last three-and-a-half years? If you are, the search ends here. "We have shifted our institute from Sector 18 to the premises of the British School, Sector 44, Chandigarh, for betterment," says Jaskshan (Jasmeet Kaur Shan), the dance facilitator at Dance Dacha.





happy feet: The members of Dance Dacha group
Photo: Manoj Mahajan


Master Chef
Food goes festive !
There's fast-food, and there is fast -food. One is sinfully rich and calories laden, quickly turned out at cafes and roadside carts ; the other fast-food is what "vrat" keepers consume during Navratraas and other festive times. We bring our fasting friends a refreshingly different version of a Swedish delicacy called Roesti. It can be made with sweet potatoes or the good old potato itself.
TRENDSETTER
Cool & chic
Somebody who is making heads turn and has real panache when it comes to dressing is our trendsetter Rajani Muthal, a fashion designer.
Dress up
Pump up your style with Trendy Divva's latest value range collection especially launched for the summers. The glamour wardrobe goes penny wise at Trendy Divva stores, to cater to the needs of every woman who wants to look like a diva.
Stylish spread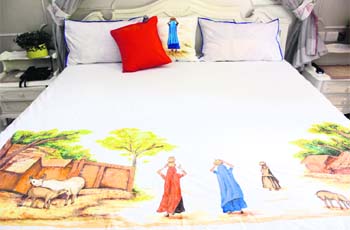 If you're done with the same old room and the clichéd bedcovers, its time to bring in some change and make your room all the more exciting with the revolutionised designs of bed sheets and covers in the market. And now that we are in summer, a blend of cool and classy is what we aim for. Here, Mango Spreads, the new furnishings and home decor brand in the circuit has all of this and much more to offer! Promising to be urbane, classy and elegant at the same time, the whole new collection of the brand has caught much attention!
star track
Candid opinion
Rapper Nicki Minaj feels she is brutally honest to the talent show contestants because she cares deeply for them.



Emraan in for a change


Charting her own course


Spicy Indian treat for Brangelina


Daddy's darling


The fake inking


Fatigue toughest part of parenthood: Matt Damon
chatter box
Addicted to telly town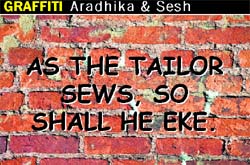 Pooja Banerjee, the beautiful Bengali lass from Nagpur, who rose to fame on the front burner of Roadies 8, is full of positive energy and it comes across in her full-throated laughter. She is currently playing the role of Rudrani in the show, Sai Baba, and she is seen in Gajendra Singh's first TV show, Ghar Aaja Pardesi that is telecast on Sahara One. Pooja is a national level swimmer, athlete, dancer, and choreographer. She talks to Life+Style about the show, her passions and more...



Completing a full circle


Animation, action and adventure


In happy space