M A I N N E W S
Terror revisits US, Boston Marathon targeted


Twin blasts near finish line leave 3 dead, 170 injured


Residence of Saudi Arabian student searched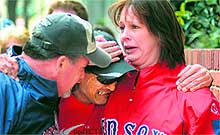 A runner being consoled by his friends after explosions in Boston. — AFP

Boston, April 16
In an apparent terror attack on the US soil, two bomb explosions ripped through the cheering crowd at the finish line of the popular Boston Marathon, killing at least three persons and injuring 170 others.
The two blasts occurred within seconds on a sidewalk along the 42-km route of the Boston Marathon, where thousands of people had lined up to cheer on the marathoners early this morning.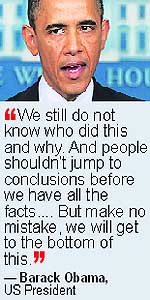 FBI and Homeland Security agents later carried out searches at a high-rise apartment building seeking clues to unravel the plot behind the twin blasts, suspected to have been carried out by home-grown terrorists.
At least 144 persons were being treated at hospitals, with at least 17 of them in critical condition and 25 in serious condition. At least eight of the patients were children. Law enforcement sources said the dead included an eight-year-old boy.
The authorities also found two devices at two other locations in the city, but they did not explode. Several cities across the US, including New York, Los Angeles, Chicago and Washington, have been put on alert.
FBI special agent in-charge Richard DesLauriers said the probe into the blasts was an "ongoing and criminal investigation that is a potential terrorist investigation".
US President Barack Obama described the act as "senseless" and affirmed that the perpetrators "will feel the full weight of justice". Obama cautioned that "people should not jump to conclusions before we have all the facts... But make no mistake, we will get to the bottom of this." Investigators descended on a high-rise apartment building in Revere and conducted a search, for nearly nine hours, related to the investigation into the first large-scale bombing in US since the 9/11 attacks.
The apartment search was related to a man who is reportedly under guard at Brigham and Women's Hospital. The man is a Saudi national who is on a student visa. — PTI
First terror attack after 9/11
Annual Boston Marathon, held since 1897, attracts half-a-million spectators and 20,000 participants every year
This is the first bombing on US soil since security was tightened after the 9/11 attacks
Major cities across the US put on alert
Britain is reviewing security for its Sunday's London Marathon that will go ahead as planned
No Indian casualties yet: MEA
The Ministry of External Affairs on Tuesday said the Indian Embassy in Washington DC and Indian Consulate General in New York had been placed on alert although no reports had yet been received of injuries caused to Indian nationals following the blasts.

PM condemns Blasts
New Delhi: President Pranab Mukherjee and Prime Minister Manmohan Singh on Tuesday condemned the Boston bombings. Manmohan wrote to US President Barack Obama calling the bombings a "senseless and cowardly" act and offered India's help in probing the attack.