M A I N N E W S
SC: Can't use 2-finger test on rape victims to prove consensual sex
R Sedhuraman
Legal Correspondent
New Delhi, April 17
In a far-reaching ruling that will impact thousands of rape cases pending in courts across the country, the Supreme Court has held that the two-finger test on rape victims should not be used to prove consensual sex.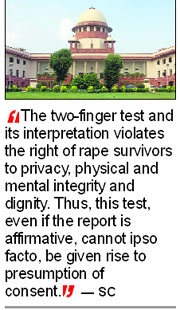 "Undoubtedly, the two-finger test and its interpretation violates the right of rape survivors to privacy, physical and mental integrity and dignity. Thus, this test, even if the report is affirmative, cannot ipso facto, be given rise to presumption of consent," a Bench comprising Justices BS Chauhan and FMI Kalifulla ruled. Rape survivors were entitled to legal recourse that did not re-traumatise them or violate their dignity and physical and mental integrity, the Bench noted citing the United Nations Declaration of Basic Principles of Justice for Victims of Crime and Abuse of Power 1985.
"They are also entitled to medical procedures conducted in a manner that respects their right to consent. Medical procedures should not be carried outin a manner that constitutes cruel, inhuman or degrading treatment," the apex court held in an order passed last week.
The health of such victims should be of paramount consideration while dealing with gender-based violence. The Bench made the observations while dismissing the appeal of a rape convict from Haryana who had challenged his seven-year sentence for committing rape in 2001.
In this case, the SC noted that the two-finger test was anyway immaterial as the victim was only 13 years of age and hence the question of her consent to sex did not arise.
Court's Take

Medical procedures should not be carried out in a manner that constitutes cruel, inhuman or degrading treatment

Proper measures should be taken to ensure rape survivors' safety and there should be no arbitrary or unlawful interference with their privacy