The smart car
Equipped with GPS and real-time traffic navigation systems, trouble-shooting devices, bluetooth speaker phones, cameras with wide-angle views of the road, etc. the intelligent car has revolutionised driving
Divisha Saran
So you thought people behind the James Bond movies went overboard when they conceptualised vehicles loaded with gizmos — a device that would read an important e-mail message aloud to its occupant or slam emergency brakes on its own or offer the occupant heated seats in winters, or even a glass of chilled champagne? Perhaps, not.
Gone are the days when cars just came with factory-fitted accessories like floor mats and audio systems. Today luxury car makers are offering a lot more like GPS systems, bluetooth speaker phones and window tints to block UV rays.
Experts say that in the last one decade, automobile leaders are giving accessories which are as sparkling as the car itself. Some of today's top-end automobiles are packed with more electronic accessories than the average helicopter. Intelligent car is not only revolutionising driving but also its comforting accessories are a marvel of modern technology.
Technology driven
Most leading auto manufacturers are coming out with technological-driven accessories like trouble-shooting devices that work wonders in an emergency. If the car stalls in the middle of nowhere, the device will check the engine and then take you to a website, which offers a way to fix it up.
Other state-of-the-art accessories include real-time traffic navigation devices, cameras to provide 360-degrees wide angle views of the road and apparatus that will allow owners to monitor their vehicle from anywhere in the world via a smartphone.
On a lighter note, there are fancy accessories like carlashes for headlights, wine racks, driver alert wristbands, coffee/tea makers, pop-up television screens, heart rate monitors and touch-button technology to change your glass colour from all-clear to any shade and anything else that catches your fancy.
When Hyundai's luxury sedan Equus was launched in 2011, it offered a free iPad that included how-to videos, interactive features, location of service facilities in the city and a lot more.
Foldable scooter
When Honda City was launched in Japan, it offered a Motocompo as an accessory with the purchase of the car. The Motocompo was a foldable scooter that could be fitted in the trunk of the car as a solution to parking problems. Drivers who found parking far from their house or office could pull out the scooter and ride the rest of the way.
Though Honda has discontinued the Motocompo, BMW has revived the concept with its iPedelec (Pedal Electric Cycle), an electric bicycle designed to fit into the trunk of the car, which can be used if one is parked a fair distance from the destination.
There are accessories and more accessories in the market. Some that make eminent sense and have high utility, others that are simply there to do specific jobs and still others that are laughable to the extent of being weird and even bizarre.
Corny stickers
For example, if you are a fan of Cuban cigars and you like your cigars immaculately aged, then you need a car humidor that retails for $4,000 (~2.20 lakh) which sits pretty on the car along with those cigars. Not just that, if one is a foodie, there is even a French fry holder, so that you can merrily munch your favourite junk food, even while driving the car. Then, there are corny stickers to make the reader laugh…stickers that look like bullets holes giving the impression that the car has been shot at.
There are many who take great joy at making themselves look different and they do this at times by fixing their wheels with funky programmable LED lights that display logos, texts and even photos.
Weird devices
Though some accessories have high utility and others are downright funny, there are few that are downright weird, and even hazardous.
The flame-thrower fitted to the exhaust of the car is one of them. At the push of a button, the exhaust throws a flame to a distance of 20 feet. However, this bizarre accessory has been banned in many countries because of its hazardous intent.
Then there is steer safe car kit that lets you clip your smartphone on the steering wheel for you to have a hands-free conversation or read an occasional message. Could anything be dumber than that? Yes, there are other ill-conceived accessories like the steering wheel laptop table so that you can browse your e-mail while driving.
Though there is no dearth of no-brainer gizmos, thankfully there are an equal number of sensible accessories that make driving safe, comfortable and fun.
Multi-purpose rear view mirror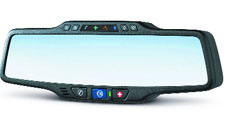 The OnStar FMV elegant rear-view mirror connects motorists with emergency services and an automatic crash response at the press of a button. The service also provides roadside assistance and can even help find a stolen vehicle. It comes with bluetooth for hands-free calling.
Price: $100 Rs 5,500




Trailblazer universal car charger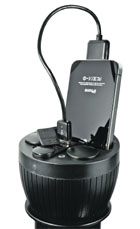 The TrailBlazer Advance Pro universal carcharger is three devices rolled into one. It is a phone holder, a car charger and a USB cigarette lighter. The holder is sturdy and simple to quickly fit and release the phone. Its adjustable arms can hold the iPhone in any way you want.



Price: $19 Rs 1,045





Car tent
Are you in the mood of a spontaneous adventure to the great outdoors? If yes, then you need a Sportz Tent by Canada-based Napier Enterprises. This special tent fits into most SUVs and hatchbacks. It is water-resistant and keeps you bug free and can be removed to be used as a ground tent.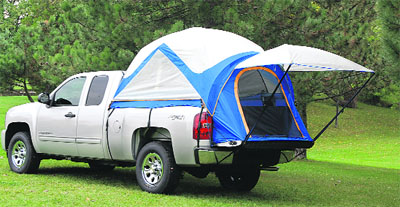 Price: $330 Rs 18,150



JVC navigation head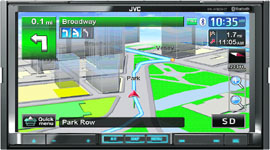 The JVC Navigation Head has a 7-inch monitor that displays 3D maps in vivid detail. It also has regular traffic updates and in-dash apps. The navigation head is compatible with every music configuration and digital device and it also facilitates bluetooth hands-free calling.



Price: $850 Rs 46,750







Dog car booster seat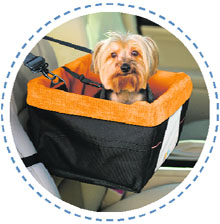 We all look for comfort while travelling in a car. But what about our four-legged friend? A website for canines www.doggoneglamorous.com is offering a dog car booster seat that ties around the front headrest to give your pet a luxurious ride and also a good view of the road.






Price: $60 Rs 3,300





Thermador car cooler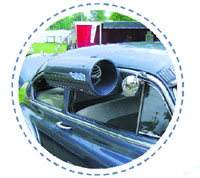 Though most cars are air-conditioned these days, the window-mounted Thermador car cooler is still a luxury in many old and vintage cars and works best in dry heat conditions. Hot air from the surrounds evaporates water inside the cooler, which in turn throws chilled air inside the car.



Price: $300 Rs 16,500





Kitchen in the car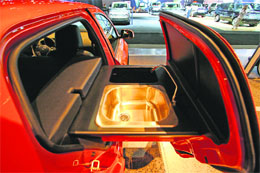 Call it a kitchen car or kitchen in the car, the Scion Kogi xD is a mobile kitchen from the California-based MV Designs that lets you have food cooked by your own hands wherever you go. The kitchen includes a mini-fridge, a sink, a barbecue and space to store utensils and foodstuff.



Price: $15,345 Rs 8,43,975





Portable petrol pump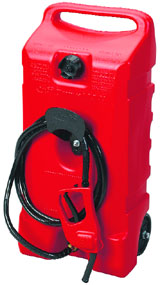 Are you forgetful about the amount of petrol in your car tank? All you have to do is to carry a portable gas station from online retail giant http://www.hammacher.com. The 50-litre petrol pump has a siphon that instantly stops and starts the flow of petrol filling the tank in five minutes.










Price: $170 Rs 9,350





Speed camera detector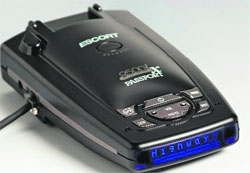 If you're trying to avoid a speeding challan, then the Escort Passport 9500ix Radar Detector will be of great use to you. It can detect any speed camera at any location and alert you. All you then have to do is to slow down before you are detected. But remember, it is safest to drive slow.



Price: $500 Rs 27,500





Child car seat cum carry cot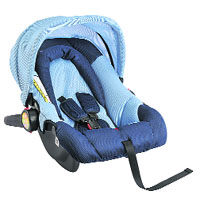 Holding your baby in your arms in a moving car can be risky in case of a mishap or sudden braking. What you need is a Mee Mee baby car seat-cum-carry cot that secures the baby, has soft side impact protection, a safety harness and chest pad. It can be removed and used as a carry cot.



Price: Rs 5,000





Automobile collectibles
The demand for accessories and collectibles is so great that a majority of car makers have their own collections. Here's looking at the top-end collectibles by the world's leading car makers.

Bentley: One of the most luxurious British cars has a line of accessories ranging from mugs, apparel, leather bags, teddy bears, and more. The price range is from £5 (Rs 275) for a Bentley lapel pin, to £950 (Rs 80,000) for a Breitling desk clock.




Mercedes Benz: The German car giant has a mindboggling range of accessories that include watches, wallets, sunglasses, cufflinks, mugs, brooches, key rings, model cars, bags, leather luggage and more ranging between £2 and £450 Rs 175 and Rs 38,000)





Audi: The Bavarian auto leader too has a line of collectibles and accessories that include watches, mugs, key chains, bags and baggage, to-scale car models, golf and tennis paraphernalia, stationery and a lot more ranging between $2 and $350 (Rs 110 and Rs 19,250)



BMW: The Bavarian Motor Works, popularly known as BMW, has one of the largest list of collectibles, which include apparel, caps, footwear, helmets, keychains. It has most of the imaginable collectibles ranging from $3 to $700 (Rs 165 to Rs 38,500).