Not out in life's battle
Reviewed by Rohit Mahajan
The Test of My Life: From Cricket to Cancer and Back
by Yuvraj Singh with Sharda Ugra & Nishant Jeet Arora.
Random House. Pages 189. Rs399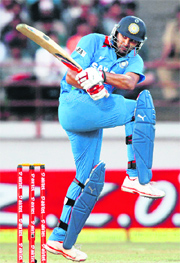 The extraordinary story of Yuvraj Singh's return to cricket after being stricken with cancer is a tale that simply had to be told. It's an inspirational story, a very personal story in which Yuvraj, quite courageously, sheds the veneer of confidence — arrogance, even — that used to characterise him.
The man who emerges is perhaps the real Yuvraj Singh, a young man scarred as a boy when his parents' marriage broke, scarred by his father's harsh, often cruel coaching in cricket. A sensitive and thoughtful lad who, when still a teenager, bought his mother a house where, he writes, "We realised how quiet and peaceful a house could be".
Yuvraj writes that his life is now filled with happiness and gratitude. He knows that he's a very fortunate man, for "I have been given a second chance in life".
He is aware that being a cricketer was a blessing in his fight against cancer. What if he had been just another sportsperson and got diagnosed with cancer? He answers the question himself: "I would most likely not have been able to bear what my loved ones would have had to go through. It would have been easier to give up and walk away from the sport I loved."
Yuvraj was fortunate that he had the complete support of the super-rich Indian cricket board, and access to the most advanced treatment in the world.
He was also fortunate that the tumour, mediastinal seminoma, located between the lungs in his case, "is curable in most cases". Yuvraj writes that the "tumour was out… cancer cells were dead" after two of the three chemotherapy cycles he went through in Indianapolis, without resorting to surgery.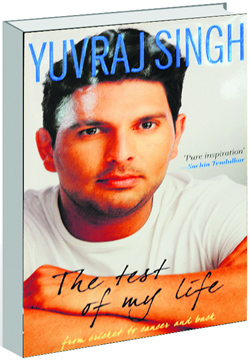 Now, most of us would know or have heard of cancer survivors who underwent surgery, and up to 10 cycles of chemotherapy, and radiation. Yuvraj, fortunately, was never in mortal danger due to the tumour itself; except that, during the time he delayed treatment for eight months, his doctors told him he could have died of a heart attack because the tumour had been pressing against an artery.
The word 'cancer', though, inspires fear that only those suffering from it can fathom. Yuvraj was brought face to face with mortality. For a 29-year-old superstar, the Player of the Tournament in the 2011 World Cup, the possibility of being afflicted with cancer was incomprehensible, impossible to accept.
Without medical intervention, without chemotherapy or the platinum-based drug he was given, he had up to six months to live, his doctors told him. This is the biggest lesson from his story, if cancer is detected, strike it early and hard.
Even more than the treatment he underwent, during which, frankly, he simply followed doctors' orders, his return to cricket is a testament to his toughness. It defies belief that Yuvraj was back in the Indian team six months after chemotherapy ended. That within seven months, he made 208 in a Duleep Trophy match, having batted five-and-a-half hours. Now that's a real tough man!
This is the Yuvraj that has become an inspiration to cancer patients and survivors, even if only a handful of Indians can afford the treatment he had access to. Yuvraj, mindful of this, has launched a charity that works for the early detection of cancer.
The Yuvraj story is not heroic merely for his fight against cancer. It's more heroic for what he has done after beating cancer, and what he intends to do for the rest of his life in the fight against cancer.
Yuvraj tells his story with simplicity and directness, eschewing a professional's flourish. He doesn't shy away from revealing his pain and tears; he describes the effects of chemotherapy with clarity and vividness. There's a sense of unity and coherence in the narrative, possibly owing to the two co-writers. Despite the presence of two of them, it clearly is Yuvraj's book. The co-writers have ensured that the voice that emerges from the book is that of the cricketer himself.