Startling discoveries, cityscape & metafiction
Reviewed by Balwinder Kaur
The Secret Gardener
by Kalpana Swaminathan
Penguin. Pages 245. ~299.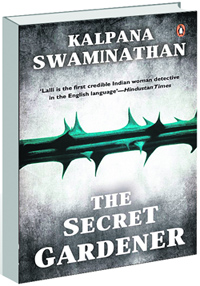 With his last breath, a petrified gigolo claims "I did not do it..." and dies after rasping out an address: 24 Patwardhan Cross.
Determined to find those responsible for his demise, Kesarbai requests detective Lalli for help and forgiveness. But Kesar herself is killed the very next day and Lalli must find the killer of the woman who set her up for a horrible death many years ago.
Strangely enough 24 Patwardhan Cross is the same place where the sphenoid of a 70-year-old man and the severed finger of a young woman have also surfaced. And now its latest occupant Priya has been suddenly kidnapped and just as quickly released.
With a cool head and sure hand, Lalli sorts through baffling clues and conflicting testimonies to unearth a criminal trail that has gone cold but still poses a clear and present danger.
New Market Tales
by Jayant Kripalani
Picador India. Pages 197. Rs299.
For centuries, Calcutta's New Market has lured people from far and wide; tempting them to splurge and indulge. However preoccupied with the dazzling display, few among the crowds that throng this vast spread notice the people behind the counter.
In Jayant Kripalani's trip down memory lane, memories become stories when the actor-director revisits his home town Calcutta in his new avatar as writer.
He shares the cherished experiences of his early years spent among this eclectic group of individuals whose personalities are as diverse and fascinating as the wares they sell From the residents to their descendants, there is a complete gamut of backgrounds, interests, predilections and dispositions.
Filled with amusing anecdotes and touching stories, New Market Tales is a captivating read that does justice to its inspiration.
The Dying Sun
by Joginder Paul.Translated
by Usha Nagpal and Keerti Ramachandra
Harper Perennial. Pages 200. Rs 299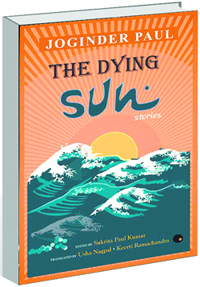 With remarkable skill, acclaimed Urdu writer Joginder Paul involves the reader in the lives and predicaments of his compelling characters as their hearts and minds are exposed for scrutiny.
Every few pages he opens up vastly varied vistas of time and place where people from all walks of life struggle to cope with their lot. Kasturi Lal grapples with isolation. Yograj and Rukmini's marriage is doomed by his chronic procrastination and her competitive overachievement.
The dying Bade Babu must acknowledge the role he played in his own father's death. Then there are the stories within stories as fictional characters take on a life of their own.
The hero and heroine of a novel tire of being separated and give the writer the slip to elope. While the aged Heer Ranjha resent their popularity and crave oblivion.