Making a world of difference

Welcome to the trend that is engaging more and more youngsters in the 18-35 age group. These motivated youngsters, be it from India or abroad, have given social work a makeover and made it a lot more professional
Taru Bahl
Adesign student rebranding a company's logo; a Ph.D in digital media creating a new website; a yoga teacher training students in self discipline; a budding filmmaker producing videos; a college student working with slum children. This and more are themes taken up by volunteers, who spend one month to three years working with organisations of their choice, usually gratis, or at best getting an honorariam that covers just their cost of commuting.

(Clockwise) Gopika Dhawan joined the YP Foundation to work with underprivileged children to pay back to society; Yosha Moudgil was with Delhi's Shriram School when she volunteered for four days at a remote school in Pun Pun, Durbuk Block in Ladakh last year. She set up a library, held reading programmes and art and craft workshops; and UK-based Guy Brickley, who volunteered for a school in Purkal for two years, held English-learning workshops and yoga sessions for those in rural areas.
---
ARTS
Eye on India
An exhibition in New Delhi explores the identity and visual representation of Indians from 1850 to 2013
Aditya Arya
The project "Re-Imaging The People of India" has been inspired by my passion for studying and collecting the images from the early years of photography, especially in the context of the Indian subcontinent. It also relates to my study of the evolution of the visual space with the advent of new technologies, from cameras with no shutter to high-speed electronic devices.
---
Fitness
B(re)aking bread
The debate on which is healthier, brown or white bread, has been on since 2,000 years, from the time of Hippocrates
The aroma of fresh bread is truly irresistible. Bread consumption over the years has been on the increase both in urban and rural settings. In fact, the number of varieties which one sees these days is mind-boggling. There are eateries specialising only in bread making. What is it about bread that makes it such an all-time favourite through generations all over the world; for many even a craving!

Health Capsules
---
Society
Child's play is serious business
Since most parents are paranoid about safety, children are discouraged from venturing out of the house, let alone being allowed to play with neighbourhood kids. This impacts their social skills
Aditi Garg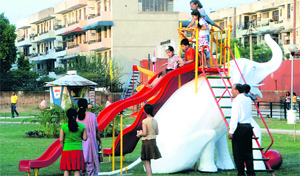 A big part of the childhood of those who grew up before the 2000s was spent in parks or on the roads playing cricket, hop-scotch and many more games. Life was full of endless hours of fun.




Playing in a park with peers helps a child to develop social skills

---
SMSes, online chatting affect student grades?
Vibha Sharma
A US study, conducted recently has suggested children spending long time over texting on social networks and the internet do less well in the classroom. It has been found by other studies as well that when students engage too much in sending and reading text messages, it can adversely impact the ability to understand and learn the course material, thereby impacting the grades that they receive in their courses.
---
TRAVEl
Best of Bastar
A wonderful place that boasts of having the densest forests after the Amazon. It also has India's answer to the Niagara Falls. One of the world's oldest tribal communities lives in Bastar
Tanushree Podder
One of the perquisites that come with a transferable job is the opportunity to see the remotest parts of the country while rubbing shoulders with the locals. At times, some places seem like bonus. We were just about 300 km away from a wonderful place that boasted of having the densest forests after the Amazon and also houses India's answer to the Niagara Falls.
Nature's backpack
The Pine Hills Eco Camp, near Barog, soothes your senses and offers a lot of action for adrenaline junkies
Mona
A pristine pine forest, a lazy climb up amongst the floating clouds and a cosy campfire as the sun takes a plunge into the horizon, it's a setting straight out of dreams. The Pine Hills Eco Camp is just a one-hour drive from Chandigarh.
---
ENTERTAINMENT
The disappearing act
Many actresses who were one-film wonders have faded into anonymity. A close look at these 'stars' of Bollywood, who once made a splash with their debut films
Shoma A. Chatterji
Bollywood is a fickle world and stardom is as flighty as a feather that flies away in the gentlest of breeze. Actresses who made sparkling and successful debuts have faded away into anonymity, and no one really knows why. There is no formula in what makes stardom tick and what doesn't. The list, despite the sustaining power of an Aishwarya Rai or a Priyanka Chopra, keeps growing.
---