Natureís backpack

The Pine Hills Eco Camp, near Barog, soothes your senses and offers a lot of action for adrenaline junkies
Mona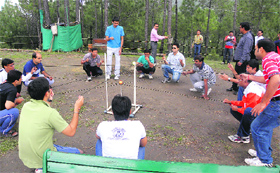 The camp provides a plethora of activities for adventure lovers
A pristine pine forest, a lazy climb up amongst the floating clouds and a cosy campfire as the sun takes a plunge into the horizon, itís a setting straight out of dreams. The Pine Hills Eco Camp is just a one-hour drive from Chandigarh. The campís location in the deep forest area in Barog hills makes it an ideal destination for those who want to rough it out during the day and take a calm nap in Mother Natureís lap at night.
The brainchild of two ex-Army officers, Maj-Gen Harwant Krishan and Brig Tumpy Nagra, the facility is right in the middle of the forest and totally in sync with nature. Since itís an adventure camp, the visitors are put up in tents. These may look like huge jungle tents, but amenities provided are quite adequate with comfortable double bed, a couch and an attached bathroom with hot water.
While one is busy soaking in natureís bounty, the camp also provides a plethora of activities. The hikers can head for uphill trek to nearby Panch Mundiyan peak or simply take a stroll in the pine jungle. The adrenaline junkies can hit the exhilarating rappelling zone (remember Tom Cruise at Grand Canyon in Mission Impossible).
Then there is flying fox, a must-do for any adventure seeker. Secured to a harness, here you will be zipping through trees. As a go down, you will feel a heady rush.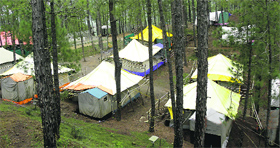 An overview of the camp site
The early evening is reserved for a special obstacle course. Designed by the two officers, it will test you and your teamís mental and physical endurance. There are commando and Burma bridges stretching your vertical limits. A Tarzan swing will help you wade through difficult patches and a spider web will help you ensure firm footing.
The camp commanders are always by your side, motivating you, egging you to go on and climb up that last ladder.
As the night sets, itís time to bond and celebrate with giant bonfire. The Dagshai and Kasauli hills are all lit up and add to the night sparkle. Dinner is at nine and after a meaningful daylong physical bout, nothing seems more alluring than your tent. Doze off and wake up a rejuvenated you!
Quick facts
How to get there
From Delhi: Catch a flight or train to Chandigarh. You can go by road to Barog ahead
Distance from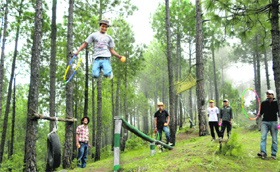 Test your physical prowess, you will come out a winner
Chandigarh Airport
65 km
Chandigarh railway station
60 km
Kalka railway station
40 km
Barog railway station
5 km
Recommended
At least a nightís stay (more the better), for there is no parallel to camp fire at the ridge at the camp, listening to wild nature sounds. Check out their website www.pinehillsecocamp.com to customise your stay.
Pricing
Rs 2,350 per person per night (includes meals and activities per night)