Entertainment
The disappearing act

Many actresses who were one-film wonders have faded into anonymity. A close look at these 'stars' of Bollywood, who once made a splash with their debut films
Shoma A. Chatterji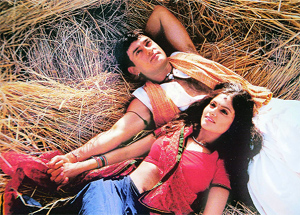 Gracy Singh with Aamir Khan in Lagaan
Bollywood is a fickle world and stardom is as flighty as a feather that flies away in the gentlest of breeze. Actresses who made sparkling and successful debuts have faded away into anonymity, and no one really knows why. There is no formula in what makes stardom tick and what doesn't. The list, despite the sustaining power of an Aishwarya Rai or a Priyanka Chopra, keeps growing. The glamour, the chutzpah, the razzmatazz are all for the moment, like the two-headed coin Amitabh kept clicking in Sholay.
Take a closer look. Bhagyashree Patwardhan tops this list of disappearing divas. Her incredible success in her debut film Maine Pyar Kiya (1989) drew a long queue of producers at her door. But the love-crazy beauty said 'no' unless the producers roped in her fiancé Himalaya. The sole producer who took the bait lost his money and goodwill in the project. Marriage and motherhood followed and Bhagyashree tried her luck once again on television. But the attempt failed and one sees her only in small-time advertisements across small towns. She is beautiful, feminine and full of grace. With practice and experience, she would have shone as a glamorous star with audience pull but that one wrong move spoilt her career forever.
Gracy Singh sailed smoothly from a successful television serial right into Ashutosh Gowarikar's Lagaan opposite Aamir Khan. A graceful dancer, Gracy is not very up market in the acting department but she was admired by all who watched Lagaan, expecting to see more of her on the big screen. She was extremely lucky in landing films opposite Ajay Devgn, Sanjay Dutt and Anil Kapoor but her lack of discipline and professionalism failed to get her more roles and she slowly faded out of public vision and memory.




Preeti Jhangiani, who played a young widow in Mohabbatein, failed to click at the boxoffice
Gayatri Joshi held up for every scene she did in Ashutosh Gowarikar's Swades opposite Shah Rukh Khan. She had a beautiful dignity that glamour-struck newcomers do not always reveal. The character she portrayed was strong, focussed and determined and she did full justice to it. The film brought her fame and adulation but she withdrew from the industry and opted to marry her boyfriend, a noted hotelier.
Take the example of the pretty and glamorous Preeti Jhangiani. After a successful stint at modelling for soaps and toiletries, she was picked to play a young widow in Mohabbatein (2000). The film was spilling over with big stars with a generous sprinkling of newcomers. But Preeti was left with indifferent assignments that failed to click and chose to marry co-actor Parveen Dabas to retire from films. She is trying to revive her non-existent career with a comeback in a Bengali film but the film is yet to see the darkness of the theatres.
Look-alikes rarely click in Bollywood. This must be the reason why Shamita Shetty, who wore the briefest of briefs in Mohabbatein to make a mark where her sister Shilpa was already successful, failed to make it in Bollywood. Despite the Yash Raj banner, her demand remained limited to LTC dance numbers (leg-thigh-cleavage) in films like Saathiya, Mere Yaar Ki Shaadi Hai and so on. The reasonable boxoffice success of Zeher opposite Emraan Hashmi did nothing to give her career a push. The third newcomer Kim Sharma in Mohabbatein is now reduced to itsy bitsy item numbers in small films.




The talented Antara Mali in Main Madhuri Dixit Banana Chahati Hoon
Antara Mali, daughter of fashion photographer Jagdish Mali, is a very good dancer, a natural actress and has a 'wow' figure, she struts about brazenly. She made an impression with her debut opposite Vivek Oberoi in Company and then featured in Naach opposite Abhishek Bachchan. Company was a thundering hit while Naach collapsed at the boxoffice. Then she did a heroine-centric 'different' film named Main Madhuri Dixit Banana Chahati Hoon but that marked the end of her career in Bollywood. Her last screen appearance was in Mr. Ya Miss (2005) and that is the last we heard of or saw her.
Born into a mega-star family does not always pave the way to success in tinseltown. The best example is that of Rajesh Khanna and Dimple Kapadia's younger daughter Rinkie Khanna. She had a mind of her own, drove her own car from Juhu to Nariman Point and did not really care whether her films worked for her or not. They did not. She did lead roles in films like Pyaar Mein Kabhi Kabhi and Jhankaar Beats and when she found herself in a supporting role in Chameli (2004), she decided to call it a day.
What is it that makes one tick and the other flip? Why is it that one Miss World like Aishwarya Rai queens over the industry that shrugs off a Miss Universe like Yukta Mukhi? No one knows. The one thing we all know is — Bollywood and its audience do not stand failures.