music zone
Saurabh & Gaurav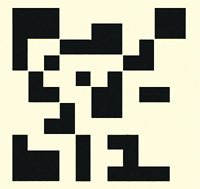 Autechre — Exai
(Warp)
Autechre began their journey with 1993's Incunabula, which harnessed ambient techno to evocative effect, creating silken vibrations of sound, with a core that never lay too far from the dance floor. It is their 11th album and comes almost three years after its predecessor Oversteps which, for many, was seen as their career highpoint, in possession as it was of an unrivalled aesthetic and thematic consistency. The duo's songwriting has long-avoided western musical standards, and never is this more apparent than on Exai's first track Fleure. It's a brief track, but also astonishingly dense. From here, the other 16 tracks range further and deeper than anything on their last LP, as we are drawn down into their swirling whirlpool of scorched texture. A certain charm of Autechre has always been that they love music and they love making music. However, most notably with Jatevee C, which recalls some of their more ambient moments on early albums like Amber. Brown and Booth are also able to create atmospheric moments like the fragmented-sounding Tuinorizn, which features scant melody and places emphasis on complex beats. It all ends with YJY UX, an epic closer in the vein of Drane 2, and an appropriately innocent postscript for such an exhausting and exhilarating set.
Best track: Jatevee C
Worst track: Vekos
Rating: ***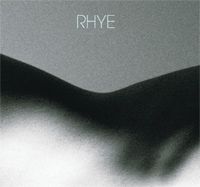 Rhye — Woman
(Polydor)
Rhye is the collaboration between Toronto-based vocalist Mike Milosh and Danish multi-instrumentalist Robin Hannibal of the group Quadron. Their highly anticipated LP Woman is a significant soul record, with a refreshing and flourishing embodiment of synthesisers, strings, and horns. The appropriately titled Open greets the listener with grand orchestral arrangements before dipping into a two-note snap groove. A fitting foundation for their album, the track indicates the tact and finesse Rhye demonstrates when dealing with the topic of love. The vocals play a lead role here while the instrumentation ensconces itself into the background. The ephemeral nature of love is expressed on album standout 3 Days. The track begins with the nimble music of a harp before transforming into an addictively simple, synth-driven beat. Verse explores the more dangerous side of love, encapsulating its conflicting emotions and bothering, inner pain. Album closer Woman is a track consisting of one lyric that shares the name of the album. Wailed and reverberated in various voices and tones over a robotic background, a single word creates a vibrant musical montage.
Best track: 3 Days
Worst track: Hunger
Rating: **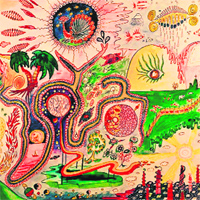 Youth Lagoon — Wondrous Bughouse
(Fat Possum)
Youth Lagoon's sophomore record stands tall and sure-footed. Whereas The Year of Hibernation dealt somewhat uncomplicatedly with its personal subject matter, the follow-up is decidedly more abstract, probing the private nooks of the mind where emotions are expressed through fantasy and illusion. Powers' youthful vocals crackle through light distortion, with synthesisers swelling underneath the dusty echo of his words. Like Daniel Johnston, he has a gift for simple melodies and tends to turn you on your head by following moving one-liners like "To watch is not to see" with thoughts like "Doomsday's coming, let the Earth attack." Akin to Animal Collective, Youth Lagoon craft modernist pop so perfectly of its time that we're hardly aware of how much time has passed. Mute opens with an energetic keyboard and robust drums, all before an extensive guitar refrain transforms the song, while Powers imagines something darker, "The devil tries to plague my mind but he can't quite get inside." Attic doctor actually involves samples of what sounds like old-fashioned fairground music while Pelican man builds and surges, and then falls into fading irreversible fragments that point to unexplored possibilities.
Best track: Mute
Worst track: Third Dystopia
Rating: ***
Chelsea Light Moving — Chelsea Light Moving (Matador)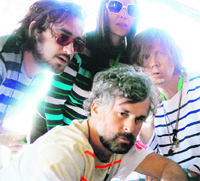 With Sonic Youth on an apparently indefinite hiatus following the breakdown of Kim Gordon and Thurston Moore's marriage, we can now try to appreciate the band's legacy. However, rather than ponder over his past triumphs, Moore has formed a new band named Chelsea Light Moving. The new cast is the sound of the now 54-year-old punk rock veteran reclaiming the primitive aggression and righteous passion of youth. The self-titled record is the most jarring music that Moore has put together in recent memory, easily out-stroking Sonic Youth's 2009 LP, The Eternal. Heavenmetal opens the album on a low-key note of lightly strummed guitar, plucky bass, and Moore's whisper-spoken vocals. The excessively heavy feel of the first few tracks gives way to some more diverse influences as the album builds-up. Sleeping Where I Fall speedily unchains the type of angular chords that anchored so many of Sonic Youth's best moments and the vibe turns turbulent from there. Guitars are a definite trait of this album and there's lot of them. Take Alighted, for example. Starting off with a slow melody, the song turns into a devilish monster with the unsettling, jangly noise that emits from Moore's guitar. The record plays out with Communist Eyes, as one of the catchiest numbers on the whole record. It makes for an emphatic closing statement.
Best track: Alighted
Worst track: Burroughs
Rating: ***
Top 10 Singles
Harlem shake Baauer (NM)
Thrift shop Macklemore & Ryan Lewis (NM)
Suit & tie Justin Timberlake feat. Jay Z (CU)
When was I your man Bruno Mars (FD)
Stay Rihanna feat. Mikky Ekko (FD)
Give me a reason P!nk feat. Nate Ruess (CU)
Started from the bottom Drake (FD)
Feel this moment Pitbull feat. Christina Aguilera (CU)
Love me Lil Wayne feat. Drake & Future (NE)
I knew you were trouble Taylor Swift (FD)
Legend: (CU): Climbing up (FD): Falling down (NM): Non-mover (NE): New entry