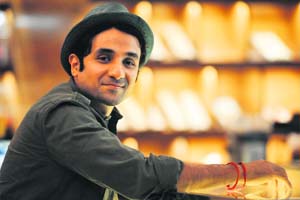 Saying it with a smile
He doesn't come up with one-liners that leave you in splits; he does not pack every line of the conversation with a comic punch. Relaxed after a hectic day's schedule in Chandigarh, actor Vir Das looks as bright and spunky as natural light. He slides back on the couch, smiles and gets ready for the interview, even when all the time you expect to see an up, close and personal side of this actor and stand-up comedian.
Comic Streak: Vir Das

Letís party!
Are you turning eighteen or is it your twenty-fifth anniversary? Birthday or a farewell, baby shower or a sleep over! Well, get ready to party! The Party Hunters opens at Chandigarh, Sector 22 with the notion ó whatever you do, do it right! So, go for a theme party in an impressive ambience, surprise your friends or family, click photographs with the crazy wigs and huge goggles, and be the talk of the town!
Fun time: Prerna Kapoor (L) with guests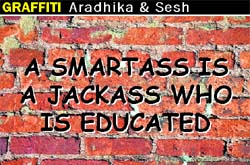 Make a wish
Women these days are moving out of the cosy comfort of the four walls of their homes to find a new meaning to their identity in the society.
Royal treat
Pride KC Hotel & Spa, Sector 3, Panchkula brings 'Hyderabadi Food Festival' at Water Court Cafe, the all -day dining restaurant from April 19 to 28.
the Ďiní side


Awesome ottomans
An ottoman is a piece of furniture consisting of a padded seat that neither has a back nor arms. The ottoman's background and current uses are obscured by an intricate interweaving of social history, literature, travel, legend, art and romantic idealism. The ottoman even suffers from a confused identity, sometimes called a footstool, bench, couch, divan or even the whimsical pouf. It is indeed an interesting piece of furniture and one not to be dismissed as merely an accessory.
All that glitters
Jewellery has found a new expression as Tanishq, introduces 'Accessible Tanishq', a range of gold and diamond jewellery starting at Rs.5, 000. Targeted at the value-seeking Indian consumers, the range comprises of cutting edge fashion alongside timeless beauty, resulting in an aspirational selection for either gifting purpose or for self-purchase.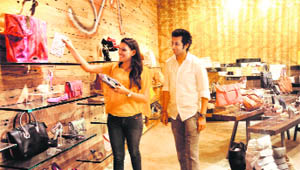 Step up in style
The uber chic, sex and the city look is something every woman desires and not to forget a closet full of shoes. To give Chandigarh a dose of New York chic, Steve Madden, the footwear brand opens doors at Elante Mall in Chandigarh.


An inside view of the Steve Madden showroom

The ship story
No waves, splashes or wind in the sails when you see these ships! The rather large replicas of the ships with glorious set of sails and exquisite craftsmanship adorn the rooms of many residents in Ludhiana. And these engender both curiosity and pleasant surprise together.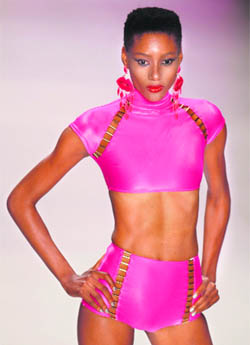 A model presents a creation from Triya 2013/2014 summer collection during Rio Fashion Week in Rio de Janeiro. ó Reuters
star track
Qureshi unplugged
Huma Qureshi's third film Ek Thi Daayan released this week. She talks about her growing up years, becoming an actress and also clarifies her equation with Anurag Kashyap.



Fitting into the part


Force to reckon with


Congratulations and celebrations!


In tropical paradise


Letís get rolling


On a promising note


I will not wear uncomfortable clothes: Kate
chatter box
Serious issues
Zee TVís popular show, Punar Vivah is rumoured to go off air in June because of the problems between Gurmeet Choudhary, who plays the role of Yash and the producers of the show. Apparently, things got worse after Gurmeet took up Nach Baliye without telling the makers.



A theatrical interlude


The latest buzz


Work and pleasure


A giant leap


Fan inks Kunwarís name


A special bonding