Fashion Design
Design Dreams
Design is an ideal field for those with a creative mind. Surviving in this field, however, requires a thorough understanding of managerial skills and a solid business acumen. This is what a good course in design equips students with
Indeep Sukarchakia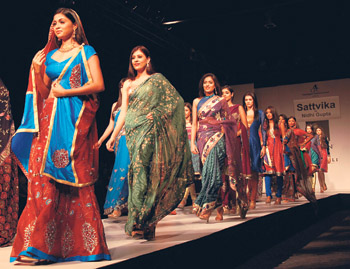 Designs on you: A career path for the young that integrates creative skills, production, marketing and business.

Designing is one of the most lucrative, appealing, glamorous and exciting career options in today's world. If you have a penchant for creativity, style and originality, a course in designing is ideal for you. Design is the essence and life blood of the fashion industry. The innovation and creativity of designers is reflected in the form of fashion. Design is the applied art devoted to the designing of clothing and lifestyle accessories. This art is influenced by cultural and social attitudes and has evolved substantially over the past few years.
It is a demanding field, as designers need to combine their creativity with managerial skills to survive in this industry. Thus, if you can create magic with colours, shapes and designs, then go for a professional course to begin a successful career in the alluring world of designing.
Courses
Students can go in for degree as well as diploma courses in this field. For joining a bachelor's degree in design (B.Des) one is required to complete Class XII or higher secondary examination in any stream and clear an aptitude test conducted by all art institutions. Professional educational institutes in designing offer a four-year degree programme, segmented into two courses, namely foundation course (one year) and specialisation course (three years). Exposure to the industry through field trips and industry internship is an important part of the curriculum.
The B.Des degree courses are available in the following disciplines:
Fashion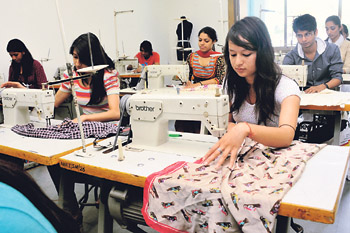 Setting new benchmarks: The Northern India Institute of Fashion Technology (NIIFT), Mohali, was visualised to train professionals in the areas of textile and garment industries. It has emerged as a significant institute of North India.

The curriculum hones design sensitisation that balances global fashion aesthetics with an Indian soul. It addresses needs of the export market as well as both couture and pret collections, expanding and categorising apparel design into niche segments. In tandem with the shifts in the industry where design has become even more significant, the students are trained to anticipate and address relevant concerns and issues. A logical, sequential, hands-on experience enables students to conceptualise designs, make patterns, drape and construct garments of impeccable quality.
Career Options: Garment manufacturing, store chains, textile mills, boutiques, fashion show organisers, export houses, etc.
Textile
The textile design specialisation equips students with a broad-spectrum of education in textiles while developing creativity, originality and design application in apparel and home fashion industries.
Textile design forms the core of the whole business of fashion. The rapidly expanding activities in the export and domestic sectors of the Indian apparel and home fashion industry demand professional inputs in design and development of textiles and raw material, which is responsible for 60-80 per cent of the cost of the finished product.
Career Options: Fabric manufacturing units, textile mills, garment industry, home furnishings, interiors segment, export houses, self- employment, etc.
Leather
This course lays emphasis on the integration of design concepts in leather apparel and products with material knowledge to respond to the requirements of specific target markets. The multi-disciplinary approach, including inputs ranging from market research, material and technical knowledge for product development develops an ability in students to handle different materials for different product types in leather. Leather design caters to the requirements of the leather industry both in terms of goods and apparel.
Career Options: Designer and Product Manager in the leather industry making footwear, jackets, watches, handicrafts, lifestyle products.
Accessory
Accessory design is a well-defined curriculum for developing integrated expertise in design methodology, materials and production process, consumer behaviour and market dynamics, trends and forecast interpretations, business practices and project management in the field of fashion and lifestyle accessories.
Career Options: The programme addresses the entire spectrum of accessories and lifestyle products, precious and costume jewelry, leather goods, footwear, watches, giftware, tableware, silverware, crystal ware/office furniture, consumer interface design and retail environment design.
Knitwear
The knitwear design programme is structured keeping in mind the future requirements of the Indian knitting industry. The students get an opportunity to work on state-of-the-art equipment like computerised flat bed knitting machines such as Shima Seiki and Stoll. They are also exposed to the techniques and variations in the circular and flat knitting manufacturing techniques, possible structure developments, processing and garmenting. Knitwear design is emerging as a growth area in the new world order.
Career Options: Knitwear manufacturing unit making woolens garments, sportswear, undergarments, swimwear etc.
Fashion communication
The fashion communication programme encompasses areas such as visual merchandising, exhibition and display design, graphic design, fashion journalism, styling, photography, advertising and public relations, specific to the fashion and lifestyle industry. At the exit level, therefore, equipped with an intensive skill, knowledge and concept base, communication design students emerge as dynamic professionals qualified to offer the most effective and financially viable communication solutions for the fashion and lifestyle industry.
Fashion communication is one of the newest, most exciting avenues to open up in the fashion and lifestyle industry. With the multitude of domestic and international brands, companies and designers exploding into the Indian retail scenario, it has become essential for each of them to develop a unique brand identity, and maximise its visibility. This is made possible by fashion communication professionals, who excel in extending the design strategy beyond the domain of the product, to include all aspects of communication design.
Career Options: Visual merchandising, exhibition and display design, graphic design, fashion journalism, styling, photography, advertising and public relations, specific to the fashion and lifestyle industry.
Apparel production
This four-year bachelor programme is designed to train students from the science background in the core garment manufacturing technology. With emphasis on best practices in Apparel Production coupled with understanding and application of Information Technology, the programme prepares professionals who are capable of contributing significantly to the fashion technology domain of the industry.
The programme imparts practical knowledge pertaining to apparel manufacturing technology. The students learn about equipment and processes through hands-on training in laboratory, classroom sessions and industry exposure.
— The writer is guest faculty, NIIFT, Mohali
Top Fashion Design colleges
National Institute of Fashion Technology (NIFT) Delhi/NCR
www.nift.ac.in/Delhi
Courses offered: B.Des. (Fashion Design, Leather Design, Accessory Design, Textile Design, Knitwear Design.
Inter National Institute of Fashion Design (INIFD) Chandigarh
www.nifd.net/
Courses offered: B. Sc Degree in Fashion, Interior and Textile Design
Advance Diploma in Fashion, Interior & Textile Design Diploma in Fashion, Interior & Textile Design
Pearl Academy Of Fashion
New Delhi, Noida, Jaipur
www.pearlacademy.com
Courses offered: 4-Year B.A. (Hons.) Programmes Fashion Design; Textile Design for (Fashion) or (Interiors); Communication Design; Fashion Business Management; Fashion Marketing & Retail Management; Interior Architecture & Design ; Fashion Styling & Image Design; Fashion Media Communication; Interior Product Design; Luxury Brands Management; Branding & Advertising Management; Jewellery Design [UG-JD]
Northern India Institute Of Fashion Technology
Mohali
www.niitindia.com
Courses offered: B.Sc Fashion Design; B.Sc Fashion Design (Knits); B.Sc Textile Design
Delhi Institute of Fashion Technology (DIFT) Delhi/NCR
www.diftindia.com
Courses offered: Advance Diploma in Fashion Designing; Diploma in Fashion Designing, Interior Designing, Interior Designing, Textile Designing, Jewellery Designing