Online Education
Learning in a Virtual World
The Internet is a powerful tool for the dissemination of education. With a wide variety of online courses, it has emerged as the new-age guru. Web-based education offers abundance of content and eliminates the element of bias from the complex teacher-taught relationship
N. C. Wadhwa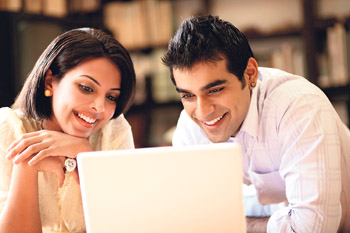 Face-to-face

: Learning from an online guru maximises content — the Web is the limit

Internet and social media have cleared the pitch for new trends like e-learning. Increased Internet penetration has led to a tremendous growth in the online education industry over the past few years. A recent report puts the estimate of the market size of this industry in India at around $20 billion and projected that it would grow to about $40 billion by 2017.
Online courses have become a part of the long-term academic strategies of many institutions across the country. This type of learning has gained roots in Delhi, Maharashtra, Uttar Pradesh, Tamil Nadu, Karnataka and Andhra Pradesh. Besides big cities, it is also becoming an option for students in Tier II and Tier III cities.
Options
With development in the online- course scenario, there are a plethora of opportunities that students can utilise. The most opted for courses include business management; information technology; engineering; commerce; computer hardware and software; arts and humanities subjects; e-Business and commerce; teaching; banking and finance; insurance; journalism and mass communication; social sciences; advertisement; entertainment media; animation; fashion technology; health and nutrition; healthcare and medicine; nursing; entrepreneurship; human resource management; languages; tourism and hospitality; public relations and various others. With such a vast choice, the best strategy is to select a field that interests you and for which you have an aptitude.
Trends show that enrolment in these courses has increased tremendously and online educational degrees are now being considered valuable by employers.
E-learning facilitates collaborative learning between peer group, it also provides a mix of face-to-face and online education. Moreover, as mobile Internet expands its reach, mEducation is also seen as a viable option coming up in the educational system.
Benefits of going online
Regular education has become highly competitive and way too expensive for many. The cost of online courses is much less than the traditional ones as besides lesser fees, expenses such as transportation and lodging are also avoided.
Those looking to get a better standing in a highly competitive job market are going in for online courses, which are more convenient as one can learn anywhere, anytime.
Such options are best for those who have to take up jobs right after school to support their families financially. Working professionals benefit the most from this option, building their capacities and worth on the way.
Online mini-tutorials help both the student and the teacher. Self-assessments and peer assessments are great approaches that provide a good learning experience.
The challenges of lack of face-to-face interaction that come with online learning can be overcome by the teacher's continuous assessment and effective feedback at several points of time during a project.
Key players
Top-rated institutions such as the IITs, IIMs, IIFT, and XLRI; and private ones like Sikkim-Manipal University and Amity School of Distance Learning have taken steps in offering online courses.
Educational providers such as Edukart, Simplilearn and Khan Academy are some other players in this arena.
Several foreign universities are also bringing online education to India with programmes tailored specially for Indian students.
E-learning is surely the way forward for the Indian education system, which is going through a mini revolution with the advent of western developments, approaches and advancement in technology.
— The writer is Vice-Chancellor, Manav Rachna International University