Law
Rule of Law
At present, our country does not meet even 50 per cent of the total requirement of legal professionals. This makes our legal system painfully slow and tardy. More professionals are needed to create a speedy justice delivery system
Virendra Kumar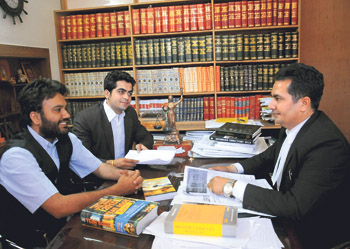 Not hollow words: The legal eagles hone the gift of the gab with highly-evolved skills in logic to debate their case

WHEN it comes to choosing a career in law, you seem to be blessed at least twice. One, unlike many other forms of professional education, the stream of legal education instantly provides you with numerous openings to choose from, solely depending on the area of your interest, inclination, resources and capabilities.
Secondly, for career choice in law, there are multiple entry points. In case you have decided and are determined to take up law as a profession or occupation from the very beginning, the course may be chalked out soon after completing your schooling of 10 years of general education (matriculation) through Plus II with law-related subjects like political science into the five-year integrated course leading to the basic degree of BALL.B.
You may choose to opt for law course after Plus II, if you so like irrespective of the stream of art, science or humanity, offered therein. Or, you may still opt to enter the realm of three-year legal education after your graduation in any subject falling under, say, faculty of arts, science, commerce, or agriculture.
For gaining entry into a five-year integrated course after Plus II, the candidate should be below 21 years of age, a stipulation seemingly created to equalise the age-related maturity level. However, entry to the three-year law course after graduation carries no such age bar, which further widens the horizon of legal education in multiple ways.
Wide avenues
A basic law degree equips you, of course, to pursue a lucrative law practice as an advocate. It also prepares you for cognate professions, like Civil Judge (Junior Division), Solicitor (advising client in his own field of experience and acting as a bridge between him and his advocate), District Attorney, Public Prosecutor, Law Officer (overwhelming demand in banks), Legal Advisor (in the legal department of an organisation, advising them on business and personal legal matters, drafting legal documents, preparing affidavits, etc.), Notary/Oath Commissioner (drawing, verifying, authenticating, certifying and attesting the execution of documents with legal validity).
Add-on value of law studies
Legal study provides a very useful and functional add-on value to other professional disciplines. Company Secretary's work, for instance, involving matters relating to tax, finance, excise laws, corporate laws and corporate planning, is put on a sound footing with a systematic study of law. Exposure of a medical doctor to legal studies enables him/her to contribute significantly to the development of medico-legal jurisprudence. A civil engineer equipped with a law degree turns out to be an arbitrator much in demand to settle the engineering related conflict of interests resulting into settlement of disputes outside the court. A computer engineer with the basic law degree is much sought after in resolving the new genre of cyber crimes.
In order to facilitate the acquisition of add-on value through legal knowledge there is often a provision of evening shifts (usually running from 5.30 p.m. to 9.30 p.m.) in many law colleges/departments of universities. In cosmopolitan towns it is not uncommon to find many persons, especially doctors, engineers, bureaucrats, and self-employed, joining the evening shifts for pursuing a course in law.
The correct course
Legal education invariably consists of two components: core and elective subjects.
Core subjects provide the foundational basis of legal knowledge, and invariably include the compulsory study of subjects like Jurisprudence (Legal Theory), Constitution, Interpretation of Statutes, substantive laws like the study of basic principles of the Indian Penal Code, Indian Evidence Act; and the procedural aspects dealt in the Codes of Civil Procedure (CPC) and the Criminal Procedure (CrPC).
Elective subjects are the ones that facilitate the choice of the area of specialisation that one would like to pursue, which cuts across the conventional division between the civil law practice and criminal law practice. In this respect, you may come across the bewildering variety of subjects offered by various institutions providing a law degree. The choice of subjects would depend upon your objective to pursue. If you wish to practice, say, in the local or mofussil court, you would like to focus on the area of local interest that may include subjects like land laws, revenue laws, rental laws.
If you wish to venture into the area of commercial law, you may like to equip yourself by opting for subjects like International Business, International Marketing, International Finance, International Trade Law, Corporate Law, and Intellectual Property Rights. Cyber Law may, likewise, be your choice in the emerging world of new genera of crimes if you would like to go in for practice on the criminal side.
Environment Law may be your area if you wish to deal with Public Interest Litigation (PIL).
The selection of subject areas may also vary according to the need of service-sector that one chooses to serve. There is persistent demand for law officers in banks; in Litigation Law Firms law graduates are needed to offer legal solutions of all sorts to clients; in Corporate Bodies Counsels are needed to provide legal services that are often in the nature of drafting, vetting, networking and negotiating contracts and resolving legal disputes on behalf of companies or their subsidiaries.
You may even explore avenues in an emerging area Legal Process Outsourcing (LPO) in which vendors or in-house departments outsource legal work from off-shore areas (like in the USA or the UK).
The right choice
The issue of choosing the right law school is often baffling. While identifying the institutions of your choice you should first of all look for the status of their faculty. The determinants of a 'status-faculty' invariably include indices in terms of their basic qualifications obtained from acknowledged universities; their tenure i.e. whether they are holding permanent positions or are merely acting as a part-time guest faculty; and research inputs evidenced by their continuing published work in the accredited law journals. The myth that there is no correlation between research and teaching, both at the graduate and postgraduate levels hardly needs any more debate or discussion for its falsification.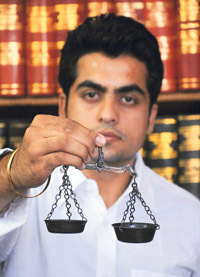 In near future, there is likely to be a windfall of vacancies of judges in subordinate courts. While reflecting on the situation of shortage of judges in the country recently, the Law Minister Ashwani Kumar had said, "Our strength of judges is about 18,900, which includes 17,800-odd subordinate judiciary, and we need to double the strength of the Subordinate Judiciary because the number of cases pending in the subordinate courts is about 2.7 crore".
The qualification that one needs to join the judicial service as a Civil Judge (Junior Division) is simply an LL.B. degree from an accredited university. This degree equips one with a reasonably rounded knowledge of law without any particular specialisation or prior practicing experience.
It is well-established that research and teaching are inseparable if teachers are required to encourage the young minds to be truly creative and innovative. Going by these few indices let us peruse the available law imparting educational institutions in the northern region comprising Chandigarh, Punjab, Haryana, Jammu & Kashmir, Uttrakhand, and the National Capital Region of Delhi for making a decision.
In Chandigarh, the Panjab University, with excellent library facilities, qualified law faculty, and moderate fee structure, continues to be the first choice for legal education. It offers both the three-year course after graduation and five-year integrated course after Plus II, with the added facility of pursuing postgraduate courses. The university's unique academic ambience and established credentials in arts, science and humanities make it a top choice in the northern region.
In Punjab, apart from the departments of law at Punjabi University, Patiala, and Guru Nanak Dev University at Amritsar (offering admission in both the streams), Rajiv Gandhi National University of Law at Patiala and Army Institute of Law at Mohali (both residential institutions providing only a five-year integrated course) are acclaimed as the top ranked priority places to seek admission in stark comparison to other private universities that have come into existence relatively recently.
The departments of law of Kurukshetra University at Kurukshetra and MD University at Rohtak (providing admissions in both the streams) are the acknowledged law institutions of Haryana, both for graduate and postgraduate studies.
Jindal Global Law School (JGLS), Jindal Global University, Sonepat, Haryana, is perhaps the latest addition, whose singular claim to excellence in legal studies is yet to fructify.
Likewise, the Faculty of Law, University of Jammu, at Jammu, and Faculty of Law, University of Kashmir at Srinagar, are the well-known centers of legal education in Jammu & Kashmir.
In Uttrakhand, the Faculty of Law, Kumaon University at Almora, and several BCI approved law colleges located in different places of the state and affiliated to Hemvati Nandan Bahuguna Garhwal University are adequately meeting the legal education requirements of a large number of residents of the state.
Faculty of Law, University of Delhi is the leading centre of conventional legal education, whereas Amity Law School, affiliated to Guru Gobind Singh Indraprastha University, New Delhi, has made its mark in the five-year integrated course. The Indian Law Institute (Deemed University), New Delhi, is a premier institute of legal research of international standard in India.
— The writer is former founding Director (Academics), Chandigarh Judicial Academy; Chairman, Department of Laws, Dean, Faculty of Law, Fellow, Panjab University; & UGC Emeritus Fellow in Law
Choosing the law institution
In Chandigarh, Panjab University, with its excellent library facilities, qualified law faculty, and moderate fee structure, including incredibly low expenditure on board and lodging continues to be the first choice for legal education. It offers both the three-year course after graduation and five-year integrated course after Plus II, with the added facility of pursuing postgraduate courses leading to the degrees of LL.M. and Ph.D. The provision of evening shift makes the legal education accessible even to those who by reason of their employment or other constraints are unable to attend classes during day-time. University's unique academic ambience and established credentials in arts, science and humanities make it a top choice in the northern region.
IGNOU's diploma and certificate courses
Doctor of Philosophy in Law (PhD in Law)

PG Diploma in Intellectual Property Rights (PGDIPR)

PG Diploma in Environmental Law (PGDENLW )

PG Diploma in Criminal Justice (PGDCJ )

PG Certificate in Cyber Law (PGCCL)

PG Certificate in Patent Practice (PGCPP)

Diploma in Paralegal Practice (DIPP)

Certificate in Consumer Protection (CCP)

Certificate in Human Rights (CHR)

Certificate in International Humanitarian Law (CIHL )

Certificate in Anti Human Trafficking (CAHT )

Certificate Programme on Co-operation, Co-operative Law and Business Laws (CCLBL )

Awareness Course on Intellectual Property Rights (AIPR)
Online programmes
Master of Intellectual Property Law (MIPL)

PG Diploma in Legal Process Outsourcing (PGDLPO)
Top Law colleges
Campus Law Centre, Delhi University
Delhi
www.du.ac.in
Seats: 500
USP: Five-year integrated BA LLB (Hons). The Campus Law Centre is claimed to be one of the largest law schools in India. The school attracts students from every state of India and more than 20 countries of Asia, Europe, America and South Africa
Amity Law School
Noida-Delhi/NCR
www.amity.edu/als.
Seats: 80
USP: Five-year integrated BA LLB (Hons) It has been ranked as one of the Top-10 law schools in the country in a recent survey.
University School of Law and Legal Studies
Guru Gobind Singh Indraprastha University (GGSIPU)
Delhi
www.ipu.ac.in/
Seats: BA LLB(Hons)-40, BBA LLB(Hons)-20
USP: Indraprastha University provides 5 year BA LLB/BBA LLB course in University Campus and 5 other affiliated institute.
Army Institute of Law
Mohali
www.armyinstituteoflaw.org
Seats: 80
USP: Five-year integrated BA LLB (Hons) Established under the aegis of Army Welfare Education Society (AWES).
University Institute of Legal Studies
Chandigarh
http://uils.puchd.ac.in
Seats: 150
USP: Regular visits to district courts, high courts and the Supreme Court are part of the curriculum. Moot court competitions are also held within the institute.
Faculty of Law, MDU
Rohtak
www.mdurohtak.com
Seats: 320
USP: It has a rich collection of 26,000 books in its library and it is regularly publishing its own MDU Law Journal on annual basis
Jindal Global Law School
Sonepat
www.jgis.org
Seats: 180
USP: It is a non-profit university established by the Haryana Private Universities (Second Amendment). Offers specialisation in 3 streams of law.
Institute of Law and Management Studies
Gurgaon
www.Indiastudychannel.com
Seats: 120
USP: Five-year integrated BA LLB (Hons), Established: 2002
Rajiv Gandhi National University of Law
Patiala
www.rgnupatiala.org
Seats: 80
USP: B.A.LL.B. (Hons)
Dehradun School of Law
Dehradun
www.lawcollegedehradun.com
Seats: 240
USP: Five-year integrated BA LLB (Hons) course is one of the highlights of this premier institute of Uttarakhand
Basis of admission
Invariably in all the law institutions/schools/departments, selection of candidates is made on the basis of an entrance test along with or without weightage to academic performance in the qualifying examination. Such tests are conducted by the respective universities for their affiliate institutions. In case of admissions to national law schools (14 in number), however, there is one Common Law Admission Test (CLAT) conducted by each on a rotation basis.
Based on selected lists from India Today, Outlook and other surveys