Science
Rediscovery of Science
No other field offers the level of freedom that one enjoys in science. It doesn't recognise boundaries as scientific knowledge belongs to humanity and serves as a guiding light in the haze of unexplored nature. This stream also has ample career opportunities
R. K. Kohli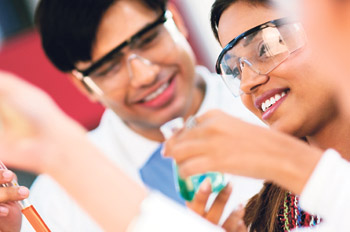 Looking for facts: The fascinating and exciting world of never-ending discoveries and inventions

EACH one of us is confronted with minor or major issues demanding workable solutions everyday. Systematic thinking saves one from failures that one invariably faces from the hit-and-trial approach. This systematic approach to finding solution to any problem is science.
The creation of knowledge or providing solutions to problems faced by society gives a scientist a lot of confidence, immense satisfaction, a sense of achievement and an enormous respect in society. No other career offers so much in return. Governments and society approach science experts for finding solutions — may it be an issue of climate change or biodiversity loss, health and disease issue, increasing productivity, environmental toxicity, digging the past or even deciding about the future and so on. As a scientist you become a part of the league of key decision makers.
Why study basic sciences
No country or society can develop without science. Therefore, every nation puts in extra effort to train its young to find scientific solutions to day-to-day problems and for effective sustainable development. Though science may not be relevant to many ordinary Indians, a strong scientific base is extremely essential for our growth and development. Science demands logic and ideas that our young generation has in plenty. They only need a little nurturing and support. That is the reason why the Government of India is proactive in supporting science education. There are several schemes (e.g. INSPIRE) and plenty of funds to nurture the scientific temper.
It is exclusively up to the youth to select the right career path in this field. In several countries the study of science is essential up to Class XII. By that stage a student develops analytical reasoning and scientific approach in dealing with issues of everyday life. The scholastic and non-scholastic temperament that a science graduate develops enables him to fit in almost any field. It is widely acknowledged that science graduates are more successful in every profession. A degree holder has wider options and opportunities available to him when it comes to choosing the right career.
How to select a discipline
As a matter of fact, every discipline of education is good. What matters is the level of success that one achieves in life. To be successful one needs to be in the top league in one's chosen field. Every individual has ample fundamental strengths in a few selected areas and not in every sphere. For instance while one person may be good in analytical dimension, another may excel in languages and still another in debates. What normally lacks in us is the proper analysis and identification of our own strengths and interests. Many a times, our interests are guided by social trends or monetary values. One is expected to choose a discipline through choice and personal liking rather than under compulsion of peer or parental pressure.
Each area of science is fascinating and exciting. There are two types of scientific researches — (a) Discovery and (b) Invention.
Discovery, as the name suggests, means finding the hidden principle of science based on which new products are invented. And this development of new products is 'Invention'. Science education is also of two types – (a) Pure or basic science and (b) Applied or derived science.
No doubt, both the types of sciences are important while the latter has its base in the former. About two decades ago there was a lot of discussion on the desirability of the type of research that India could afford and in these the tilt used to be in favour of the applied sciences. But it was realised that unless our youth are trained and fully understand the basic principles of science, they will not be successful in applying these. To quote an example, without knowing the basics of biology and technology how can a student apply mind in biotechnology.
Always remember that earning a degree does not make a student successful in a profession; unless s/he can apply her/his mind to solving a problem. Therefore, it becomes really important for a budding science student to consolidate the basic knowledge rather systematically instead of jumping straight to the derived fields of science.
Now the simple question that arises is how to select a suitable branch of science. For those who want to take up science and research as a career, after Class XII it is advisable to look for a graduation in basic sciences (BSc) or they should join Integrated BSc–MSc degree (pass or honours course in a subject of their choice) that some of the universities and deemed Universities like IISERS offer.
After MSc one can take the CSIR-UGC NET exam and join as Research Fellow and complete Ph.D degree with a fellowship. After Ph.D one may join as lecturer in some college or university. Those who want to invent new product for the welfare of mankind through applied research may opt for professional courses, like biotechnology, biochemistry, biophysics etc. While doing so, select the branch that interests you, rather than the market demands. The chances of success are more if one selects a branch of his choice. In a competitive market a better performer has more chances of getting a good job. After joining the job, success and progress will depend on the creativity of your mind which, in turn, will be guided by your innate interest. Therefore, right decision at the right time will make a difference in life.
What course to opt for
After Plus II: There are lots of opportunities in science related subjects. Some of the well known and while the others relatively less known fields are:
BSc (pass course): It is available in several colleges. One studies basic subjects – physics, chemistry, mathematics (PCM) or physics, chemistry and biology (PCB) apart from compulsory paper on environment studies and road safety.
BSc (Honours) in particular subjects namely, physics, chemistry, botany, zoology, anthropology, mathematics etc, is available in some institutions. Panjab University is continuing its old system of BSc and MSc Honours school system with lateral entry and exit in almost all science subjects.
Integrated BSc-MSc programmes: Some universities like Panjab University, Delhi University and each of the five Indian Institutes of Science Education and Research (IISERs) at Mohali, Kolkata, Pune, Bhubaneswar and Guwahati have a programme of selecting students after Plus II for an integrated BSc-MSc degree in a particular discipline.
In fact, these bodies aim at selecting the inspired young and moulding their research faculties through doctoral degrees. Some universities offer five-year integrated MSc programmes in botany, zoology, biochemistry, chemistry, microbiology, etc. too.
— The writer is Vice-Chancellor, DAV University, Jalandhar
Top Science colleges
St. Stephen's College
New Delhi
www.ststephens.edu
Seats: 100
Hansraj College,
New Delhi
www.hansrajcollege.co.in
Seats: 340
DAV College,
Sector 10, Chandigarh
www.davchd.com
Cut-off: 76 per cent
Government College for Girls,
Sector 11, Chandigarh
www.gcg11.org
Seats: 300
Cut-off: 70 per cent
MCM DAV College for Women,
Sector 36, Chandigarh
www.mcmdavcw-chd.edu
Seats: BSc (300); Microbial and Food Technology (40)
Cut-off: Over 65 per cent
Government Mohindra College, Patiala
www.mohindracollege.in
Seats: 240 (BSc medi and non-med)
Cut-off: 60 per cent
Khalsa College, Amritsar
khalsacollegeamritsar.org
Seats: B.Sc. (Med, non med); BCA (150); B.Sc. (Food Sc. and Tech.)40;
Cut-off: 70 per cent
Satish Chander Dhawan Government College, Ludhiana
www.scdgovtcollege.org
Seats: B.Sc Med (120), Non Medl (180)
Cut-off: Over 60 per cent
Multani Mal Modi College, Patiala
http://www.modicollege.com
Seats: B.Sc (180), B.Sc (Bio-tech) 40;
Cut-off: Over 60 per cent
Pt Neki Ram Sharma Government College, Rohtak
www.nrs.com
Seats: 580
Cut-off: 70-80 per cent
(Delhi University has not yet announced the new admissions policy for 2013)
(Based on selected lists from India Today, Outlook and other national surveys)