Commerce
A Degree that Counts
Commerce has become a much-sought-after stream now as it offers a varied platter of courses and careers. A five-year integrated degree programme, a three-year degree course or a short-term diploma, this stream gives enough choices to students to chart out a perfect career plan
Suresh K. Chadha & Bulbul Singh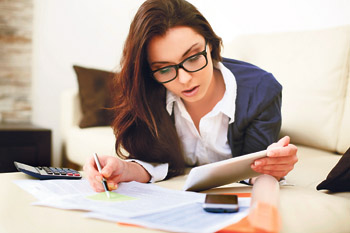 Figuring it out

: Fruits of capitalism are best reaped by a pursuit and study of commerce

Perplexed over questions like 'Which college should I join?', 'Which course should I choose?', 'Is CA a better option than MBA?', 'Should I pursue BCom or BBA or will a degree in economics suit me better?'
Spectrum of the commerce stream is very broad now and it encompasses a number of disciplines.
However, if you want to excel in this field then it is important to make an informed, responsible choice and not just follow the crowd.
So make a thorough assessment of the options and chart a suitable career course according to your area of interest. In commerce students can go in for undergraduate or professional courses.



Undergraduate courses after Plus II
BCom
The Course: BCom is one of the most popular choices for an undergraduate degree after Plus II in commerce. Major thrust of the curriculum is on accounting, finance and corporate laws. Certain good universities in India such as Delhi University offer an honours programme which allows a student to choose electives such as Financial and Investment Management, Financial Services, Tax Planning and Management besides several other management-related specialisations. The honours programmes in Delhi University are set to become four-year programmes from 2013 on the lines of best international practices.
Star Institutions: Top colleges in north India for B.Com are Shri Ram College of Commerce (SRCC), Lady Sri Ram College (LSR), Hans Raj College and Hindu College. Most of these colleges had cut-offs above 96 per cent in 2012. Besides mathematics is a compulsory subject at Plus II for admission in colleges in Delhi. Comparatively, colleges in Punjab and Chandigarh don't have such distressing cut-offs.
BBA
The Course: BBA is another popular course for undergraduate study and it is also known as BBM or BBS in some universities. Though the course curriculum of a BBA programme is similar to a B.Com programme, there are comparatively lesser courses in accounting and finance and greater emphasis is on other functional areas of management such as production management, human resource management, marketing management, strategic management and management of information systems.
Star institutions: In North India, Shaheed Sukhdev College of Business Studies in New Delhi is known to offer a good quality BBS programme. Admission to this course is through an entrance examination. In Punjab and Chandigarh region, several colleges offer BBA and admit students from all streams — commerce, science and arts. In some universities such as Guru Nanak Dev University (Amritsar), Punjab Technical University (Jalandhar) and Lovely Professional University, BBA is a six-semester course, whereas others like Panjab University, Chandigarh run the programme on an annual exam basis.
BA (Economics) Honours
The Course: The BA (Economics) Honours is also a much sought after course after Plus II. It is also known as BSc (Economics) Honours in some universities. The curriculum comprises papers on the principles of micro and macroeconomics, economic policy, economic history and development, public finance, money and financial markets and maths/ statistical methods for economic analysis.
Star Institutions: Certain reputed colleges in Delhi such as St. Stephen's College, LSR, SRCC, Hans Raj College and Hindu College require students to have studied economics and mathematics at Plus II for admission and cut-offs are generally above 95 per cent. In the Punjab and Chandigarh region the Department of Economics in Panjab University, Guru Nanak Dev University and Punjabi University offer an honours programme in economics with comparatively easier admission norms.
Other options
BCA: Students interested in computer programming, digital electronics, web designing, e-commerce, mobile computing, and computer network security may pursue BCA. Commerce students who have studied maths in Plus II are eligible for admission to this course.
Some new and innovative undergraduate programmes which students can explore include Bachelor in Business Economics, Bachelor in Financial and Investment Analysis, Bachelor in Travel and Tourism Management, Bachelor in Banking and Finance and Five-year integrated programmes in Management. These courses are mostly being offered by new private universities.
— Dr. Suresh.K. Chadha is Professor, University Business School, Panjab University, Chandigarh
Ms. Bulbul Singh, Assistant Professor, Sri Aurobindo College of Commerce and Management, Ludhiana
Diploma courses
Along with the undergraduate courses chosen from the above mentioned courses, students can enhance their industry absorption capacity by joining a diploma programme. Most of the universities offer diploma programmes through correspondence/distant learning. The duration of these may vary from six months to three years or as full-time courses. As the Indian economy is moving towards retailing and export orientation the most sought after diploma (short-term) courses are in these fields. Some such programmes are :
Diploma in International Business, Small business management, Marketing management, Human resources management, Operations management, Cash flow management, Secretarial Practice , Insurance, Banking management, Equity Arbitrage Trading & operations, Stock Analysis & portfolio management, Financial accounting.
The CA versus MBA Debate
Jobs for which CA are better suited
International Accounting (IFRS, GAAP etc)
Jobs for which MBAs are better suited
Business Management and Administration

Strategic Planning and Implementation

Knowledge Management

Business Analytics

Where non- finance specialisation is needed such as HRM, Marketing Management, Export Management, Retail Management, Information Systems Management, Production Management, Advertising and Public Relations.
Jobs common to CAs and MBAs
Corporate Financial Management

Banking and Financial Services

Equity Research

Forex and Treasury Management

Mergers and Acquisitions

Portfolio and Wealth Management

Business Advisory

Project Financing
Top Commerce colleges
Shri Ram College of Commerce
New Delhi
www.srcc.edu
Seats: 501
Cut-off: 98 per cent
USP: Country's top -ranked institution for commerce courses because of its experienced faculty and an evolving academic culture.
Lady Shri Ram College for Women
New Delhi
www.lsrcollege.org
Seats: 45
Cut-off: 97 per cent
USP: A centre for academic excellence and achievement, LSR is today one of the finest institutions for commerce, social science and humanities, while also offering a BSc in statistics. Professional courses like Elementary Education and Journalism are among its strengths.
Hansraj College, New Delhi
www.hansrajcollege.com
Seats: 145
Cut-off: 95 to 97 per cent
USP: A premier institution, with highly qualified academicians imparting education in different fields, the college enjoys a reputation for outstanding performance in academics, sports and extra-curricular activities.
Hindu College, New Delhi
http://www.hinducollege.org/
Cut-off: 96.25 per cent (first cut off list)
USP: The Commerce Department has a specialised computer lab and a central computer lab with one computer for every student. The college also offers admission to Masters in Commerce courses.
GGDSD College, Sector 32
Chandigarh
www.ggdsd.com
Seats: BCom - 280; BBA - 120
Cut-off: BCom -- 92 %, BBA - 88 %,
USP: The college has been awarded "A" Grade by NAAC. It has been granted the status of "College with Potential for Excellence" by UGC.
MCM DAV College for Women, Sector 36
Chandigarh
www.mcmdavcw-chd.edu
Seats: B.Com (210); B.B.A.(40)
Cut-off: 75 per cent
USP: The college has state-of-the-art computer labs, multimedia centre and seminar room fitted with latest teaching, learning aids - OHPs, LCDs, computers etc.
Government College for Girls
Ludhiana
principal@gcgludhiana.org
Seats: BBA- 40; B.Com - 170.
Cut-off: 92 per cent
Claim to fame: Maximum university positions in different undergraduate courses and national championships in Sports.
Multani Mal Modi College
Patiala
http://www.modicollege.com
Seats: B.Com (180); BBA (50).
Cut-off: B.Com (73 per cent); BBA (62 per cent).
USP: The college is conferred with the status of "College for Potential of Excellence" by UGC.
Hans Raj Mahila Maha Vidyalaya
Jalandhar
www.hrmmv.org
Seats: BCom reg. (225); professional (180); BBA (100)
Cut-off: NA
USP: NAAC A grade. First Indian college to be awarded maximum score of 3.83 CGPA out of 4 by NAAC.
Government Bikram College of Commerce
Patiala
www.gbcpatiala.org
Seats: B.Com (240); vocational course in Office Management and Secretarial Practice (30).
Cut-off: NA
USP: One of the oldest colleges in the state, it exclusively imparts education in the commerce stream.
(Delhi University is yet to announce its admission policy for 2013)
(Based on selected lists from India Today, Outlook and other surveys)