PUNJAB

HARYANA

JAMMU & KASHMIR

HIMACHAL

REGIONAL BRIEFS

NATION

OPINIONS

LETTERS

BUSINESS

SPORTS

WORLD


M A I N N E W S
Shamshad Begum, the gramophone goddess, passes away in Mumbai
Vandana Shukla/TNS


Singing legend

Shamshad Begum was one of the first playback singers in Hindi film industry


A big fan of KL Saigal, she watched 'Devdas' 14 times


Earned Rs 15 a song and was awarded a princely Rs 5,000 on the completion of the contract on Xenophone, a renowned music recording company


Her melodious voice was used by maestros like Naushad and OP Nayyar


Never posed for any pictures, until the end of 1970s


Also recorded 'naats' /devotional music for a couple of gramophone companies


OP Nayyar described her voice as that of a "temple bell" for its clarity of tone
HER PUNJABI HITS

"Naal hongiyaan gallan"


"Eda husn te guroor nahi chaheda" (with Mohamamd Rafi)


"Keeta aj taqdeer ne mel"


"Badlaan di chan ve" (with GM Durrani)


"Bari barsi khatan gaya si"
If it weren't for remix albums, perhaps my songs would have languished in musty oblivion. At least remixes have given old numbers a fresh lease of life. The tempo of the song may have changed, but the essence still remains the same.

— Shamshad Begum on her popular remix numbers
Chandigarh, April 24
Shamshad Begum's songs may no longer be on the air, except in remixes, but her voice continues to live in a million memories. One of the pioneers of playback singing, Begum passed away after a protracted illness on Tuesday in Mumbai. She was 94.
"She was not keeping well for past few months and was in and out of hospital. She passed away last night at our home (Powai in northeast Mumbai). The funeral was a solemn affair with a few friends present," Begum's daughter Usha Ratra said. The singer was living with her daughter and son-in-law Yog Ratra in Mumbai, ever since her husband Ganpat Lal Batto died in 1955.
"She kept herself away from glamour of the industry despite being one of the top singers of her era as she did not like limelight. My mother used to say that artistes never die. She wanted to be remembered for her songs," Usha added.
The earthy, unbridled vivacity of Shamshad Begum's voice ruled the hearts of music lovers in the 40s and 50s to prepare a solid ground for playback singing in India. Her voice offered a prelude to the high-pitched perfection that changed playback singing in the 60s by the Mangeshkar sisters. In her initial singing days, Begum had to sing under different aliases, depending upon the religion of the character on screen. Even when she came out of that anonymity, and her songs monopolised the popularity charts on the All-India Radio, she remained grounded and maintained a low profile.
Begum was born in Lahore in a conservative Muslim family that had scant regard for women who took up singing. She only sang folksongs or during family weddings. Her uncle, a connoisseur of music, noticed the promise in her voice and took her for an audition to Jenaphone, a Lahore-based recording company. The audition was conducted by Ghulam Haider, the renowned music composer of the 1940s and the rest is history. She was 12 then, and had signed a three-year contract to sing 12 songs. Haider honed her skills in classical music. Soon she graduated to singing for Peshawar Radio, the AIR-Lahore and the AIR-Delhi.
She got her first break in Hindi cinema with Khazanchi (1941) for which Ghulam Haider composed unforgettable numbers. The film became a super hit and her songs topped the charts. After the film's success, she was approached by highly respected and successful music directors like SD Burman, Naushad, Anil Biswas, OP Nayyar and C Ramachandra and she gave hits for films like Patanga, Humayun, CID, Babul etc.
"Mere piya gaye Rangoon", "Kabhi aar kabhi paar", "Kahin pe nigahen kahin pe nishana", "Boojh mera kya naam re", "Saiyan dil mein aana re", "Leke pehla pehla pyar" and "Chhod babul ka ghar" became some of her evergreen numbers, a few retained popularity in their re-mix avatars.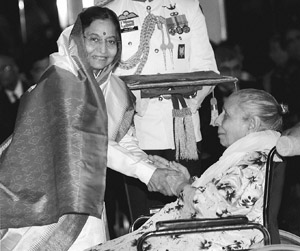 Shamshad Begum is greeted by the then President Pratibha Patil during Padma Awards ceremony at Rashtrapati Bhawan in New Delhi in 2009. — PTI

Once, Panjoli Studios, a well-known production house in Lahore, offered her a chance to act as the main lead in a film. Actors sang their own songs in those days. Though she passed the screen test, her father threw a fit and she had to promise that she would never appear in person before camera. Later, producer Mehboob Khan travelled to Lahore and persuaded her father to let her relocate to Mumbai, then Bombay. She was given a flat and a car to make her stay comfortable in Mumbai, such was her demand in the industry.
Begum married Ganpat Lal Batto, a lawyer, who passed away in the mid-1950s. She stopped singing after his demise and came to live with her only daughter in Ambala. She returned to Mumbai in the late 1960s and regained her glory with hits like "Kajra mohabbat wala", a duet with Asha Bhosle for Kismat. In an interview, she said, she left singing when she was still in demand not when her listeners would want her to shut up.
Shamshad Begum's popularity came from the simple hummability of her songs, she had a rawness in her voice that could me moulded to emote any shade of human experience.
May it be the rustic tinge of "Gaadiwale gaadi dheere hank re" from "Mother India" or the sophisticated strains of a court singer's notes alluring a prince from his lady love in "Teri mehfil me kismet aazma ke hum bhee dekhenge" in "Mughal-e-Azam", or C Ramachandra-composed Bollywood's first westernised song, "Meri jaan, meri jaan, aana Sunday ke Sunday", Shamshad Begum alone could render it with the required joie de vivre. The paan and zarda laced colourful voice of Begum lent a new style to playback singing, which was still finding a footing in Hindi cinema. She was the uncrowned queen of the gramophone era. Begum was conferred with Padma Bhushan in 2009. Besides Hindi, Shamshad Begum also sang in Punjabi, Bengali and other Indian languages.