M A I N N E W S
Punjab farmers won't need arhtiyas to sell produce
Can approach purchasers, receive payments directly as govt prunes their role
Saurabh Malik/TNS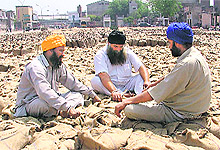 Farmers at a grain market
Chandigarh, April 25
Arhtiyas or commission agents in Punjab will not be able to reap the healthy benefits of a good harvest. Pruning the role played by arhtiyas in procurement, the Punjab Government has decided to provide farmers an option of directly receiving payments for their produce after holding negotiations with the purchasers.
Brining an end to age-old "arhtiya raj" in Punjab, the state government has, in fact, made it clear that the farmers now have the option to sell their produce directly to the parties, including the Food Corporation of India (FCI), or approach the purchasers through the arhtiyas.
The development is significant as a study suggests the arhtiyas in the state pocketed Rs 6427.27 crores in two decades from 1990. Business continued to yield good profits, as the rate of commission steadily grew from 1.50 per cent in 1961 to 2.50 per cent in 1998, even though they "did not have any significant role in the procurement of crops like wheat and paddy, where assured marketing prevails".
The decision is also noteworthy as no less than 2,990 farmers committed suicide in just two districts of Sangrur and Bathinda between 2008 and 2009 due to indebtedness.
@The information on the trimmed role of arhtiyas was provided to the Punjab and Haryana High Court this morning by a Punjab law officer during the resumed hearing of a petition filed by farmers' association.
It had approached the court for challenging rules framed by the state government, as these deprived them of the freedom to approach purchasers directly for the sale of their produce.
The state had earlier carried out amendments in the relevant rules at paying the farmers for their produce within seven days, but had done little to snip the part played by the arhtiyas.
The amendments were carried out in the Punjab Agricultural Produce Markets (General) Rules, 1962.
As per the amendment then carried out, the arhtiyas would give "form I" to the buyer immediately upon the delivery of the produce.
The buyer, in turn, would make the due payment to the arhtiyas within two days. They would then make the payment to the farmers within three days of receiving the amount.
Punjab had earlier decided to make payments to the farmers for their produce only through cheques in sync with their demand.
The cheques were to be delivered through the commission agent handling the sale and purchase of farm produce.
End of 'Arhtiya Raj'
Arhtiyas in Punjab pocketed `6427.27 crore in two decades 1990 onwards, according to a study
Business continued to yield good profits, as the rate of commission steadily grew from 1.5% in 1961 to 2.5% in 1998, even though they "did not have any significant role in the procurement of crops like wheat and paddy, where assured marketing prevails"
No less than 2,990 farmers committed suicide in just two districts of Sangrur and Bathinda from 2008 to 2009 due to indebtedness