Uncommon salt
Once the poor man's main course with the humble chapatti, the lowly salt has come a long way to its gourmet avatar
Shekher Phadnis
The average Indian knows about only a few type of salts like the common iodised salt, the purified table salt and the black rock salt, also known as the kala namak. But a gourmet salt shop in London has nearly two hundred types of salts. And the prices are shocking too. The salts can range from Rs 5,000/per kg to Rs 8000/ per kg. A small tube like bottle contains just one ounce (28 gm) of the gourmet salt and is priced at $ 3.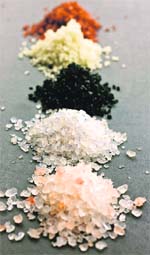 Gourmet salt comes in various colours and varieties
Himalayan pink (medium-grain) fine rock salt
A Pakistani product, this gourmet salt is pure and hand mined deep inside the Himalayan mountains. The high mineral Himalayan salt crystals range from sheer white to varying shades of pink to deep reds. These colours indicate a beneficial amount of 84 trace elements and iron. The darker the colour, the more impurities present in the salt, while a light pink colour is best for food grade. Light pink is considered the premium quality pink salt.
Indian kala namak (extra-fine) mineral salt
Kala namak or black salt is a special type of Indian mineral salt. It is actual pinkish grey rather than black and has a very distinctive sulphurous mineral taste. This black salt is used in Indian cuisine as a condiment and is added to chaats, chutneys, raitas and many other savoury Indian snacks. This black salt is collected from deep mines in India as black-brown salt blocks. It contains several important minerals, including iron and sulphur. When it is ground, it becomes brown pink and has a light taste of sulphur that gives it a smoky, spicy, egg like taste.
It is not recommended as a cooking salt, as the sulphur tends to overpower. However, the hard-core aficionados dispute this. This salt is popular with vegans, vegetarians and Ayurveda devotees, who appreciate its cooling effect and digestive qualities.
Bali coconut & lime-smoked sea salt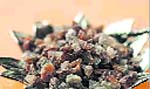 Salt amethyst bamboo
Rs 7,000 per kg
This is a natural and tropical salt harvested from the sea around Bali. Its beautiful geometric crystals absorb many flavours. Indigenous coconut and lime are used to create a smoky salt with a bite of citrus.
Bali pyramid is a crunchy salt, which holds up for a many minutes after application. This salt can add a crunchy taste to your dishes. The pyramids will crunch in your mouth exploding with a salty island flavour.
Fleur de Sel sea salt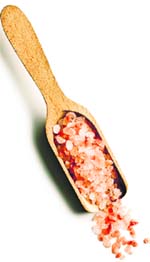 Himalayan pink salt
Rs 5,000 per kg
An all-natural and a kosher product used by Jews, this is truly the best of French gourmet sea salt. It is from the Guerande region of France. Known as the caviar of salts, it is accepted by many eminent chefs as the best of sea salts. Fleur de Sel is the first harvest of the season. The crystals form on the very top layer of the salt ponds and are harvested by hand by barely skimming the surface. The second layer is harvested by machine and is called gray salt. It has a delicate taste, a moist texture, and a rich, sweet flavour that melts as it touches the tongue. Not only is this among the best tasting salts, it also has the highest mineral content and is naturally low in sodium, making it delicious and healthy. Fleur de Sel is a natural compliment to steamed/grilled veggies, salads and roasted or baked meats.
In India, many of our five-star restaurants are using a variety of gourmet salts. In recent times, chefs have also been infusing salts with flavours — with amazing results. Chef Chiranjib Chatterjee of Afraa in Kolkata, for instance, has been preparing dishes with salt flavoured with rosemary and oregano, or basil and sweet pepper salts. The chefs at The Claridges, too, have been enhancing salts with the flavours of vegetables, fruits and flowers. Their Danish smoked salmon gravlax — raw salmon cured in salt, sugar and dill — is served with three kinds of salts: beetroot, citrus and hibiscus.
These exotic salts, which cost quite a packet, have to be used in the correct way to bring out the most of their flavours and taste. A dish's main ingredient — fish, fowl or any other — has to be lightly cooked when one is trying to enhance the taste with a different kind of salt.
Who would have thought that the lowly salt had so much potential in it? Just goes to tell us that one should never underestimate the meek. They can always surprise us — and in the nicest of ways.


As mercury shoots up, fashionistas advise young brides not to go overboard with fabrics, embellishments and cuts, but focus on comfort
Surekha Kadapa-Bose

Give me red
For many brides, traditional colour red still prevails for the main rituals of the wedding. Designer Sulakshna Monga(Soltee) has done slight improvisation in the saree — hand worked net saree with embroidered velvet appliqué work is draped as a duppatta on a heavily embellished fitted lehenga that has dabka work with kundan, laser cut silver coated flowers plus zari embroidery.
Price: Rs 1,50,000
This is going to be one helluva Indian marriage season. According to astrologer pundits, there are eight to nine auspicious days each in April and June, 17 in May and 11 in July. So that is thousands of weddings in India, and naturally that many brides.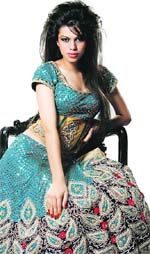 Brocade rules
For the nuptial time or for a reception, designer Mrunal Yangad (Malacha) has a peacock-coloured lehenga-choli. The whole ensemble is made of pure silk brocade, with silk velvet, and net detailing. The embellishment is, entirely zardozi work, with pearls and thread embroidery also called "challa", sequence and stones. The blouse has an extended net corset in nude shade for brides who don't want to show their midriff.
Price: Rs 2,32,500
A 'bride' means glam appearance, heavy clothes and jewellery plus 100-watt smile perpetually pasted on her face to look happy on the D-day. With the mercury already rising 40 plus on the scale, would-be brides must be really agonising over their attire and also looks! Actually they need not worry. We have a huge posse of designers ever-willing to help us to dress well and look our best at, whatever the mercury readings show. Even there have been special events by designer and event organisers, who have captured this astrological prediction and hosted several events to help the summer brides.
Fashionistas tip for this summer brides is not to go overboard with fabrics, embellishment and cuts. "Comfort should be the most important factor", they chorused. The trend this wedding season is combination fabric. For example, one can have chiffon, net or georgette lehenga and give it a wedding touch. Adorn these with Benarasi, Kanjeevaram silk, brocade border or velvet cutouts. Feels comfy and looks absolutely smashing!
Designer Sabyasachi Mukherjee has gone so far as to adorn his brides in huge flared lehengas in fine cottons like mull, linen with broad borders of heavy silks and velvet. These are further embellished with heavy heritage embroidery making the apparel fit for a princess, and at the same time summer easy wear.
"The outer garment can be showy as long as the inner lining, which is next to the skin should be comfortable. Line the outer showy fabric with any natural fabric like silk, raw silk, satin or cotton and you won't feel hot," advises designer Ajiesh Oberoi. She has used lot of net and combination fabric in her bridal attire.
Fabric of the season is georgette, chiffons, tulle, satins, cotton silks, net etc. plus a combination of fabric. Designer Liz of Satya Mishra-Liz Paul duo of designers says, "In north India, most are night-time weddings where there is a slight reprieve from the heat of the day time. So one can opt for a lehenga on which one can drape a heavily embroidered duppatta. If you are opting for a saree for a summer wedding in central and southern India where the auspicious mahurats are in the morning or afternoon, then pick a georgette saree with lightly embroidered, or even plain silk lehenga in contrast colour. Or get a chiffon saree with whatever silk border you like."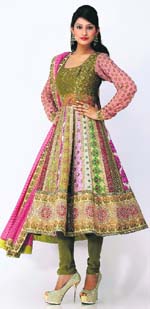 Anarkali favourite
Designer Heena Chhabra has this Anarkali dress with multiple kalis. On pure khaddi georgette fabric, lots of fresh hues, exotic detailing and a variety of embroideries are infused with great finish. Its brocade fresh green hue yoke and an embroidered waistband heightens the glam quotient. Use of hand embroidery, satin stitches, traditional motifs, sequins, zardozi and gotta work makes the Anarkali an all-event favourite. Matching churidaar and heavy brocade dupatta gives it a royal touch.
Price: Rs 42,000
Another option as suggested by designer Heena Chhabra of Chhabra 555 is not to wear full sleeved dresses. "Even if you do opt for net sleeves with minimal embellishments at cuffs, wear flowy dresses which are 'ventilated' well. The better air circulation, the cooler you will feel."
Designer Sulkashana Monga of Soltee label is happy with the present-day brides. "They are willing to experiment not only with the dresses but also styles. I dress my brides in jute, eri, muga, chanderi, besides nets, chiffons or silks. The rich embellishment takes care of the wedding zing and the fabric of the heat!" she says.
Besides the traditional saree and lehenga, keeping in mind the western influence on young brides-to-be, girls can opt for well-cut kaftans, gowns and, of course, pre-stitched sarees or dhoti sarees — easy to wear and very modern-looking to suit the modern bride.
Another designer Mrunal Yangad of Malacha designs says, "Usual summer colours are good for weddings also. Besides the usual red, maroons, rust and golden yellow, brides this season will be seen in baby pinks, bright pink, orange, deep purple with contrast combination of blue, green, etc. These are soothing. Just take care not to wear silk blouses that are itchy. Look glam with net, sheer blouses with the right type of very light embroidery on them." The best part of being a modern-day bride is that as there are so many functions one can experiment with several styles of dresses. For the mehendi ceremony, one can opt for short colourful printed Rajasthani ghagharas with sequined or mirror-work dupattas. Short-sleeved choli tied up with narrow ribbons will be so easy for mehendi worker to showcase her designs. For sangeet, one can wear Patiala pyjamas with short kurtis with lot of sequined work or embroidery. One can even opt for short Anarakali dress or if the bride is a tall lass then she can opt for ankle-length multi-kali Anarakali attire. Lehengas with bustier blouse anyway are very popular at the sangeet ceremony. Whatever way a bride wants to dress up, the primary focus should be on comfort and then looking gorgeous. This way, one will be able to enjoy one's own wedding also.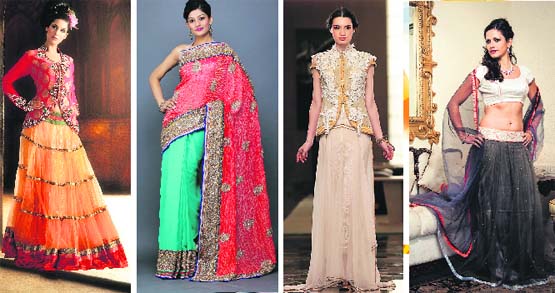 (1) Sultry siren: For a sexy, sultry look for a pre-nuptial party or an all-girls glam party, wear this silver brocade blouse and stone-studded grey shaded net lehenga with embroidered waist belt and coral pink frill on dupatta by designer Shouger Merchant Doshi. Price: Rs 28,000 (2) colour blocked: Glamorise your persona with this half and half drape saree by Heena Chhabra that is beautified with perfect colour blocking. The grace of this piece is further accentuated with broad borders that are studded at edges. To add bling to this masterpiece, stones and laces are speckled all over. Small to large butties add an instant charm to its wearer's persona. This classy product is teamed with a blouse that is adorned in a similar manner. Price: Rs 59,000 (3) Gowning glory: Attend pre-nuptial parties or mehendi in this sheer gown-jacket by designer Sulkshana Monga (Soltee). The gown in soft net in nude colour is topped by a raw silk jacket covered with lycra mesh, satin and hand-woven brocade. Hand-embroidery in resham combined with little machine embroidery works as large-sized embellishment. Price: Rs 40,000 (4) Lehenga Glamour: Dress in a top a pink orange koti lehenga in tule or net with a dark pink Benaras koti (jacket) filled with rich looking zardosi work by designer duo Liz Paul and Satya Mishra for the main ceremony of your nuptials. The red velvet border on the lehenga contrasting with the delicate orange main fabric will add a touch of colour and glamour. Price: nearly Rs 35,000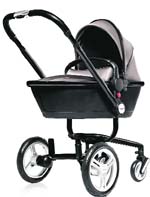 BABY'S DAY OUT
We all know that Aston Martin has been James Bond's car of choice. But very few know that from now onwards it will be the most favourite travelling mode of some lucky babies as well. The iconic British car company has collaborated with stroller maker Silver Cross to produce a pram for babies who like to travel in style. In a special limited edition of 800, the strollers are made from aluminium and magnesium alloy with the carrycot made of leather and Alcantara fabric, giving it that unmistakable oomph. Imagine owning an Aston Martin even before you can walk. Price: $3,000 (Rs 1.65 lakh)
CATCH THEM YOUNG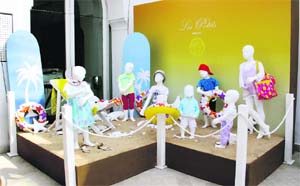 Versace is no longer just an obsession for the fashion- infatuated Indian adults. Now even kids can flaunt the Head of the Medusa logo even as Italian fashion house opens up Young Versace in Delhi, with its 2013 Spring/Summer collection 'Treasures of the Sea'. Brought to India by Les Petits, the collection for children aged between 0 and 8 years, true to its theme, is set against the backdrop of sandy shores, surfboards, starfish, shells and other stuff related to the sea. However, if the prices leave you all at sea, then you, as a parent, are obviously not in the race for being the mother/father of the most-fashionable child. price: Upon request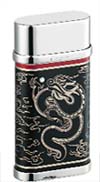 FIRE-BELLOWING DRAGON
It may be the Chinese Year of the Snake but Cartier is still celebrating the Year of the Dragon with the striking Dragon Decor Lighter that it launched in March 2013 for the Easter season. The lighter is hand-made in Switzerland and has a palladium finish. It has a full dragon design wrapping around the front and back of the case. The unique feature is that the fire actually seems to be coming out of the dragon's nostril, making it the perfect smoking companion. Each lighter of this limited edition carries an individual identification number, making it a classy accessory. Price: $975 (Rs 53,625)
MOBILE SHAVER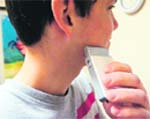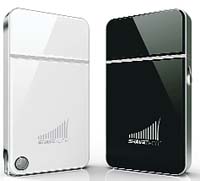 It's an electric razor for a man—or woman—on the go. Smaller than an iPod, it fits easily into any pocket and is ready for use anytime. What sets the ShaveTech Razor apart is that it can be charged from any laptop or computer USB, thereby making it perfect for people who travel and sometimes need to shave twice a day. This ensures they don't have to worry about converters. One 30-minute charge gives six shaves which would be just fine for any business trip. Price: $30 (Rs 1,650)
WHAT A SHOT
The US Army no longer has a monopoly on drones that it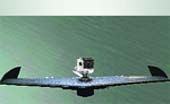 uses as a part of its war on terror. Now you can own an Unmanned Aerial Vehicle (UAV) purely for fun and entertainment. The Lehmann GoPro Personal UAV comes fitted with a camera for brilliant aerial shots of up to 300 feet. It is an amazing device to capture shots of any sporting event or even of a party, the UAV returns within five minutes to the place from where it was launched. Weighing less than a kilo and measuring a little over three feet, the device will open up the skies for you, literally. Price: $1,300 (Rs 71,500)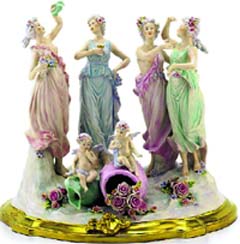 ART IN PORCELAIN
Though there are affordable ceramic figurines available throughout the world, classy idols have for eons remained a symbol of opulence and the preserve of the wealthy. Elitaire, Delhi's luxury boutique by the Dolphin Group has launched a collection in porcelain called Ceramic Wonders that is an ode to the vibrant colours of spring. The limited edition collection of eight is enhanced with platinum and gold with an embellishment of Swarovski elements. It recreates a lifelike rendition of frolicking angels and cherubs sculpted by Italian artisans. Price: Spring Dance Rs 1.72 lakh
'WATCH' THESE CUFFLINKS
What do you call a wrist accessory that tells the time? The answer to that no-brainer is a watch. Right? No, wrong. It is a cufflink. London-based luxury jewellery and accessories designer Robert Tateossian has created yet another fashion forward with the cufflink-watch fusion. The collection available in three variations — black guilloche face, white and blue mother of pearl face with raised metal numerals — is guaranteed to put you way on top of the style quotient.
Price: $445 (Rs 24,475)