artS

Southern voices
Apart from some Deccani work, little is known about paintings
from the South, which impress with their quality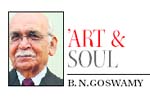 I might have said it before but it bears saying again: in the histories of Indian painting that we write, the southern part of our land makes only a fleeting appearance, if at all. Sculpture and architecture are another matter, for there only the truly ignorant would fail to bring in the great work done under the Pallavas and the Cholas. For instance, those seductive bronzes and massive figures in stone, the soaring temples and carved boulders. However, of painting, we hear remarkably little apart from some Deccani work. Slowly, however, one is waking up to the reality down South. And justly so, for some remarkable work was done there, little known till now but forcing itself upon our attention because of its sheer quality.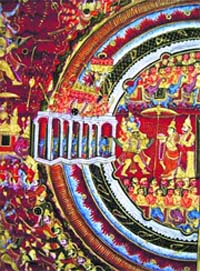 Vishnu-Krishna storms the citadel of Narakasura. Folio from the Bhagavata Purana manuscript; Mysore, ca. 1830 Binney Collection, San Diego Museum of Art
I became aware of this while working some years ago on a major exhibition of Indian paintings drawn from the celebrated Binney Collection at the San Diego Museum of Art. For in that collection was an illustrated manuscript of the Bhagavata Purana with paintings that simply took one's breath away. It was, one could see, a 'late' work — 19th century — but the quality of the work inside was, to put it simply, compelling. There was some internal evidence that one could rely upon for placing it: the text was in Kannada and was written on European paper, some sheets bearing the watermark, "Gior Magnani", which we traced back to the famous Magnani paper mills in Italy. And on the flyleaf was the impression of an embossed seal bearing the words, "His Highness, Rajah of Mysore", in English characters. European presence could be seen hovering in the background of the work but only in these matters: the style had little, in fact nothing, in it that showed any awareness of European work. It was as if born of the soil itself.
Fortunately, by now, we know a little more about the style, and the group of works, to which the manuscript in the Binney Collection belonged. It appears to have been done for, and at the court of, that enlightened ruler of Mysore, Krishnaraja Wodeyar III (ruled 1799 to 1868, virtually deposed by the British in 1831)), whose name as a patron of the arts is a legend in that region. He was personally a gifted man, a scholar of Kannada and Sanskrit, a writer to whom as many as 40 works are attributed, greatly interested in astrology and mantrashastra, a composer of music — and it comes as no surprise that he befriended countless scholars and artists.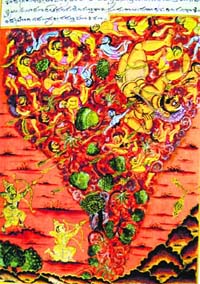 The Gomanta Mountain is set on fire. Folio from a Bhagavata Purana manuscript; Mysore, ca. 1830 Binney Collection, San Diego Museum of Art
At his asking, apparently, some great enterprises in painting were undertaken: thus, Sri Tattva Nidhi, which is a virtual pictorial encyclopaedia of iconography studded with close to 1000 paintings; a Devi Mahatmya extolling the exploits of the Great Goddess; a now dispersed Ramayana in several volumes, the paintings within which are estimated to have been close to 2000, judging from the one volume of the Balakanda which has survived; and, of course, the Bhagavata Purana in the Binney Collection. What else was there, but is now lost, one will never know.
The sheer weight of quantity apart, it is to the quality of the work that one needs to go back. For it reminds one sharply of the fact that the great tradition of painting in India had not all started drying out on the branches of time in the 19th century. To take the Bhagavata Purana manuscript as an example, one can see that it takes off from the very first folio: a double page showing an enormous courtyard in intense red with innumerable figures disposed around it, in whose virtually vacant centre exquisitely detailed standards raise their lofty heads while pennants of all descriptions fly, leading the viewer/reader into a world of incredible visual excitement.
As my colleague Caron Smith and I wrote then, "Rich, saturated colours invade the senses, streaks of gold shimmer and gleam, tiny little figures bustle about, moving, embracing, glancing, combating: seas surge, clouds rumble, elephants move with incredible dignity.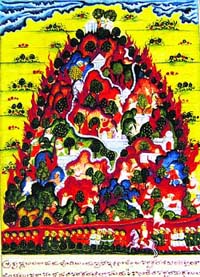 Rama and Lakshmana subdue the demon Subahu. Folio from a Ramayana manuscript; Mysore, ca. 1830 Jagdish and Kamala Mittal Museum, Hyderabad
But there is no attempt at creating any 'effects' or at setting up theatrical contexts, for over everything falls the even, warm light of deep devotion, bhakti. Episodes are rendered with the conviction that this is the only way in which these things could have happened; characters, whether human, semi-divine, or divine, all appear to be true and believable. One might see soldiers in British uniforms forming part of Jarasandha's army, or wind-filled European sails on boats crowding the seas that surround Dwarka, but evidently, for the painter of this superb work, there are no anachronisms here: time moves differently, and the present fuses, as it always has, with the past."
The visual excitement we spoke of belongs, more or less in equal measure, to other works in this style done at Mysore. When we see, in the Balakanda of the Ramayana, the demon Subahu arriving with his malevolent hosts to disrupt the yajna of Vishwamitra, tearing through the air, scattering wood splinters and tree branches like a whirlwind, and Rama and Lakshmana taking him on with their arrows, one can almost hear the crash and blare of the battle.
Again, when, in the Bhagavata Purana, the Gomanta mountain, in which Krishna and Balarama had sought momentary shelter, is set on fire by enemy forces, and everything burns from solid structures to boulders and forests, one can almost sense the heat all around. And when Vishnu-Krishna attacks the impregnable fortress of the demon Narakasura, surrounded by moats of water and fire and belts of stormy winds, and a pitched battle takes place, one finds oneself in a bewildering field, where arrows without number fly over heads, scimitars flash in hands, and elephants come charging in, trumpeting and crushing everyone under their feet.
It is all a divine drama that not only the gods come rushing to see, stationed in their aerial chariots in the sky, but something that the painter, the much-neglected and virtually unknown painter from the South, appears somehow to have had a vision of too.

Work of steel

French conceptual artist Bernar Venet in front of one of his monumental steel sculptures "Desordre" ("Disorder") in the southern French city of Marseille. The works were shown as part of Marseille-Provence 2013, the new European capital of culture.

Body work

A visitor looks at a plastinated body staged as poker players, displayed at the Body Worlds and the Cycle of Life exhibition by German anatomist Gunther von Hagens, held at the Natural History Museum in Vienna. The exhibition is on display until August 11, 2013, in the Austrian capital.

American life

A man looks at "The Barricade" (L) and "The Germans Arrive" by the George Bellows (1882-1925): Modern American Life exhibition at the Royal Academy of Arts in central London. The exhibition, which is on till June 9, presents 71 works of art, including paintings, drawings and lithographs.

Artists unlimited

A woman stands past a Pablo Picasso's piece of art titled "Tete de Taureau" (Bull head) during the presentation of Guggenheim Bilbao Museum's new exhibition L'Art en Guerre. France, 1938-1947: From Picasso to Dubuffet in the northern Spanish Basque city of Bilbao. The exhibition, which has been organised by The Musee d'Art moderne de la Ville de Paris, Paris-Musees and the Guggenheim Bilbao Museum, will be on till September 8, 2013. It shows more than 500 works by nearly 100 artists, including paintings, sculptures, documents, photographs and films. Photos: AFP