Champion of India's wildlife
Reviewed by Lt- Gen (retd) Baljit Singh

Tripwire for a Tiger: Selected Works of FW Champion
Rainfed Books. Pages 202. Rs 495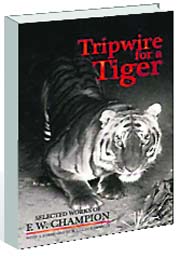 I had lost all desire to kill wild animals. Not that this has proved any loss to me because I have found that wildlife photography provides all the thrills and excitement of hunting without having to shed any blood at all`85. Such pictures hanging on one's walls in subsequent years, bring back vividly, as no skin or head can ever do`85. one can half close one's eyes and feel again the warm air and hear the hum of the insects`85.. one can see the living, breathing tiger as he lies, having no final vision of the magnificent king of the jungle lying in death agony or mar the pleasure of a wonderful experience".
The above quote is from the text by Fredrick Walter Champion (FWC), especially written for the centenary of the Forest Research Institute, Dehradun in 1961. Though his hosts would have expected him to focus on forestry per se but FWC deliberately chose to write about the scientific side of forestry" but rather about the denizens of the Indian jungles and their conservation needs, which according to FWC must be integral to the basic precepts of the forestry paradigm and practices.
Now who was FWC and why did the Forest Institute pick on him for such a singular honour? Well, he was simply a gifted, out-door photographer who concurrently also emerged as one of the distinguished officers of the Indian Forest Service, from 1923 to 1947. Within the first 10 years of his service, he had won recognition among his peers in forestry, and with the world at large as the undisputed pioneer of wildlife photography in India; also the first to successfully pursue free-ranging tigers in their natural habitat, armed with a camera in preference to a sporting-rifle. Equally, FWC's powers of descriptive prose were so engrossing that his texts and photo-images found ready acceptance with prestigious publications in the UK. So in 1927, FWC published his first book, With A Camera In Tiger-Land (Chatto & Windus, London); a great achievement considering that both photography and writing were mere persuasions on the side-lines of FWC's demanding profession.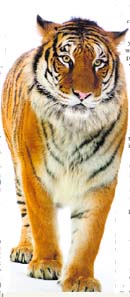 Tripwire for a Tiger is an anthology comprising FWC's 24 published articles which showcases the ways of tigers and most other denizens from elephants to squirrels, sloth bears to butterflies and varied other riches of our living jungles.
Even more significant is the message conveyed through each text, that wildlife and their habitat are among our cherished heritage which must be preserved. Perhaps the best of FWC as a writer-naturalist emerges from one of his earliest texts, A Remarkable "Sitting" by a Wild Tiger, when in the company of his wife Judy, (mounted on his favourite elephant Balmati) they successfully tracked a tiger: who "lay twelve yards away from us, with his mouth open, his sides heaving, yawning occasionally`85.. sometime holding his head up, until his eyes began gradually to close with sleep`85. He stayed there for perhaps a quarter of an hour, during which time we exposed all the Plates`85.the last at a little under ten yards range`85One simple shot, and all the life and movement would have gone from that beautiful striped body and could never be brought back again." FWC was never to falter from that latter conviction.
Lastly, we Indians shall remain indebted to FWC for his pioneering and persuasive advocacy of creating national parks in India (similar to those in the USA and South Africa) which led first to the enactment of National Parks Act of 1935 and a year later, the creation of the Hailey National Park, today's prestigious Corbett Tiger Reserve. Admittedly, this was possible by the enthusiastic support of the visionary Governor of the United Provinces, Sir Malcolm Hailey. The latter then became the Viceroy of India and further seeded the wildlife conservation paradigm in India.