On movies, but without sparkle
Reviewed by Rachna Singh

History of Indian Cinema.
Pages 374. Rs 250

101 Hit Films of Indian Cinema.
Pages 272. Rs 195
Both written by Renu Saran and published by Diamond Pocket Books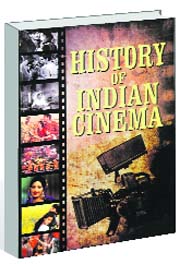 Indian cinema completes 100 years of film-making in 2013. This, undoubtedly, merits celebration and Renu Saran in her own small way pops champagne with her books History of Indian Cinema and 101Hit Films of Indian Cinema.
Saran's History of Indian Cinema covers a major chunk of the Indian film pantheon, with an analysis of Bollywood films as well as regional films. Indians were touched by the magic of cinema for the first time in Mumbai in July, 1896 when they viewed Lumiere films. After this there was no looking back. Dadasahib Phalke produced the first full-length motion picture Raja Harischandra in 1913.This opened the floodgates with Alam Ara and Devdas following in quick succession. Then came the Golden Era of Indian cinema, with Guru Dutt's Pyaasa, Raj Kapoor's Awara and Mehboob Khan's Mother India. Satyajit Ray's Apu trilogy announced the arrival of Indian cinema at the global level with great fanfare.
Saran also traces the growth of modern Indian cinema which split into commercial cinema with Amitabh Bacchan as the flagbearer and parallel cinema spearheaded by Shyam Benegal and others of his ilk. Saran's book takes the reader through myriad facts about music, finances, posters and marketing involved in cinema. Short vignettes of well-known actors and directors add to the 'data base' on cinema. The book makes no pretensions about being a masala script and with clean bold strokes documents the growth of Indian cinema in its various genres and in its Hindi as well as regional avatars. The title of the book reflects the essence of the book. It makes no bones about the fact that it is simply a well-researched history of Indian cinema and nothing more. The history with its dry tone of narration and collation of facts intimidates and would perhaps excite only the hard-core cinephiles.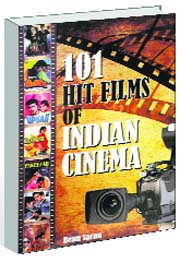 For those film buffs who think the history of Indian cinema is pass, Saran has 101 Hit Films of Indian Cinema to offer. She insists that the 101films in her book are "critically acclaimed and commercially successful movies." There appears to be some truth in her claim considering she ranges from Alam Ara and Acchut Kanya to Munna Bhai MBBS, 3 Idiots and No One Killed Jessica. She has included Bengali, Telugu and Marathi films also in her list. However, strange as it may seem, films like Masoom, Ijaazat and Khoobsurat, do not find place in Saran's film canvas. Saran shrugs this off with "a movie which in my opinion was a classic is not essentially same for others". She also stresses the fact that the book is 'not a criticism or review of the movies' but is focused on its storyline, producer-director, music composer, star cast with some interesting facts thrown in. She must be applauded for the Herculean task of putting together 101 'hit' films, but the story telling is completely shorn of interest and imagination and the use of pedestrian language makes for a lacklustre read.