food talk
No-frill fish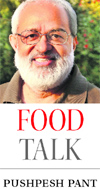 rui Maach, known elsewhere as rohu, is beloved of the denizens of Bengal. It is valued for its firm, white flesh and pleasant taste. Those not adept at disposing off bothersome bones can cope with it easily. Easy to identify, it is available fresh at most outlets. It can adapt well to a wide range of 'fried' and 'curried' recipes. What is more, in these hard times of spiralling prices, this fish hasn't as yet hit the roof. It is far more affordable than many more touted exotic species on display on the slab of ice. For us, its greatest virtue is that it can satisfy the most demanding palate in simplest of recipes, without any frills. Recently, we were treated to rui no frills by old friend Partho Ghosh, a food lover who doesn't mind working hard in the kitchen and one who has an unmatched collection of recipes and fishy tales from Bengal, Bihar and Assam.
Rui maach
Ingredients
Rohu (cleaned and cut 500 g in darns, with or without skin as you prefer)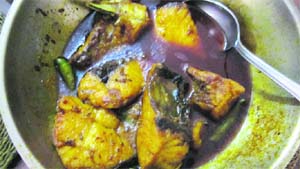 Dhaniya powder 2 tsp
Haldi powder 1 tsp
Red chilli powder `BD tsp
Salt to taste
Mustard oil (To fry the fish)
Method
Sprinkle fish with a little haldi powder and salt and keep aside for 20 minutes. Heat oil in a pot, (preferably in a cast-iron karahi) till smoking point, then reduce heat and fry fish on a medium flame till lightly browned. Remove with a slotted spoon and keep on paper towels to remove excess fat. Dissolve the powdered spices in a little water and put in the oil in which fish was fried. Add two to three cups of water bring to boil reduce heat and gently place the fried fish in it. Simmer uncovered for 3-4 minutes. Enjoy with steamed rice. Resist the temptation to add even a single bell or whistle. This is home-style comfort food at its best.