ENTERTAINMENT

CHANNEL SURFER

FOOD TALK

BUYERS BEWARE!

GLOBOSCOPE

FITNESS MANTRA

GOOD MOTORING

LIFE'S LESSONS

MUSIC ZONE

ULTA-PULTA

FRUIT FACTS

WEBSIDE HUMOUR

CROSSWORD

WEEKLY HOROSCOPE

TELEVISION
EARLIER FEATURE

RELATIONSHIPS

DREAM THEME

TIME OFF

GARDEN LIFE

FASHION

BRIDGE

NATURE
Enter, designer bakers
A handful of European pastry chefs have set up high-end bakeries in India and are giving a new twist to the term cakes and bakes
Arundhati Basu
Pat a cake, pat a cake, baker's man/ Bake me a cake as fast as you can...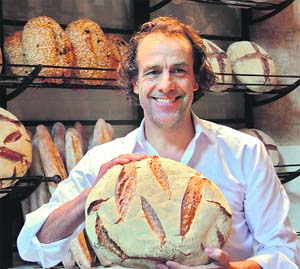 Now your wishes will all come true, thanks to European pastry chefs who are setting up shop in India.`A0They have come armed with recipes guaranteed to get the gastronomic juices flowing. On offer are golden-crusted Swiss breads, Dutch cookies, Belgian waffles, French crepes, quiches and tarts. If you can smell the vanilla, it is probably straight out of the hearths of the bakeries set up by a new wave of expatriates who are introducing the country to a variety of bakes made from wholesome ingredients.
Alain Coumont, a Belgian has set up Le Pain Quotidien. His bread cafe in Colaba, Mumbai, has a Belgian, farmhouse-like atmosphere


---
ARTS
'Art & Soul
Southern voices
Apart from some Deccani work, little is known about paintings from the South, which impress with their quality
b.n.goswamy
I might have said it before but it bears saying again: in the histories of Indian painting that we write, the southern part of our land makes only a fleeting appearance, if at all. Sculpture and architecture are another matter, for there only the truly ignorant would fail to bring in the great work done under the Pallavas and the Cholas. For instance, those seductive bronzes and massive figures in stone, the soaring temples and carved boulders.
---
Fitness
Snack attack
Most of us tend to crave for foods that are not good for health. With a little thought and planning, one can check this fattening habit
Mickey Mehta
The urge to munch can strike you at any time or anywhere. Without any warning, you can be overcome by an urge to munch. Try as you might, you just can't wish it away. You know that you have taken a good substantial breakfast, lunch or dinner, yet you feel this uncontrollable craving for a bar of chocolate or a packet of chips.

Health Capsules
---
Society
Family the new friend in virtual times
Swati Rai
with the growing number of Internet users in India there has been a concomitant change in familial dynamics too. When everyone's hard pressed for time between deadlines and time crunches familial bonding has now also gone virtual. The virtual connection that the child shares with his "friend" and "followers" on Facebook and Twitter has made parents and families join the many networking sites and add their respective family members as "friends" on the social media. For the older generation it is more the case of "if you can't beat them, join them".


---
TRAVEl
Isles of evolution
The Galapagos Islands are famous for their large number of endemic species. These islands and species were studied by Charles Darwin during the voyage of the Beagle. His observations and collections contributed to the inception of his theory of evolution by natural selection
Sudha Mahalingam
The baby sea lion looks up at us with beseeching eyes as if asking for his mom. She has gone hunting in the ocean. He seeks us out despite the fact that the beach is packed with sea lions – mothers, adolescents, babies all sprawled in groups, their brown coat shimmering in the sun. Should something happen to his mother, the baby will be orphaned and face sure death. No other mother will adopt him. One would not guess that when hundreds of sea lions lie next to each other in great conviviality as though they are one large family.
---
ENTERTAINMENT
Welcome to Zombieland
Zombies have finally arrived in Bollywood. This is evident from the plethora of films on these creepy creatures that are catching the fancy of new-age cinegoers
Aradhika Sharma
If 2013 has one new genre to boast of in the Hindi film industry, it is the zombie movies. Two films coming up in the first half of the year have pushed past the horror genre of movies like Raaz, Cheekh and Ragini MMS and are generating quite a lot of interest. Indeed, the promo of Go Goa Gone, starring Saif Ali Khan, has already grabbed more than two million eyeballs on YouTube.
'Cinema is changing today'
From Johnny Gaddar to 3G, Neil Nitin Mukesh has created a niche for himself with unconventional roles. The actor talks about his latest film and more
Faisal Saif
How has your journey in films been?
I am a very simple man. I have a 9 to 5 job. After that I like to go home and spend time with my family. I don't want to be confined in any one territory: be it a 'kisser' or a 'killer'. My experience in Bollywood has been very interesting. Though there have been many ups and downs but it has been an intelligently grafted journey, if I may call it so. I have been lucky to have had an opportunity to work with the finest directors of Bollywood. I am looking forward to working with some new directors also.
---