Enter, designer bakers

A handful of European pastry chefs have set up high-end bakeries in India and are giving a new twist to the term cakes and bakes
Arundhati Basu
Pat a cake, pat a cake, baker's man/ Bake me a cake as fast as you can`85
Of French-Persian origin, Laurent Samandari (right) has set up the L' Opera in Delhi
Now your wishes will all come true, thanks to European pastry chefs who are setting up shop in India.`A0They have come armed with recipes guaranteed to get the gastronomic juices flowing. On offer are golden-crusted Swiss breads, Dutch cookies, Belgian waffles, French crepes, quiches and tarts.
If you can smell the vanilla, it is probably straight out of the hearths of the bakeries set up by a new wave of expatriates who are introducing the country to a variety of bakes made from wholesome ingredients. Health-conscious people, are tossing out white breads in favour of loaves made from rye, oats, bran, wheatgerm and other multigrains.
Bread cafe
"I decided to set shop in India because of its strong bread culture," says Alain Coumont, the Belgian whose Le Pain Quotidien (The Daily Bread) caf`E9s are a rage around the world. His bread cafe in Colaba, Mumbai, has a Belgian farmhouse-like atmosphere with bleach wood tables and trims. The caf`E9 is exclusively about bread and Coumont's forte lies in baking hand-made roundels and loaves. Some of the exotica includes: stuffed with apricot bits and sultanas, open-faced Belgian sandwiches called tartines, brioches and an assortment of pastries. "When I started Le Pain Quotidien in 1990 in Brussels, I followed a simple philosophy: There would be no compromise on organic flour and quality of ingredients. The breads would be baked using natural levain (leavening agent used in place of yeast) rather than chemical additives."
French pastry chef Mickaël Besse has set up Ecstasy, Chennai's first international dessert pub
His other key offering is a large table where diners can sit together and literally break bread. "It is in sync with the Indian tradition of community dining," says the baker who lives in a farm outside Montpellier in France.
Coumont is not alone in Mumbai. A French trio going strictly by their first names, Jeremie, Antonia and Pierre, have set up a creperie at Nariman Point called Suzette where they do brisk business selling sweet and savoury crepes. Their knowhow of dishing out crepes comes from their training at Ecole du Ble Noir, a Brittany school for crepe making.
Boutique patisserie
In Chennai, if you are hard-pressed to find a quiet place where you can while away time without being hussled out, step into Ecstasy, a boutique patisserie conceptualised by French pastry chef Micka`EBl Besse. With its modern, minimalist ambience, the dessert pub at Royapettah offers high-end liquorice-raspberry tarts, cheesecakes and bonbons. Besse believes in giving Indians an authentic international flavour. "I am using Indian ingredients in unusual ways. For instance, I created a chocolate cake with red chilli flakes. I try and use local, fresh ingredients, such as vanilla pod, spices and teas in India. But I also import products like Philadelphia cheese from USA, mascarpone from Italy and chocolate from France," he says.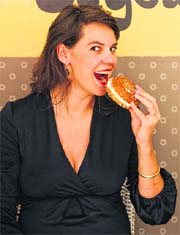 Lalita de Goederen, a baker from Amsterdam, has started Bagel's Café in Gurgaon
Bagels & more bagels
Meanwhile, good bread or rather the quest for it, led Lalita de Goederen, an attractive 33-year-old Dutch from Amsterdam to start Bagel's Caf`E9. True to its name, it offers bagels, bagels and more bagels, that can be devoured plain or teamed with a variety of cream cheeses and meat toppings. She abandoned a career in public relations to open her first caf`E9 in 2009 in Gurgaon. The excellent response she has had has led her to branching out in the last one year – to two more outlets in Delhi's hip Defence Colony market and Hauz Khas village.
In contention with Bagel's Caf`E9 is another bolangerie called L'Opera which initially opened shop at Delhi's Khan Market and now has outlets in the Saket Mall and Friends Colony. It specialises in exotica like baguette paysanne, grenoblois bread, petit bayonne, mille feuille and raisin brioche. It is being run by Laurent Samandari, a 29-year-old French-Persian from Paris, who says Indians have an amazing appetite for healthy breads and bakes which was not hitherto tapped. Though his products are priced steeply— a Brioch Loaf can cost Rs 360, a macaron Rs 135, a chicken quiche Rs 1,700 and a Stella Cake can set you back by nearly Rs 3,000 — there is no dearth of clients.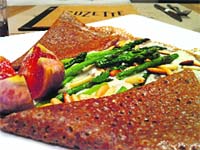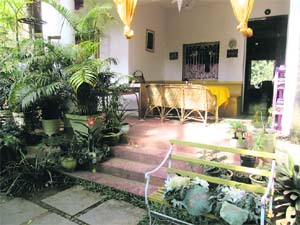 Top: Crepes from the creperie Suzette, at Nariman Point, Mumbai, are a sellout and Michele's Cafe at Anjuna beach, Goa, offers quiches and other baked goodies
Swiss crusty breads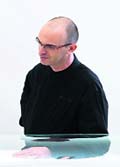 Curiously enough, even if most of them are not dab hands at cooking, it is their passion for food that fuels their urge for experimentation. Take the case of Patricia Beerli, a 40-year-old from Switzerland, who opened up her own Swiss patisserie called the Swiss Gourmessa in Ghitorni, a village between Gurgaon and Delhi. Beerli bakes a mindboggling variety of breads, including many of which may not be familiar names for Indians like the Zopf, Ciabatta and Pumperknickels. Needless to say, all kinds of breads fly off the shelves. Such has been her success that she has opened a shop in Delhi's Vasant Vihar and one at the German Centre in Gurgaon.
Goan bake
Many miles away at the Anjuna Beach in Goa, Michele Fernandes, has set up Michele's Caf`E9 where she offers quiches, tarts and other baked goodies. A former air hostess with Pan Am, Michelle is originally from Normandy, but married a Goan and settled here. Today her huge clientele includes foreign tourists and locals who gorge on her breakfast fare. Most of these eateries are big on breakfast. And the good news is that they open early. So next time you are up for a perfect start to the day just step out for a fabulously fresh way to start your day.
Iconic Indian Bakeries
Bakeries are not new to India. In fact, they flourished during the British Raj and many of them are still going strong. Here's a list of some of the oldest and most iconic Indian names in the business today.
* Flurys, Kolkata: Virtually an institution in the City of Joy, Flurys was founded in 1927 as a traditional European confectionary. Over 85 years later it is still known for its exotic cakes, creamy pastries, rich puddings and perhaps the best Swiss chocolates outside the European continent,
* Wenger's, Delhi: The legendary tea room of the British, Wenger's too is the oldest bakery of Delhi. Established in 1926, it is as popular today as it was during the Raj era. People swear by its delectable breads, cookies, quiches, cream rolls and the all-time favourite Black Forest cakes.
* Smith Field Bakery, Chennai: Established at the turn of the last century in 1906, the Smith Field bakery on the P.B. Road in Vepery, Chennai still has long queues of people waiting throughout the day to buy its wood-fired sweet bread, buns, 'T' cakes and Veg 'Pups' (Puffs).
* Kayani Bakery, Pune: The family-run Kayani Bakery in East Street in the Camp Area of Pune has achieved legendary status since its inception six decades ago. It is a must-visit for tourists there for its lip-smacking Shrewsbury biscuits and the all-time favourite chocolate walnut cake.
* Mr Baker 1922, Panjim, Goa: Situated near the May Immaculate Conception Church, Mr Baker established in 1922 is one of Goa's oldest bakery-cum-coffee shops. Known for its plum, walnut, cashew and rum cakes, it also specialises in Goan delicacies like Bebinca, Dodol and doce
* Cochin Bakery: One of the oldest bakeries not just in Kerala but in India, the Cochin Bakery established in 1880 still exudes an old charm. It offers fresh breads, cakes, pastries, butter rusks and traditional sweets. Its clients have included the likes of Lord Wavell and Lord Mountbatten.