ENTERTAINMENT
Welcome to Zombieland

Zombies have finally arrived in Bollywood. This is evident from the plethora of films on these creepy creatures that are catching the fancy of new-age cinegoers
Aradhika Sharma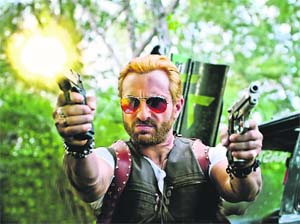 Go Goa Gone, starring Saif Ali Khan, is being touted as India's first zombie comedy
If 2013 has one new genre to boast of in the Hindi film industry, it is the zombie movies. Two films coming up in the first half of the year have pushed past the horror genre of movies like Raaz, Cheekh and Ragini MMS and are generating quite a lot of interest. Indeed, the promo of Go Goa Gone, starring Saif Ali Khan, has already grabbed more than two million eyeballs on YouTube.
Go Goa Gone is being touted as India's first zombie comedy. The film is directed by Raj Nidimoru and Krishna DK, and stars Saif Ali Khan, Kunal Khemu, Vir Das, Anand Tiwari and Puja Gupta.
Saif's dialogue "I keel ded peepul" is becoming the favourite catchphrase of the cyber world. The horror of Go Goa Gone is interspersed with humour.
Asks Kunal Khemu, "India mein bhoot pret hote hain, yeh zombies kahaan se aa gaye?"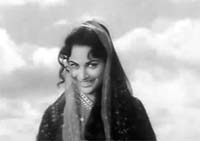 Bees Saal Baad was the first Hindi horror movie
Replies Vir Das, "Globalisation!"
It is no surprise, actually that zombie movies have made their way to the Indian screen. It is, in fact, because of globalisation that the urban Indian youth is familiar with the zombie and its horrific characteristics. Since the filmmakers just love to copy any new trend that makes the coins jingle in the boxoffice, one expects that the zombies will now be the new ghosts of films, for a while anyway.
Go Goa Gone releases on May 10. One hopes that it fares better than Luke Kenny's Rise of the Zombies, which incidentally does have the trophy of being the first Indian zombie film. The film was released in April and bombed terribly. It even had the doubtful distinction of having just two people sitting in the entire hall and not getting scared.
However, the film has another 'first' to its credit. The director and writer of Rise of the Zombies, Devaki Singh was the first woman director of zombie movies in the world. The film is about a wildlife photographer, who cannot strike a balance between his personal and professional life; between his zombiehood and his humanness.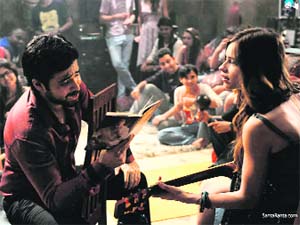 Ek Thi Daayan featuring Emraan Hashmi promises to redefine horror
What are zombies?
These terrifying beings are imaginary creatures — dead and not really dead; animated corpses, who love human flesh. Most likely, once they prey upon a human being, the victim may turn into a zombie as well. Thus causing a zombie holocaust wherein the whole world, but for a few cowering and scared humans, become these blood-loving creatures.
So prevalent is the zombie theme in American films, television, literature, music, and now even gaming, that these awful rotting corpses have become a part of the urban mythology and American lore.
The man who introduced the genre
The 'godfather' of the flesh-hungry undead film genre was George A. Romero, so crowned when he made the 1968 film, Night of the Living Dead. Although in the movie, they were described as ghouls and not as zombies. The film is considered a cult classic. Romero made the path-breaking 'Dead Pentology' though his Dawn of the Dead made in 1976 beat the success of even his first film.
Romero's zombie films usually had an underlying social commentary. His films immortalised the violent, cannibalistic, flesh-eating monsters.
The Bollywood horror connection
Although the first Hindi horror movie was Bees Saal Baad, made in 1949, it is the Ramsay Brothers, who possess the crown of being the Horror Kings of Bollywood. They made movies like Purana Mandir , Veerana , Tahkhana, Dak Bangla, Purani Haveli, Shaitani Ilaaka and so on. Apart from that, were horror blockbusters like Jaani Dushman, Red Rose, Gehrayee, Jaadu Tona. Of late, the task of scaring the audiences has been taken on by directors like Vikram Bhatt ( Haunted 3D, Shapit, Raaz series) and Ramgopal Varma (Phoonk, Bhoot).
Ek Thi Daayan is the latest offering of Bollywood horror. Released recently, the film featured Emraan Hashmi, Konkona Sen Sharma, Huma Qureshi and Kalki Koechlin and promised to redefine horror.
Night of the Living Dead 1968


George Romero's black-and-white film about a group of live people who hole up in a farmhouse as the dead come
up to look for food.

Dawn of the Dead 1978


Romero's sequel to Night of the Living Dead where a TV reporter, her boyfriend and two cops hide in a shopping mall to defend themselves from the zombies.

Re-Animator 1985


Stuart Gordon's film is about a medical student and his girlfriend, who become involved in an experiment on the re-animation of dead tissue.

28 Days Later 2002


In this Danny Boyle film, a virus annihilates London and 28 days later, zombies come in search of alive humans. Even Church crosses can't stop them!

Zombieland 2009


Directed by James L. Frachon and Ruben Fleischer, it is a funny flick about two unlikely partners who have to team up to survive a zombie apocalypse.