ENTERTAINMENT
ĎCinema is changing todayí
From Johnny Gaddar to 3G, Neil Nitin Mukesh has created a niche for himself with unconventional roles. The actor talks about his latest film and more
Faisal Saif
How has your journey in films been?
I am a very simple man. I have a 9 to 5 job. After that I like to go home and spend time with my family. I donít want to be confined in any one territory: be it a Ďkisserí or a Ďkillerí. My experience in Bollywood has been very interesting. Though there have been many ups and downs but it has been an intelligently grafted journey, if I may call it so. I have been lucky to have had an opportunity to work with the finest directors of Bollywood. I am looking forward to working with some new directors also.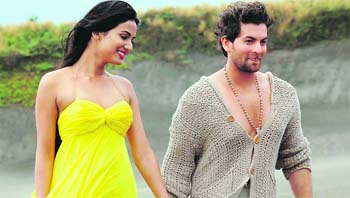 Neil Nitin Mukesh in a still from 3G
What kind of movies would you rate as good films?
Films like Kahaani, Barfi, English Vinglish indicate the changing face of cinema today. When I see films like Gangs of Wasseypur, Kai Po Che, etc. doing well, it gives me confidence and hope.
What went wrong with David?
I donít know. As an actor, I do my work. If it works, it works. For me, New York was a commercial success. It had everything. It was well directed and was made on a large scale. But if you ask me to put my finger into a plug hole and move around for 20 minutes to generate few laughs, I might not be comfortable doing it.
You are always doing dark and edgy films. When will we see you in a romantic film?
No one asks Shah Rukh Khan when heíll do a dark or edgy film. Romantic films are not my territory. There are so many films I have refused and these have been disasters. For example, Luck and Blue were offered to me. 7 Khoon Maaf in which I had a small role made an impact. So even if my films have not been very big successes, my performance has been appreciated. And thatís the reason why I am sustaining.
You have still not had a boxoffice hit?
I treat it like a boxing match where you keep getting punched. The idea is not to fall down and get knocked out. The idea is to keep fighting the battle and on one Friday, you punch your opponent so hard that he gets knocked-out.
A film for which you have worked real hard but didnít work?
I was upset when Jail didnít work as I had put my heart and soul into the film. I had many expectations from the film. Even though it was an intelligent film and had Madhur Bhandarkar as its director, it failed to go well with the audience.
What would you like to say about 3G?
3G was a unique horror film but it failed to do well. The film didnít offer you routine ghosts, spirits and demons. It was a psychological thriller involving mind play.
What do you have to say about Shortcut Romeo and Dussehra?
Shortcut Romeo is different from its original Tamil version. When the film came to me, I liked my character. There's a cat and mouse game in the film, which is full of twists and turns. Dussehra is a hardcore action film. But it has some mind-blowing performances too.
You are also producing a film?
I am producing a film called Paidaar. I have written the film also. I plan to shoot this film by the end of the year.