In seva of Sikhism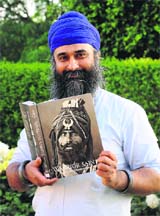 UK-based writer Parmjit Singh, co-author of Warrior Saints — Four Centuries of Sikh Military History, has quit a lucrative job and devoted himself full time to the cause of writing about Sikhism
Like most quests, his too began with ignorance. Parmjit Singh, co-author of Warrior Saints — Four Centuries of Sikh Military History, has no hesitation in admitting that as a young lad he knew nothing about his culture. He recalls how each time he was asked a question pertaining to Sikhism he would draw a blank. He guffaws, "Here I was looking every bit a Sikh, but to be honest it was just an empty show."

Parmjit Singh
Grace in every move
Kathak dancer Madhumita Roy, in Chandigarh for a performance, says the music in the ghungroos inspires her soul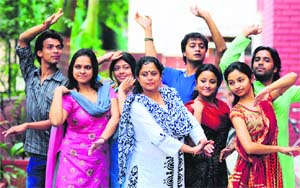 If ever she is driven to the black corner of the heart, if ever life seems to go haywire or if ever nothing seems to connect, kathak dancer Madhumita Roy looks at her ghungroos, which are never too far away from her reach! It's the music in these ghungroos that awakes every string of her soul.


cheerful moment: Madhumita Roy (centre ) with her team
Designs on future
Young fashion designer Shubham Kumar is taking slow yet sure steps into the big league...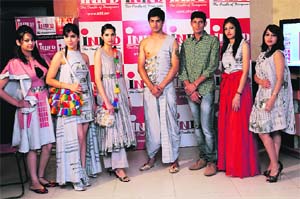 You can trace a whiff of innocence infused with subdued conviction in his quiet disposition, so don't take him for the sorts who shout out their claim to fame from over the rooftop! However, this 21-year-old, rather reticent Chandigarh lad has quite a lot in his kitty to flaunt besides the fact that he opened for the Lakme Fashion Week with his collection, India Lives Here.
right cut: Shubham Kumar (extreme right)
Par Excellence
How much can you turn?
The seated trunk rotation test assesses the player's ability to turn from the thoracic spine or upper body. This is very important to create a separation between the upper body and the lower body, which helps us to create speed and maintain a stable posture during the swing.
Dance mania!
World's third-ranked Rock N Roll dance couple from Hungary, Mikios Hovarth and Katalin Kis, will be in Chandigarh from May 4 to 11 on behalf of the World Rock N Roll Federation to conduct an international workshop. The highly acclaimed dancing couple is a master in Rock N Roll Acrobatics, which is all set to enter the Olympics arena as a medal sport.
Aditya Roy Kapur talks food and fitness
Aditya Roy Kapur has built a commendable physique and is considered quite hot. The former VJ talks about being a foodie and his fitness regime.
Sweet tooth
My dad makes amazing apple pie and he makes seven at a time so I gobble them all up. As my brothers and I do not live together anymore, we all pack our share. I also love jalebi and jam sandwiches. I eat what I like and I have never been to a dietician.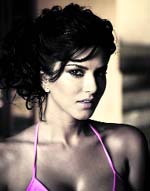 Sunny replaces Mallika...
Sunny Leone takes Bollywood by storm. She is currently shooting for Ekta Kapoo's Ragini MMS, a much-awaited project in the industry.
Sunny Leone's growing popularity has grabbed her promising projects. The porn star turned Bollywood actress, with Pooja Bhatt's Jism 2, has bagged another mainstream project. She has replaced Mallika Sherawat to play Nana Patekar and Anil Kapoor's ladylove in Welcome 2.

Making waves: Sunny Leone

Preity Zinta: I hated my chubby cheeks
Actress Preity Zinta has a confession to make. The 38-year-old actress admitted on Twitter that she always hated her chubby cheeks. Preity, who is often remembered for her dimples and chubby cheeks, was recently stopped by a female fan who didn't like her new look.
Looks wise: Preity Zinta
Small screen, silver dreams
Jay makes his Bollywood debut with Hate Story II
Bollywood seems to be opening up to more and more of television faces and the latest to join the gang is Jay Bhanushali, He recently won Nach Baliye and is all set to make his Bollywood debut with Vikram Bhatt's Hate Story II.
Sabyasachi speaks up
Sabyasachi's famous client is Vidya Balan and he has transformed her, quite a bit. He talks about dressing her up for an upcoming event.
I will don a bikini: Parineeti Chopra
Parineeti Chopra shoots straight from the heart. There was a time, in between, when there was a lot of buzz around her and she had no work. She is currently shooting for Karan Johar's joint production Hansi Toh Phasi. She talks about her weight, acting and more.
Sonam's bittersweet truth!
Actress Sonam Kapoor finds heartbreaks inspiring. The 27-year-old actress admits that all her favourite songs are about heartbreak. "Why is heartbreak so inspiring? All my fav songs are about heartbreak, all my fav stories are about star crossed lovers or unrequited love. Bittersweet is def my fav flavor," Kapoor tweeted. She also updated her fans about her current favourite track: 'Listening to jar of hearts on loop.
chatter box
Hail the queen
Aashka Goradia, who was earlier seen in the Bigg Boss Season 6 series, will now essay the role of lady Bhatiani, the youngest queen of Uday Singh, in the upcoming episodes of Maharana Pratap. Meanwhile, Shakti Anand will essay the role of Maharana Pratap's father.
Up, close and personal with Leena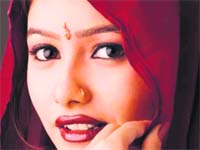 She rocked the small screen with Bandini. Himmatwala film fame model turned actor Leena Jumani was introduced as the new lead on Sahara One's show Piya Ka Ghar Pyaara Lage. The show recently got revamped after the exit of Sanjeeda Sheikh. The lovely Leena with a killer smile is enjoying her space as Pia. There are lots of twists and turns coming up in this show and she is trying to bring the same charm to this family drama. She is at present shooting cut-to-cut. In a candid chat with Life+Style. Leena Jumani talks about her character, her life and a lot more…
Astro Turf
ARIES: New attractions are likely to be taken seriously. Do not hold back anything from your boss. Focus on exercise and diet. Put problems aside for an evening of cheer.