job-oriented courses
Get on a paying course
Usha Albuquerque
More and more youngsters are beginning to realise that vocational training can help them learn the skills required to get a job without putting in three or four years to get a formal degree.
In recent years, diploma and certificate providing institutes are imparting job skills focused on employment. Most offer courses that are often comparable to those being offered by universities, but by working more closely with industry and commerce, they identify the knowledge, skills and experience demanded by employers and tailor professional programmes that are practical, technologically up-to-date and relevant to work needs of the employers.
The courses available today can suit almost any student, as they range from certificate courses of short duration — two weeks to one year, as also diploma programmes of one or two-year duration. Such courses can lead to hundreds of different careers, from business, computing, tourism or hospitality to fashion technology, mass communication, travel and tourism, to gems and jewellery designing, footwear technology, paramedical and many others.
Here check out some such careers that you can take up straight after school:
Customer Care
Customer care is how a business looks after its customers. This includes everything from the moment a customer makes contact — at point of sale, or during the provision of a service and after sales care. Good customer service can be face-to-face, over the telephone, written or via new technology using e-mail and the Internet. Customers today are not only interested in the product they are being offered but in all the additional elements of service that they receive. A happy customer is more likely to become a loyal customer, willing to recommend your business to friends and family. Customer care, therefore, has become the prime consideration for every business as sales and profitability depends on keeping customers happy.
Where to work: Customer care professionals are important in almost all enterprises — as receptionists, sales staff and employees in customer-dealing roles, and in call centres customer care is a core element of the job description and training, and a core criterion in recruitment, also in banks, airlines and travel companies, marketing and in other areas of business too.
The largest number of jobs for those entering customer care services are in the IT-enabled services with Call Centres and BPOs that continue to recruit young people in huge numbers.
Large ITES companies like GE, Convergys, Daksh and many others covering business areas such as banking, financial services and insurance, are actually facing an increasing shortfall due to the lack of trained people with the necessary skills.
Training: Anyone with the right attitude, good communication skills and general service orientation can work in customer care. Those who wish to develop their skills in this field can take up certificate and diploma courses after school or graduation.
Most courses cover the basics of customer care: principles and practices of customer care, identifying customers, and building long-term relationships with customers.
There is also practical training with the focus on listening, verbal communication, negotiating skills, interviewing techniques, telephone skills and personality enhancement.
Such programmes can also help you gain confidence in dealing with different types of people whether face-to-face or on the telephone. Institutes providing training for the hospitality industry, travel and aviation industry, for call centres and BPOs also offer programmes on customer care services.
Bakery & Confectionery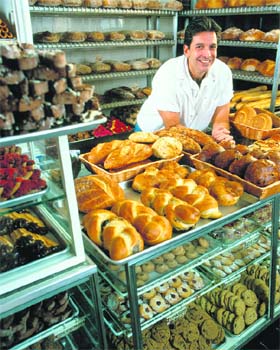 Enjoy baking a cake, and love the smell of freshly baked bread? Bakery and confectionery is an area of work specialising in the preparation of bakery and confectionery products. A baker makes various kinds of breads, rolls, croissants, buns, pastries, cakes and savories. This is a fine-tuned expertise with due importance placed on the fundamental pastry and bread-baking techniques, in addition to all-purpose baking, desserts, cake decoration, and pastry arts. Bakers need to know how to weigh out and measure ingredients; mix, divide and mould dough, set the dough to rise, bake different bread and confectionery products and how to decorate, and create exciting new products to cater to the taste-buds of everyone — young children, connoisseurs, and all those with a sweet tooth.
Where to work: Bakers work in bakeries, and restaurants, or may be attached to hotels and resorts and other food and catering outlets. They can also set up their own bakeries and confectionery stores. With the increasing number of bakeries, restaurants, and stores, and the demand for new products, exotic ingredients and a range of exciting food items, the demand for professional bakers is expected to rise proportionally.
Training: You can get into this field after a diploma course in bakery and confectionery. All institutions offering courses in Hotel Management offer specialised six months to one year courses in Bakery and Confectionary which are geared towards direct entry into the industry.
Food craft institutes also offer such courses, the minimum eligibility requirement is, to have passed the high school (Class X) examination. Selection to all courses is on the basis of merit in a qualifying exam.
There are several polytechnics and private vocational institutions that also teach cooking and baking.
Accountancy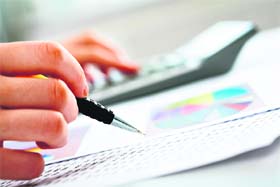 Accountancy is one field where there is hardly any dearth of jobs. Every organisation, large or small, whatever the business, good or bad, requires accountants. All transactions need to be reported, budgets made and analysed and financial reports generated. Accountants operate accounts, supervise and control income and expenditure, deal with wages and salaries, send out invoices, and also ensure that the records of these transactions are kept so that the information can at any time be extracted from them.
Where to work: Accountants work in all areas of business and government. Many work in firms of chartered accountants or are employed by banks, manufacturing companies, government departments and insurance companies. Work in private practice is centered on audit: visiting clients as part of an audit team and reviewing their business operations and financial records to establish the validity of the company's accounts. With some years of experience you can also qualify as a chartered accountant, cost accountant or other certification.
Training: You can become an accountant with a degree or diploma in accountancy or commerce after Plus II. Additional knowledge in accounting software like Tally or ERP can be an added advantage and expands opportunities for freshers in the industry.
Para-medical services
Paramedical experts play a very important role in helping the doctor make an accurate diagnosis for treatment, and in cure and overall care of patients. With the increase in medical facilities, polyclinics, diagnostic centres, labs, hospitals and clinics, there is a glaring need for paramedical experts, technicians, nurses and pharmacists.
Paramedics can include X-ray technologists, medical laboratory technicians, dental mechanics, emergency medical technicians, pharmacists, micro biologists, optometrists, physiotherapists, occupational therapists, speech therapists, radiographers, and prosthetic & orthotic engineers.
Where to work: Medical laboratory technologists work in pathology or microbiology laboratories where they conduct tests on human blood, tissue, urine, stool etc. to aid the correct diagnosis of a disease.
Radiographers take X-ray photographs to assist in diagnosing diseases. They also operate ultrasound and other hi-tech equipment, and treat patients by using radio isotopes
Optometrists are trained to conduct eye tests for examining vision, and to prescribe glasses and contact lenses. They also fabricate lenses, and operate machines for polishing and adjusting sizes and power of lenses.
Specialists such as these have ample job opportunities in the government as well as the private sector, working in hospitals, clinics and laboratories.
Training: Entry into any of the paramedical professions requires strict formal education in the concerned area of work.
Undergraduate diploma and degree courses are now available at a large number of medical colleges and private institutions for students who have cleared the Plus II examination, with physics, chemistry and biology/mathematics. Most institutions have an entrance test, on the basis of which candidates are selected.
There is also a one-year certificate course, and a two -year diploma in laboratory technology for those who have cleared the Class X examination. Professional training in Radiography varies from 18 months to two years. Certificate and diploma courses of 1-2 years are also available for Ophthalmic technology for students who have cleared Plus II with physics, mathematics and biology.
Graphic designing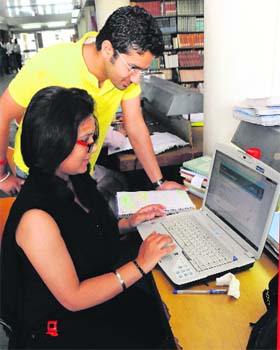 The Maggi noodles packet, the glossy fashion magazine, the news programme you watch on television, the banners and hoardings — all these diverse products of everyday life have one thing in common — they all have some elements of graphic design. Graphic designers analyse, plan and make creative visual solutions for communication. They help to express the message in the most effective way, in the form of print, film or electronic medium.
Graphic designers work on two dimensional designs which include print, drawings and illustrations, as well as three dimensional design which could be video or animation.
You could be doing layout and production designs for newspapers, magazines, corporate reports, journals and other publications. You would also develop promotional displays, marketing and packaging brochures for various products and services and unique design logos for businesses. In addition, you can also produce material for interactive media, Internet web pages and multimedia projects.
Where to work: Employment opportunities for Graphic Designers have witnessed a tremendous increase in the past decade because of rapid advances in computers and in the creative media such as electronic media, packaging, film and animation, advertising agencies, marketing firms, design studios and educational institutes. Graphic Designers and animators can work for television networks, software development companies and multimedia centres. They can even opt for a career with advertising agencies, publishing houses and design studios, and with printers and typesetters, exhibitions and displays, as well as publishers, manufacturers and department stores. A large number of graphic designers also set up their own design studio and work independently.
Training: You need a diploma or degree in Graphic Design / Multimedia / Commercial Art to qualify as a Graphic Designer. These courses are available at several colleges, universities as well, as polytechnics and private design schools. You can apply for the diploma / degree courses in Design after Plus II in any subject, if you have an interest in the subject and general creative abilities. Graphic designers should be familiar with computer graphics and the various design software available. Admission to most courses is through a written-cum- drawing test.
With these and many more options available to students with a basic school education, you can start earning as early as you wish. Based on your abilities and interests select a career of your choice and pick up the necessary skills. Some basic skills such as office computing, calculating, writing and communicating skills and computer programming can be useful irrespective of which options you may choose and you can be well on your way to a successful career.
— The writer is Director, Careers Smart Pvt Ltd., New Delhi