M A I N N E W S
5.8-quake jolts North; 1 dead in J-K


25 children among 58 hurt in Doda, Bhaderwah


Epicentre on J&K-HP border
Amir Karim Tantray/TNS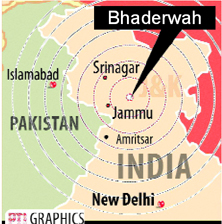 Doda, May 1
An elderly shepherd was killed today and at least 58 persons, including 25 children, were injured after a moderate-intensity earthquake — with epicentre on the Jammu & Kashmir and Himachal Pradesh border — jolted the region.
The quake, measuring 5.8 on the Richter scale, struck J-K and other parts of north India, including the national capital and its satellite towns, at 12:27 pm.
Twin districts of Kishtwar and Doda in Jammu region were the hardest hit where nearly 400 structures, including schools, hospitals and houses, developed cracks. As many as 25 persons have been hospitalised.
Around 90 per cent structures, including government establishments and residential houses, have developed cracks in Kishtwar and Doda.
Traffic on the Batote-Kishtwar national highway also remained suspended for several hours due to a landslide triggered by the earthquake in Drabshalla area.
The tremors came as a chilling reminder of October 2005 quake of 6.8 magnitude which had devoured thousands of lives on both sides of the Line of Control (LoC).


Buildings suffer Major Damage
Kishtwar, Doda worst hit; 90% structures develop cracks
A shepherd dies after being hit by a shooting stone in Bhaderwah
13 students hurt as ceiling of school building collapses
Traffic on the Batote-Kishtwar national highway disrupted for several hours after the quake triggers a major landslide in Drabshalla area
Patients treated in the open after hospital building develops cracks
Official sources said a shepherd died after being hit by a stone and five persons, including four students, received injuries in Kishtwar district. The deceased was identified as Guswanu Ram, son of Bishen Dass, a resident of Shanderi in Kishtwar. A minor girl, identified as Muskan, was airlifted to Government Medical College and Hospital (GMCH) in Jammu from Kishtwar for treatment.
Around 45 persons, including 25 children, sustained injuries in Doda district but no loss of human life was reported in the area. According to the district administration, 27 persons were injured at Gandoh, eight at Bhaderwah, six at Thathri and four received minor injuries in Doda tehsil.
The quake triggered panic as fear-stricken people ran out of their houses and business establishments. Repeated aftershocks didn't allow people to go inside their houses and till evening many people were seen on the roads with their families.
"We were terrified and immediately rushed out of our office. I could see other people coming out of buildings in a hurry," said Zahid Wani, an employee in Doda.
At Government Girls Higher Secondary School, Bhaderwah, 13 students were injured after the ceiling collapsed.
The injured were shifted to Sub District Hospital, Bhaderwah.
However, the patients had to be kept in the open after the hospital building too developed cracks. Mohammad Saleem, Deputy Commissioner, Kishtwar said, "We are assessing the losses to public property. So far, we have reports of a person being killed in the quake."
"All disaster management teams at tehsil levels have been activated to deal with the situation. Volunteers are also working along with administration and everything is under control so far," Anil Koul, ADC, Doda, said. Rajesh Kumar, IGP (Jammu division), said a total of 24 children were injured in Bhaderwah.
Five government school buildings in Bani tehsil of Kathua district also developed cracks, forcing the administration to declare a holiday in five educational zones, including Bani, Billawar, Mahanpur, Basohli and Bhadu, tomorrow as a precautionary measure. Reports pouring in from Poonch and Rajouri said a number of buildings had been damaged in the two districts.
There was no immediate report of any casualty or damage in Kashmir division. "Strange thing was that I heard the rumble before the house started to shake," Chief Minister Omar Abdullah tweeted. The Chief Minister said State Disaster Response Force teams have been mobilised and district officers have been dispatched to Doda. The tremors were felt in Punjab and Haryana but there were no immediate reports of any casualty or damage from the two states. In Himachal Pradesh, the quake lasted nearly 30 seconds and was felt from tribal Lahaul and Spiti valley to foothills of Una. A few houses were damaged in Chamba as frightened people scampered out of their houses on to the streets in the hill state.
(With inputs from Azhar Qadri in Srinagar and agencies)