Beat brigade
While they effortlessly spread their magic and make you boogie all the time; it also always intrigues when you get to know these DJs better! Well, since we have so many questions rolling in our heads, it's time to know the answers directly from the men behind the console. Watch out as some of these Chandigarh-based DJs spill the beans and share their little secrets.


Small wonder
Age has nothing to do with talent; sometimes it's a god-gift that has been nurtured with hardwork. Such is the story of this little flourishing bud — she is a professional emcee, internationally acclaimed dancer, a French graduate and a remarkable scholar. And all this at just fourteen years of age! Sanjna Arora, resident of Sector 38, Chandigarh, is the little star in question. A student of Manav Mangal High School, she idolizes her principal Sanjay Sirdana. Working as an anchor for the last two years, she describes the experience as incredible.

FULL OF LIFE: Sanjna Arora Photo: Pradeep Tewari
Go-getter
Pearls of wisdom
She is a regular girl, but she is not ordinary and that's perhaps because Anahita Sachdev, who is only 17, believes in etching a niche for herself at everything that she attempts at doing. Currently studying in Class 12 in Vivek High School, Anahita says she loves dancing and that she has been learning kathak for seven years now. Besides, she has also been learning classical vocal music since she was eleven.
CELEB POINT
Karan Johar rocks!
When you talk of the top producers of Bollywood, Karan Johar's name tops the list and I have had the honour of working with the best of them, right from Yash Chopra to Rakesh Mehra to Rituparno Ghosh to Shyam Benegal!
Doc Talk
The bald truth!
Nearly three out of every five men will begin balding by the time they are 50. Most don't part with their hair willingly-males spend a lot per year trying to hang onto those locks. And while there's no cure for a shiny scalp, there are a lot of supposed causes that men worry about more than they need to!
Master Chef
Meatless Mexican
Why should vegetarians not have fun? There are meatless versions in most cuisines where an array is on offer! In India we equate vegetarian restaurant food with paneer, mushroom and baby corn; no further! Mexican dishes when filled with the robust rajmah and cheese and enrobed in sour cream and tomato paste will delight even diehard meat-lovers!


Fun & food
With the notion Sirf dekhne ka nai Serenade, Bella Vista, Panchkula, has taken the enthusiasm of IPL to a whole new dimension, where you can relax over the weekend and enjoy unlimited food as well as drinks!
On the menu
Says chef Manohar, "This is basically finger food to complement your drink; it's fun and easy to eat, you just wouldn't want to stop." He adds, "Removing the hindrance of price or limited amount of food, we just wanted to add a twist of taste to it." And it is all for a price of Rs 699 plus taxes.

Eat & play: Chef Manohar offers unlimited food options as you cheer for your favourite cricket team.
Kitchen corner
It was a bright day for the people of Chandigarh, who came out in huge numbers to participate in a fun-filled mela arranged by Star Plus' MasterChef Kitchen Ke Superstar. With lots of amazing games and food counters, the enthusiasm of people was at its peak!
Smart experience
Nokia India announced the availability of its latest smartphone offering, the Nokia Lumia 720, in Chandigarh. With five power packed Windows Phone 8 devices-Nokia Lumia 920, Nokia Lumia 820, Nokia Lumia 720, Nokia Lumia 620 and Nokia Lumia 520, Nokia is now offering high end innovation at newer price points.


Comic timing
Zoop, the children's brand of watches from Titan Industries Limited, India's leading watch manufacturer and retailer, has joined forces with the Marvel Comics Group, one of the world's most prominent character-based entertainment companies.

No stunts for Katrina
We have seen Katrina Kaif doing light action in Ek Tha Tiger but the actress has reportedly refused to do heavy power stunts for her upcoming movies, Dhoom 3 and Bang Bang. Katrina knows that a slight injury on the set will push back the shooting schedule and hence, she refused to do any heavy action.
Bang on: Katrina Kaif

25 years and counting…
Aamir Khan is happy that his completion of 25 years in the industry, which started with the release of Qayamat Se Qayamat Tak in 1988, coincides with the centenary year of Indian cinema. "My completion of 25 years in the industry coincides with 100 years of cinema and it makes me feel all the more special," quipped the actor.

Closet secrets
Malaika Arora Khan is teaming up with an online portal and starting her own fashion line online called The Closet Label. She is shooting for the campaign. She talks about her dream venture…RR


Style icon: Malaika Arora Khan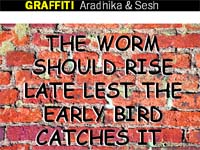 Five things about Parineeti
Parineeta Chopra has become a sought-after actress with plum projects in her kitty. While we know she has struggled with weight issues, here are some lesser-known facts and trivia about her.