M A I N N E W S
Rahul, Shinde meet family, express grief
Syed Ali Ahmed/TNS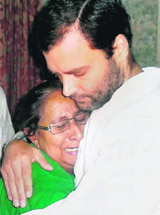 Rahul Gandhi consoles Sarabjit's sister Dalbir Kaur.
New Delhi, May 2
Congress vice president Rahul Gandhi and Union Minister of Home Affairs Sushilkumar Shinde today met the distraught family of Sarabjit Singh, who died in a Lahore hospital late night yesterday following a brutal assault in Kot Lakhpat Jail in Pakistan.
Rahul spent 40 minutes with the family at the official residence of vice chairman of National Scheduled Caste Commission at Tilak Lane near India Gate. He consoled the family camping in Delhi since yesterday.
The family came here to appeal to the UPA government to press Pakistan to send Sarabjit's body to India where funeral could be done according to religious rituals.
Sarabjit died of cardiac arrest after being comatose for nearly a week following a brutal assault by fellow inmates in Lahore's jail.
Shinde said: "It is sad for the country that Sarabjit Singh is dead. I have offered condolences on behalf of the nation."
Shinde, who was with the family for around half an hour, said the ministry of external affairs was "in regular touch" with the Indian High Commission and the last rites of Singh would be performed in accordance with family's wishes.
(With agency inputs)

Declare Sarabjit Singh a martyr, demands family
New Delhi, May 2
The family of Sarabjit Singh, Indian prisoner who succumbed to injuries after being brutally assaulted in a Lahore jail, has demanded that his body be handed over to them and he should be declared a "martyr".
The family has set forth the demand to the Union Home Ministry. The family has also demanded that Sarabjit's body be cremated with full state honours, said Raj Kumar Verka, vice chairman of the National Commission for Scheduled Castes.
Sarabjit's family, which had had gone to Pakistan on a 15-day visa on Sunday, two days after the assault, returned to India on Wednesday.
His wife Sukhpreet Kaur, daughters Poonam and Swapandeep Kaur and sister Dalbir Kaur had crossed over into India from Lahore through land border.
Sarabjit's family members, who are with him in New Delhi residence, are in a state of shock.
Verka said he had forwarded the demands to the Union Home Ministry and was in touch with the Central leaders, including Home Minister Sushilkumar Shinde. — PTI