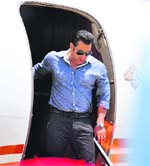 Salman sizzles
Salman Khan…the word gets the crowd going. Sometimes, the going gets tough as happened at the Elante Mall in Chandigarh…
Being inhuman… this is how the story of the man starts. People in hordes, bouncers only a handful, policeman pretty much countable, unlimited guests and enthusiasm touching the sky. This is how Bollywood 'dare-to-take-panga-with' actor Salman Khan launched his flagship store 'Being Human' at the Elante Mall in Chandigarh on Thursday.
Dance, by chance!
Terence Lewis always wanted to be a doctor, but destiny had other plans. Today, he is a well-known Bollywood choreographer
Renowned Bollywood choreographer Terence Lewis would have been sitting in an air-conditioned room, donning a lab coat, and attending patients had his father been able to pay the donation money for admission to a doctorate course long time back. Destiny indeed had separate plans for him — he was meant to dance his. way through life!
On the trail of peri peri
Afro-Portuguese food outlet Nando's has a new address in Chandigarh
World over, Nando's restaurants are known as Casa's. Casa means home in Portuguese. And after a sumptuous existence at Sector 35, Nando's now has a new home, city's new hotspot—Elante mall.
Raj Laxmi riding high
Woh Rehne Waali Mehlon Ki and Phir Subah Hogi fame television actress Raj Laxmi is riding high these days. Reason: it was none other than production house Rajshri that chose her for the role of Bandini, an important character in Sooraj Barjatya's family show Jhilmil Sitaaron Ka Aangan Hoga. Raj Laxmi is playing lead protagonist Angana's aunt. She is excited about her role and has a lot to share.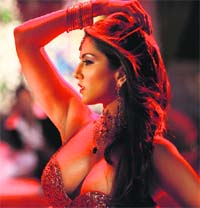 New releases
Shootout At Wadala
Producer: Sanjay Gupta, Ekta Kapoor, Shobha Kapoor
Director: Sanjay Gupta
Shootout At Wadala is prequel to 2007 film Shootout At Lokhandwala and is based on the book Dongri to Dubai written by Hussain Zaidi, which revolves around the Mumbai mafia world during the 1980's. However, both the stories are completely different. Shootout At Lokhandwala chronicles an event that took placed in 1992 while Shootout At Wadala goes back to the period between 1978 to 1982, and is based on another gritty criminal encounter.
All things beautiful
Actress and model Reeth Mazumder believes in keeping make-up to a bare minimum and the skin hydrated
Actress and model Reeth Mazumder prefers keeping makeup to a minimum. She admits that it was during her modelling days when she started using makeup. Here, Reeth reveals her beauty secrets, makeup shortcuts and more.
Romance it is!
Actor Aditya Roy Kapur would like to be part of another romantic film and he is happy with the success of Aashiqui 2
Bollywood actor Aditya Roy Kapur, whose film Aashiqui 2, has done well at the box office, says that he would like to be a part of another romantic film, but nothing has been finalised at the moment. "Nothing has been planned as of now. But I would love to do another romantic film," Kapur said.
Dibakar all for anthologies
Director Dibakar Banerjee wonders why a lot of filmmakers aren't attempting anthologies like Bombay Talkies. He feels that the concept is beneficial for filmmakers as well as for audiences. In 2006, Ram Gopal Varma's Darna Zaroori Hai featured six stories by six different directors—JD Chakravarthy, Manish Gupta, Prawal Raman, Sajid Khan, Jijy Philip and Vivek Shah. In 2007, Dus Kahaniyaan was a similar sort of project.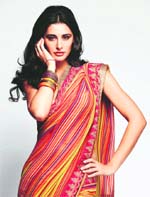 Item code
Nargis Fakhri was linked with Shahid Kapoor before Uday Chopra came into the scene. She has even done a performance at an award show with Shahid. She will be doing an item song in Phata Poster Nikla Hero and the song will feature her with Shahid. We have a feeling it will be a great one as both look good and are good dancers.
the 'in' side
A greener option
Home-made cleaners work as well as the chemical ones available in the market and what's more, these are cheaper too...
Master Chef
Amazing maize
The golden colour and its crunchiness make maize a versatile ingredient for any dish. Our own 'roti' with makki ka atta is a dish relished by all North Indians and has become a delicacy for special occasions too. This innovative dish with maize flour is a sure winner.
Icy cold
Factual entertainment network, Discovery Channel will soon launch Frozen Planet, a series that will take viewers through the Earth's Polar Regions.
chatter box
Pet fetish
The makers of TV shows have found a brand new way to spice things up by getting the pets onboard to add that extra element, which boosts up the storyline. Here's a list of some popular pets on television.

Cannes calling
Amitabh Bachchan's big Hollywood debut The Great Gatsby will open the upcoming Cannes Film Festival and he is going to be present with the rest of the A-list Hollywood cast. He has a small role in the movie but Baz Luhrmann has given him his own poster and Bachchan is overwhelmed. He felt he did not need his own poster as his role is tiny.

Ring of fortune
Imran Khan's gangster character in Once Upon a Time in Mumbaai 2 has to wear a turquoise ring. The makers thought he would wear a fake one but they could not find it so they got one made specially for him and he wore it. It is a beautiful blue stone with a silver rim around it. Turquoise is known as the shaman's stone and brings joy and good fortune.

New role
Aalia Bhatt has worked with Karan Johar, Imtiaz Ali and now working with Anurag Kashyap. He cast her in his upcoming movie starring Tejaswini Kolhapure and Rohit Roy. She plays the young Tejaswini and shot for just one day for her portion.

Parineeti's snake phobia
Parineeti Chopra has a fear of snakes. She gets terrified seeing snakes on television, even talking loudly about it, and even seeing pictures of snakes. We feel she can totally treat this phobia. Other than that, she is totally open and unguarded and is a happy and enthusiastic person by nature, which comes across in her interviews. Life has been kind to her and she is fearless.