Luxury in your lawn
Modern garden furniture comes in a variety of shapes, sizes, colours and materials. Select furniture that is in sync with the natural surroundings and adds to the ambience
Neerja Bahadur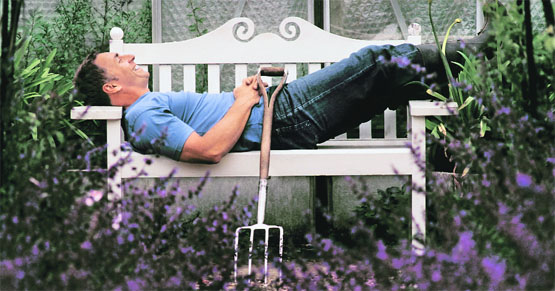 Last year when Shweta and Aman shifted into their new ground floor apartment in Gurgaon, they fulfilled their dream of moving into their own home. It came equipped with the state-of-the-art fittings and accessories like polished wooden flooring, teakwood cupboards and exquisite light fixtures. It was a house any family would crave for. But there was one crucial thing missing — a patch of green. Shweta had a brainwave. Why not dig up the concrete backyard and convert it into a garden? Even her husband liked the idea. The workers were called in to remove the concrete flooring and replace it with mud and soil.
Then started the process of planting, and lo and behold, within a couple of months, green shoots and flower buds started appearing. Besides being an extension of the drawing room, the garden was ready to unfold its charms to the family and friends.
Stylish furniture
However, the real challenge came when they had to select stylish furniture for their 30-foot by 15-foot green patch. Time was when options were restricted to plastic or wrought-iron table and chairs or the wooden foldable furniture which, besides looking boring, was a pain to stack in case of rain.
Times have changed and outdoor furniture has jumped into the lifestyle category. It comes in a plethora of materials, including teak, mahogany, aluminum, resin, weaves and wicker. Such is its craftsmanship and versatility that it can easily be mistaken for indoor furniture and looks quite trendy as well.
Contributing to the beauty of the furniture is the wide variety of outdoor hardy and weather-resistant finishes and also the fabrics, which are abundantly available in the market and contribute largely to complement the look of the garden.
Astonishing choices
Choosing the right furniture that reflects your personality can be a daunting task because of the range of choices available in the market and online websites. These can be viewed as an invitation for people to let their imagination run free and select garden furniture that is in harmony with the natural surroundings and ushers in an environment of peace and calm.
Experts say garden furniture should be selected carefully as it has to be both functional and fun. A bad selection can make your garden look cluttered and messy but the right selection would transform a bare garden into a place to relax with family and friends. Here are some tips to remember when choosing the furniture for your green patch.
Keep space in mind
Take a long and hard look at your garden and see the kind of furniture that will be suitable for it. Do not buy oversized stuff if you have a small garden. In an outdoor party, people have to have space to move around.
Know the purpose
Be clear about why you are buying outdoor furniture. Is it to entertain guests or is it for you and your family's relaxation? Once you have decided that, then the choice will become more focussed.
Creating the right ambience
If you are going to spend time in the garden go for a relaxing hammock, a chaise lounge and some lazy boy seaters. If it is to entertain, go for the more formal look that includes chairs, table and parasol.
Pros and cons of the material
Though teak remains popular, you can also consider timber, eucalyptus and rattan wood as well. However, there are other alternatives like aluminum and cast iron. Consider a combination for that special effect.
Opt for sturdy furniture
A garden means open air, sunshine, rain and occasional gusts of wind. So the furniture should be sturdy though visually light. It should be maintenance free and easy to clean after a dust storm or a downpour.
Three vital things
While selecting outdoor furniture, keep three important things in mind — durability, style, and comfort. The furniture should be long-lasting. It should enhance the look of your garden and be comfortable and inviting. Trendy furniture lends a magical charm to the garden and gives you, your family and guests hours of bliss and happiness. Remember, a garden is a work of art. Besides giving you added space, it ushers in calm and peace that only nature can provide. So go ahead, create a garden for your five senses with style and panache.
Maintaining outdoor furniture



Since outdoor furniture comes in different materials ranging from wood, wicker and aluminium to wrought-iron, steel and resin, each requires different maintenance methods which you should be familiar with.

If you have wooden furniture in your garden, make sure it is made of hardwood, which is either painted or coated with an exterior grade varnish. Maintenance usually involves keeping it clean and applying a fresh coat of paint or varnish at the start of each season.

For endurance, apply a sealant that is dust and stain-resistant. Wicker is one of the most popular materials for outdoor furniture. It is derived from bamboo, rattan, split reed, or coated paper. Since it is knitted into chair and other furniture form, its upkeep becomes paramount as dust gets into the pores. A brush should be used to clean the dirt and dust. Once this is done, apply a coat of varnish, at least once a month to keep it shining. As a rule, wicker furniture should be properly covered when not in use.

If you are buying garden furniture made from steel, aluminum or wrought iron, make sure it is either rust-resistant or totally rust-free. Such furniture requires regular cleansing with soap and water to keep it in tip-top shape.

If it is painted, which usually is the case, then it is desirable to give it a fresh coat of paint every year. Plastic either in the form of polyvinyl chloride (PVC) or polyethylene (PET) is another popular material that is used in outdoor furniture. Caring for such furniture is easy. It should be washed on a weekly basis with a mild soap and water. However, if there are some stubborn stains, cleanse them with a 1:10 mixture of chlorine and water.
WOODARD BELMAR WICKER DAY BED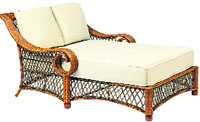 This is a generously sized lounger-for-two with a garden-ready design. The Woodard Belmar all-weather wicker day bed is crafted with durable weather-resistant resin wicker over a sturdy aluminium frame, has a softly curved high back, sweeping curled arms and a delicate lattice weave.
Price: Rs 1,29,250 ($2350)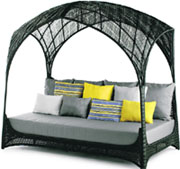 OUTDOOR DAY BED
Delhi-based company Idus has launched the day bed designed by Philippines designer Kenneth Cobonpue. Skillfully crafted using synthetic fibers, it is intricately handwoven on steel frame. Its airy and transparent shape makes it ideal for your outdoor garden.
Price: Rs 2,15,000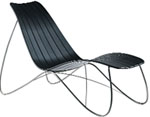 KOLORADO CHAISE LOUNGE
The contemporary Kolorado chaise Lounge features an exclusive process of bending identical boards, which allows seatings with 3D curves supported by a stainless steel frame. The chaise lounge in Ebony finish can be the centrepiece of the garden, or even the living room.
Price: Rs 1,34,750 ($2,450)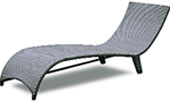 SKYLINE GARDEN LOUNGER
The comfortable, waterproof, robust and superbly practical Skyline garden lounger is a great way to simply relax and enjoy the summer ahead. It is made of rattan wood and is weatherproof. Made according to the contours of the body, it provides an almost 'zero-gravity' effect.
Price: Rs 42,500 (£500)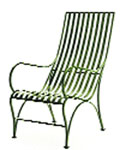 SWAN LOUNGE CHAIR MUNDER-SKILES
The Manhattan-based Munder-Skiles makes some of the most expensive outdoor furniture, which it claims will last a lifetime. Its stunningly curvy Swan lounge chair is an example. Besides being supremely durable, it can easily become the sculptural focal point in any outdoor setting.
Price: Rs 82,000 ($1,490)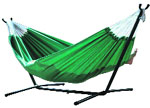 VIVERE DOUBLE HAMMOCK
Spend a lazy afternoon with your partner on the Vivere Hammock built for two adults. A wide, sturdy spreader bar keeps the hammock flat and comfortable and makes it great for a nap or reading a book. Made with 100 per cent cotton, the hammock can be assembled in minutes.
Price: Rs 8,800 ($160)
SEVILLE RATTAN OUTDOOR SET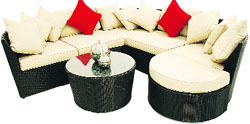 Entertain your guests in modern style with the luxuriant Seville rattan five-seater outdoor set. It includes a corner piece, a middle seat, a coffee table and a footstool with comfortable cushions. The all-weather five-piece set will add a touch of class to your outdoors.
Price: Rs 76,500 (£900)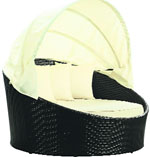 SIESTA CANOPY BED
This outstanding Siesta Outdoor Canopy Bed is perfect when entertaining guests or for everyday relaxation. The canopy bed features a retractable sun guard and a set of cushions. The all-weather frame is made of rattan, which is one of the strongest woods and is water and UV-resistant.
Price: Rs 1,65,750 ($1950)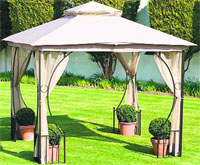 DELUXE OXFORD GARDEN GAZEBO
This luxury gazebo made of ornamental steel frame with cream canopy will add class to your garden. It is fitted with side panels and the roof has ventilation to allow heat to escape. The net curtains when drawn provide protection from insects and mosquitoes making it ideal for relaxation.
Price: Rs 21,250 (£250)
MAWI 6-PIECE GARDEN SET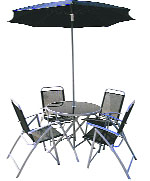 Give a stylish edge to your garden with this foldaway set of four chairs, a circular table and a parasol. This comfortable and practical garden furniture set is perfect for enjoying relaxing time in the garden with family and friends. Since it is foldable, it can also be carried to picnics.
Price: Rs 15,300 (£180)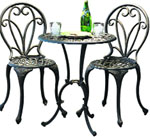 CHARLESTON ALUMINiUM BRONZE BISTRO SET
Bring the flare of an outdoor bistro to your own backyard with the Charleston Aluminium Bronze Bistro Set. It includes two chairs and a round table which have a wide-legged stance for safety and stability. The intricately designed set is perfect for your patio, balcony or garden.
Price: Rs 16,500 ($300)