M A I N N E W S
Decks cleared for nuke plant at Kudankulam
R Sedhuraman
Legal Correspondent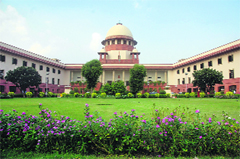 New Delhi, May 6
Acknowledging that nuclear energy is vital for economic development and India "cannot afford to be a nuclear-isolated nation," the Supreme Court today gave the green signal for commissioning the Kudankulam Nuclear Power Plant (KKNPP) in Tamil Nadu with a 15-point rider.
Apprehensions expressed by some sections of the public that possible radioactive effects of the plant would have far-reaching consequences not only for the present generation but also for the future generation had "no basis," a Bench comprising Justices KS Radhakrishnan and Dipak Misra ruled in a 247-page judgment.
Virtually rejecting a bunch of petitions challenging the go-ahead given by the Madras High Court, the SC pointed out that "larger public interest of the community should give way to individual apprehension of violation of human rights and right to life guaranteed under Article 21."
Nevertheless, the apex court directed the Atomic Energy Regulatory Board (AERB), the Nuclear Power Corporation of India Ltd (NPCIL), the Ministry of Environment and Forests (MoEF) and the Tamil Nadu Pollution Control Board to oversee each and every aspect of safety, impact on environment, quality of various components and system before commissioning the plant.
Major riders
Atomic Energy Regulatory Board (AERB) and Nuclear Power Corporation of India Ltd (NPCIL) clearances a must
Environment Ministry, AERB should monitor compliance of safety norms
Constant vigil by NPCIL, AERB mandatory
NPCIL should send periodic reports to AERB