M A I N N E W S
Pakistan votes today in turning-point elections


Sharif, Imran & Zardari's parties in 3-way fight


Poll pundits predict a hung National Assembly

Raj Chengappa in lahore
Pakistan has rarely witnessed an orderly transition of power of its civilian government in its independent history. But with its 86 million electorate, just one-seventh the size of India's, voting on Saturday for the National Assembly and the four provincial assemblies, Pakistan is all set to usher in a new era for democracy that may prove to be a turning point for this troubled nation.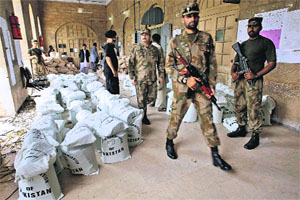 ALL SET: Soldiers guard election material in Karachi on Friday on the eve of voting in the trouble-torn country. — AP/PTI
An estimated 4,600 candidates are in the fray for the 272 directly elected seats in the 342-member lower house of the Majlis-e-Shura (Parliament). Under Pakistan's constitution, the remaining seats are reserved for women (60) and ethnic minorities (10), who will be selected through a system of proportional representation based on the respective parties' performance in the polls. In the four provincial assemblies of Punjab, Sindh, Balochistan and Khyber Pakhtunkhwa, over 11,000 candidates are vying for a total of 577 seats.
The general elections have been marred by a series of violent attacks by extremist forces, including the Taliban, which saw 121 people dead and a son of former Prime Minister Yousuf Raza Gillani being abducted.
But with the Central Election Commissioner lauded for doing a good job so far and the Army deciding to deploy its personnel to augment the police forces guarding the 70,000 booths, the poll is expected to be conducted without fear of violence or rigging by political parties.
For the National Assembly, most opinion polls predict a hung house with no party likely to get a simple majority of 137 seats by itself. This was because it has turned out to be a triangular contest with the front-runner being the Pakistan Muslim League - Nawaz (PMLN), headed by Nawaz Sharif, the charismatic former Prime Minister looking for a third tenure in office.
Sharif though is challenged in his bastion, Punjab, which sends the largest number of seats to the Assembly (148 of the 272 directly elected seats), by Imran Khan, the iconic former cricketer-turned-politician who heads the Pakistan Tehreek-e-Insaaf (PTI). Despite being bed-ridden after falling off a podium while campaigning and fracturing several vertebrae last week, Khan has put up a strong showing, especially among the youth, which now constitutes a sizeable percentage of the electorate and are demanding a "new Pakistan".
That the PTI has emerged as the biggest contender against PMLN is an indicator of the dwindling popularity of the Pakistan Peoples' Party Parliamentarian (PPPP) headed by Bilawal Bhutto Zardari, the son of Pakistan President Asif Ali Zardari and late Prime Minister Benazir Bhutto.
Ironically, the PPPP headed the outgoing ruling coalition of parties that became the first civilian government in Pakistan to complete its full five-year term in office. But a stagnant economy, debilitating power cuts, inflation and unemployment have taken a serious toll on the PPPP's ability to govern.