Waxing eloquent
Candle stands, which are some of the most in-demand collectibles, have a timeless appeal
Shobita Shivshankar
A collectible is any item that defies the common and prosaic uses of art. It is something one can cherish for a lifetime, and perhaps, pass it on to future generations. This is what makes a collectible such a coveted item. Candle stands and holders remain some of the most in-demand collectibles. In modern expression, these reflect a person's passion for the fine art of living. If anything, the changing times are only a testimony to their timeless appeal.
Another reason why candle stands are among the most popular collectibles nowadays is because of the vast array of candles available in the market. These range from aroma candles to those in a rainbow of colours. Paired with a candle stand, these make a beautiful corner in a house or become the centerpiece of the dining table.
Obscure history
Though these have been around for eons, the history of candle holders is a bit obscure. Some records trace their roots to the Menorah which was a seven-branched candelabrum that was an ancient symbol of Judaism. Others trace it to ancient Europe where these were extensively used in churches during prayers, weddings, and especially during funerals.
"Gone are the days when we had clients asking us to light candles during marriages and funerals. Now people bring their own designer candle stands. At a funeral, you will see the best candle holders on display. It's as if everyone is competing with the kind of candle holders they possess," says Elroy Naronha of the India Funeral Service.
Fashion statement
Whatever their origin, one thing is sure that their use was prevalent in ancient times when candles were the only means of light. These holders were created to prevent candles from falling over and causing a fire. Over the years, these became both utility items and a fashion statement and in present times, have acquired names like candle stands, candle holders, and even candelabras or candelabrum.
Today these have extensive usages. As a decorative, these add warmth and grace to a house. These are mood creators and their most romantic use is during a candle-lit dinner.
Interior designers are discovering the understated elegance of metal and silver candle holders, which are establishing their own identity in the drawing rooms of India's jet-set circles. It is not just the traditional silver merchants, who have set in the boom. New boutiques are mushrooming that have on offer some of the most exotic of these collectibles.
Today, apart from wooden, brass, copper, cast iron and silver, there are candle holders made of crystals, and even porcelain. Their prices can range from a few hundred rupees to lakhs, in case, these are made of precious metals.
If you are in the mood to be extravagant, you can feast your eyes upon imported candle stands from Austria, Spain or Italy in gold and silver leaf danglers that are both stunning and enchanting. The prices can range between $200 and $2,000 for those made of precious metal and studded with stones.
Pricey candle holders
Swarovski candle holders can range between Rs 2,500 and Rs 25,000. However, some of the most expensive and trendy ones can be bought from the Spanish luxury brand Lalique that has outlets in India. A simple flower-shaped crystal candle holder can cost around Rs 17,000 while an elaborate deep red votive candle holder can cost more than Rs 1.5 lakh.
If you have a flair for the dramatic and money to back it up, opt for Murano red and gold crystal candle stands, which are a rage in high circles. Such candle stands can cost anywhere between Rs 50,000 and Rs 3 lakh per pair.
Crystal and sterling silver candle holders exude a charm of their own and spell class. These are valuable and can go with any kind of decor. Silver looks best with glass tables and colourful accessories. So, if you are choosing a simple set of silver candle stands, go in for red or blue candles to offset these. Make sure the silver objects are kept in a place which is well lit and is dust free.
Fluid shapes
If silver is not your style, then you can opt for something more exotic like crystal, which has a fluid shape and can be moulded into many beautiful forms. It also does not occupy too much space in a home and looks best when well lit.
Hand cut or etched glass is the latest rage nowadays with coloured and painted glass not too far behind. Candle stands in the shape of figurines, or even in amorphous silhouettes, too, look classy, say experts. However, it would be best to be careful that these expensive crystal and glass candle stands are kept on a high table or in a case that keeps them safe.
Candle cauldron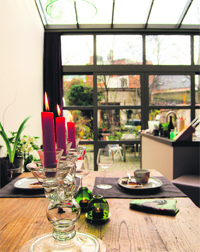 The reason for the existence of candle holders, candle stands and candelabras is an array of candles available in the market. Decorative and ornamental candles, which paired with fancy holders light up stylish dining tables and lounges, meditation centres and spas. Following are some of the most prominent candles available in the market that would do any holder proud:
Aromatherapy candles: These are refined blend of the incense stick and wax candle. These heighten romantic mood and create an exhilarating ambience.
Feng Shui candles: These bring good luck. Colours and shapes represent different elements and the places you place the candle determines the effect it will have on the house.
Floating candles: As the name suggests, these are special candles that float in a bowl of water. These are decorative and provide hours of soothing fragrance and calming light.
Hurricane candles: These have an outer shell of wax with a high melting point, which protects from wind and draft an inner candle with a low-melting point that actually burns.
Mashaals: These are candles for the outdoors encased in transparent candle stand called a shell that serves as a wind guard. These produce a beautiful glow in a garden party.
Votive candles: These are plain, yet stylish, unscented candles that add a warm flickering glow to a romantic dinner or relaxing bath. These are a must-have around the house.
Rustic Pine
The wrought-iron Pine double candle holder features exquisite hand-forged detailing in its signature rustic bark texture with pine cone and needle accents. It is coated with a rustic bark finish and comes in a choice of gold or copper accents making a great addition to your home.
Price: Rs 6,875 ($125)

Robert Welch Nest
Viewed from different angles, the Nest candelabrum forms an interesting series of geometric curves and reflections. Made from high quality stainless steel and hand finished, these come gift-packed and include five 10-inch ivory dining candles making it a super gift for any occasion.
Price: Rs 14,900 (£175)
Arne Jacobsen
This candleholder first debuted in 1958. It was made as a part of the Danish architect Arne Jacobsen's commission to design the interiors of the iconic SAS Royal Hotel in Copenhagen. Many pieces that were part of the original design — like this candle stand — are now considered classics.
Price: Rs 12,500 (£145)

Black & Blum loop
The stunning candelabra is an elegant design from London designers Dan Black and Martin Blum. It is inspired by the perfect curves in nature. Loop candelabras can be used individually or interlinked to create a cluster, making a striking centre piece for your dining room or dining table.
Price: Rs 11,000 (£130)

Cobra
A cobra's curls take on a new dimension as three spectacular floor candleholders. Curving upward, these candle holders are instantly captivating. The voluptuous, gravity-defying curves are rendered in mirror-polished stainless steel, which would light up any dining table.
Price: Rs 13,750 ($250)

Royalton Optic Hurricane
Inspired by the exceptional refraction qualities of crystal-clear, lead-free glass, the Royalton Optic Hurricane is meticulously designed to form rich, vivid and dazzling light displays when a lit candle is placed inside. The quilted pattern of this hurricane casts a breathtaking light pattern.
Price: Rs 16,225 ($295)
Renaissance
As part of an elegant collection of hand-forged wrought-iron candle holders, the Renaissance double candle holder features a unique one-of-a-kind design. The compelling shape of these candle holders make a great addition to your home decor and will complement any setting.
Price: Rs 6,600 ($120)

Fyrling
Light up the evenings with this stunning Fyrling candleholder from Scandinavian design house LADP. It is sure to make your interiors glow in soft romantic light. These are four separate candle sticks, which can be placed in any order giving you a chance to be creative.
Price: Rs 4,125 ($75) for a set of four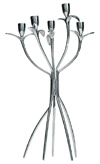 Antonietta
This gorgeous five-branched candle holder, made of brass with a polished nickel finish, is inspired by the abundance of wild flowers in nature. The silhouette is light and naturalistic. It is guaranteed to spread warmth and glow to any room. It will add to the romance of any candlelit dinner for two.


Price: Rs 25,850 ($470)

Ilse Brass
Australian designer Ilse Crawford broadens the horizons of everyday items. Using materials such as solid copper, steel, brass and glass she creates smooth, beautiful finishes. This brass candle holder is an example. The sleek mirror-finish gives a dazzle to this spectacular piece.
Price: Rs 7,700 ($140)

Ellipse set
Inspired by traditionally turned candleholders, Ellipse is a modern rendering of this classic motif. Made of stainless steel and oak, the set of three candleholders has a mirror polished finish and can be used as accents or as a centerpiece. Either way, the effect is amazing.
Price: Rs 9,500 (£110)
Aegean Hurricanes
The round bowls of these hand-blown Aegean Hurricanes create a spacious showcase for decorative objects such as pebbles, or any other small objects on which to perch the candles on. The rolled rims capture and reflect the flicker of candlelight and brighten up the surroundings.
Price: Between Rs 2500 and Rs 3,150