food talk
No-fuss brinjal
Pushpesh Pant
WE must confess that this one is inspired by the 'Chinese' aubergines in the garlic sauce that we suspect is an Indian discovery like the gobhi manchrian to satisfy the vegetarian patrons. The baingan has flesh that easily mimics meat and its delicate flavour can be relished in a myriad ways. It is a favourite ingredient in Mediterranean cooking and considered a delicacy in Europe. We in India have a mind-boggling variety of regional recipes that exploit its seductive charms. It can be enjoyed from no-frills chokha/bhartha to complex stuffed versions-dry or in gravy. The recipe we share with our beloved readers this time has the advantage of dispensing with deep-frying the stuff or tedious chopping/slicing of onions. The finished product looks good, tastes great and the process allows you to indulge in innovative experimentation, giving full play to your creativity. In addition, it requires very few ingredients to work its magic and takes next to no time to get on the table. Do try it more than once. It can don with equal ease the sweet n sour drape or flaunt the desi khatai touch. If, tempted by the latter, all it requires is to chargrill the tomatoes and mash them before tempering to taste. A pinch of black rock salt does wonders.
Rasile Baingan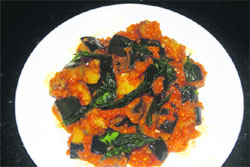 Ingredients
Brinjal (round, medium sized) 1
Tomatoes 100 g
Sugar ½ tsp
Jeera powder ½ tsp
Amchur powder ½ tsp
Chilly powder ¼ tsp red
Olive oil/mustard oil ¼ cup
Curry leaves a sprig
Mustard seeds ½ tsp
Red chilly dried 1 whole
Salt to taste
Method
Slice the baingan in 1-1/2 inch-thick round slices and then cut into bite-sized cubes. Sprinkle over with little salt and keep aside. Scald the tomatoes in boiling water, remove skin and puree. Heat oil in a pan and shallow fry the baingan cubes on medium flame stirring regularly till these change colour and become a little soft. Drain and keep on a piece of absorbent paper. Heat a tsp of remaining oil in the pan and add the pureed tomatoes. Add sugar, salt and the powdered spices, stir continuously on medium high flame to obtain a thick sauce. Put the baingan cubes in it, add a quarter cup of hot water, cover and cook on low heat for about five minutes. Uncover and temper with whole red chilly, mustard seeds and curry leaves.