Society
Give her a gift to remember
Vimla Patil
This Mother's Day, many women have given expression to their demands, listing out the 'gifts' they would love to receive from their families: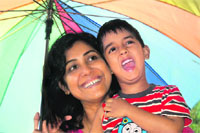 Time was when all a woman wanted was for her husband to provide a secure home and money enough to provide the family with comforts, education and possibly some luxuries. Women were happy to see their husbands as the 'traditional providers' who had the freedom to travel, work late, compete with colleagues to earn more, spend evenings out with their chums and on occasion, drink with their buddies or even have sneaky affairs. In return, they made the home comfortable, put good food on the table and gave children correct parvarish.
Says a vociferous chorus of women/mothers today, "Today, there are no 'providers' and 'recipients' in most middle or upper-middle class families. Marriage is no longer a security nest for women. It is an 'equal' institution where women want more than just money. They want the right to be complete persons with their own strengths, opinions and rights to perform their family, social and community roles with more élan than ever before."
Respect and dignity at all times
Women/mothers are expected to have limitless patience. They are expected to give unconditional love to their children and husbands. In return, they too should get respect, recognition and unconditional love too. They should not be expected to 'sambhaal lo' or 'adjust kar lo' every time. Even the parents of a woman often advise her to 'tolerate' and 'adjust' to bad behaviour so that the marriage does not get cracks, presupposing that the breaking of a marriage is more injurious to a woman than to a man. Says Shilpa Rao, a media planner and director of her own events company, "I would vote for respect and equality as the best gifts for women."
Concern for safety and security
Dr. Usha Rao, a well-known gynaecologist says, "I would vote for love that is 'expressed' rather than taken for granted. Families, husbands and children specially, must take pains to express love in an evident manner so that every day is a festival in a woman's life. Their concern for her safety, security and happiness are the gifts every woman would enjoy."
Sharing of responsibilities on a daily basis
It is often taken for granted that all housekeeping and child-rearing functions belong to women. Says Monobina Roy, a software consultant, "Today, women work round the clock and meet each and every demand made by their families and society in general. Nowhere can this be seen than in Mumbai's Women's Special local trains where women chop vegetables, do homework and even work on laptops during the journey before reaching home for more work. Sharing work and responsibilities on a daily basis is the true gift to women."
An inclusive marriage with respect and consideration for both families
Shraddha Sen, a gym trainer, feels that in the Indian pattern of life, the wife's family is always at a lower rung than that of the husband. "There are some states where the in-laws don't even eat or drink at the home of their daughter's parents. This is ridiculous. Marriage for both families should become an inclusive experience with both families merging in a happy bond. The wife's family should not be bound by unreasonable rules because of 'traditions' which are obsolete.
Planning the future together
Many matrimonial families, even husbands, do not consult or take into confidence their wives while planning property or financial security for the future. According to many women, the knowledge of where the family money is kept or how property is divided remains a dark secret till it is too late. "Women have wealth-building skills today," says Kamal Lulla, a professor, adding, "A family which does not take advantage of her knowledge is poor in team-building. A husband or children must respect the wife's/mother's experience and work together for the common good of all."
Providing guidance and care to children despite being very busy
"Mothering' is not a woman-only job today," adds Lata Patel, an engineer, "Young people face enormous pressures and temptations today and are using the idea of 'personal space' to find relief from the stress of goal-defining, achievement and success in all activities. Indian society is extremely competitive today and children face insurmountable difficulties. 'Fathering' must be equal to a mother's role to take care of the upbringing of children in a home. This would truly give women a rare gift."
Women need daily words of appreciation
"It takes just a few minutes to please a wife/mother," says Nirmala Raichura, a beautician, "Most women love a word of appreciation for a job well done or for unstinting support. There ought to be no 'rationing' of kindness and gentle love. A constant flow of love and kindness helps to overcome all hurdles in a family or a marriage. Giving undivided attention to each other is the secret of a good relationship, whether with a son/daughter/in-law or wife/husband!"