M A I N N E W S
Pakistan's new dance of democracy
By Raj Chengappa
The successful completion of the 2013 General Election is a major turning point for Pakistan. Raj Chengappa, Editor-in-Chief, The Tribune Group of Newspapers, captures some of the highlights of its new dance of democracy
Super-cool Nawaz, smartphones and Amritsar callings
Like all good batsmen, Nawaz Sharif, who fancied himself as a cricketer of some standing when he was young, always seems to have enough time to play his political shots. When the voting began on Saturday, he spent his time relaxing at his Raiwind farmhouse rarely enquiring about the turnout at various booths. He even had time to guffaw over an SMS a friend had sent him which said: "If Imran Khan is promising to create a new Pakistan, what happens to the old Pakistan then?"
I asked Nawaz how he managed to remain so cool while an election storm raged around him and he said, "I have appointed good managers, I have gone over the details with them and there is nothing left for me to do." He then pointed to his iPhone and said his way of remembering what needs to be done is by entering it in the smart-phone's memo pad. "I ensure that in a day there are only 200 tasks that are pending - I never allow it to exceed that number because I can't keep track after that," he explained. He personally enters the tasks and either updates them or deletes it depending on the action taken.
Nawaz appears keen to restore his image, marred by the Kargil War, as a peacemaker with India. He told me while his grandparents hailed from Anantnag, his parents lived in Amritsar and he was born on Christmas day in 1949 at Lahore. He said he would like to visit Amritsar as his parents talked so much about it. He is hoping that "India would extend an invitation to him soon to do so." Prime Minister Manmohan Singh please note!
PS: About Nawaz's batting prowess, what is rarely mentioned is that according to cricketing records, he played for Pakistan Railways team and his only appearance in a league match was against the Pakistan International Airlines team where he scored a duck. Such things don't matter when Nawaz is going to make history by scoring a hat-trick when he is sworn-in for the third time as Prime Minister of Pakistan.
The honking generation toots: Perform or perish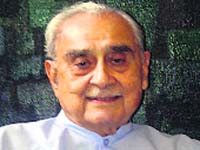 Democracy is very much alive and tooting in Pakistan. On voting day on Saturday, the streets of Lahore were jammed with supporters of Nawaz Sharif and Imran Khan who drove around in cars or rode on motorbikes waving their party flags and honking loudly. Though marred by violence in certain parts and charges of rigging, the turnout in the country was estimated to be 60 per cent of the total registered voters of 86 million. The Chief Election Commissioner of Pakistan, the 85-year-old retired Justice Fakhruddin G Ebrahim, received much praise for conducting an election that most acknowledge as free and fair despite the violence that occurred during the campaign.
One of Lahore's most respected senior citizens, Syed Babar Ali, who is a businessman of repute and founder of the prestigious Lahore University of Management Sciences (LUMS), said he was "very impressed" by the conduct of the elections. He hadn't voted in the previous two elections because he found his name inexplicably absent from the electoral rolls. But this time round to Babar Ali's pleasant surprise, when he sent an SMS to the Election Commission data site he promptly received a reply giving details of his ID number and the booth where he had to vote. When he went to cast his vote he found the rolls had a photograph of him along with his ID number and he was out in a jiffy.
The results which saw the ruling Pakistan Peoples' Party Parliamentarians (PPPP) being routed in the National Assembly was for Babar Ali a good indication that, "You cannot take people for a ride any longer in Pakistan. Good governance is a must. Nawaz must get down to work quickly as this his chance to leave a permanent mark in the history of Pakistan."
Army is no longer the government in waiting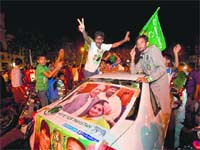 Supporters of Pakistan Muslim League-N celebrate the victory of their party in elections in Lahore. — AP/PTI
When General Ashfaq Parvez Kayani visited a polling booth in Islamabad it was symbolic of how far Pakistan has travelled on the road to democracy as compared to yesteryears. Senator Mushahid Hussain of the Pakistan Muslim League-Q (PML-Q) says the big difference with previous elections is that "no overt or covert role was played by the Pakistan Establishment during the 2013 election. Everyone had a level playing field."
Kayani made an unusual public announcement last month that the Army is "committed to wholeheartedly assist and support in the conduct of free, fair and peaceful elections; to the best of our capabilities and remaining within the confines of the Constitution." He added, "It is not merely retribution, but awareness and participation of the masses that can truly end this game of hide and seek between democracy and dictatorship."
After General Pervez Musharraf's nine-year stint as head of state that was marred by a serious attack on democracy during his final years, the Army under Kayani doesn't seem keen on getting embroiled in the nitty-gritty of governance or running a government. The mess in Pakistan is so big that the Army appears to be aware that it is not institutionally competent to set it right. As Fakir Syed Aijazuddin, a respected professional, art-historian and columnist, put it: "The Army is no longer a government in waiting."
Imran Khan, his mummy daddy burger crowd and 'Biradari'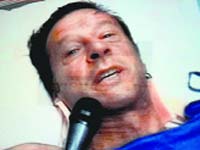 Injured Imran Khan speaks from a hospital in Lahore. — AFP
Imran Khan may have been disappointed by the outcome of the General Elections but the iconic cricketer turned politician has plenty of reason to cheer. His party, Pakistan Tehreek-e-Insaaf (PTI) may have got a little over 30 seats in the National Assembly but more than the PPPP, he has emerged as the most serious challenger to Nawaz Sharif and the PML-N. Sartaj Aziz, former finance minister and the PML-N leader, acknowledges that the PTI has emerged as third force in Pakistan politics unlike in the past were only two parties, the PPPP and the PML-N, shared the spoils alternatively.
He pointed out that the PTI filled the vacuum caused by the PPPP's dwindling popularity thereby denying the PML-N a decisive majority. The PTI is also set to form the government in the sensitive Khyber Pakhtunkhwa (KPK) province after it emerged as the single largest party in the regional elections. Not bad for a party that was dismissed derisively as a "mummy-daddy burger crowd" because of its large support among the upper and middle classes.
Shafqat Mahmood, one of the few PTI candidates who won a seat in Lahore city preventing a clean sweep by the PML-N, said that the PTI banked on "the tsunami of support" generated by its charismatic leader but was stopped by the "Biradari" style of politics followed by the PML-N. Mahmood made it clear that Imran would not join Nawaz's government because it "stood against everything the PTI stood for" and that Imran would play the role of Opposition leader.
Mushahid Hussain of the PMLQ pointed out that the three Cs — Caste, Clan and Constituency — still decided the outcome of the elections and Nawaz was the master of such political calculations.
The result has put Imran in an invidious position of being too large to be ignored and too small to impact the federal government. The strife-torn KPK is one of the toughest of provinces to administer and would become a difficult laboratory for Imran to test his "Naya Pakistan" style of governance.
But he remains the darling of the middle class and the rich — something that Nawaz can ignore only at his peril in the days ahead.