M A I N N E W S
Army helicopter crashes at Siachen; pilots evacuated
Tribune News Service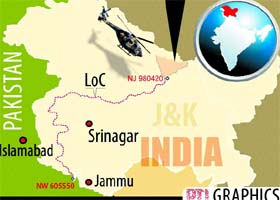 New Delhi, May 13
Two pilots of the Army Aviation Corps had a miraculous escape when a helicopter designed for operations at Siachen glacier crashed in icy conditions at an altitude of about 20,500 feet this morning.
The pilots, a Lieutenant Colonel and a Major, were evacuated and shifted to Chandigarh for a medical examination at the Army's Western Command hospital at Chandimandir.
The two pilots had flown in the indigenously produced Dhruv Mark-III copter from the Siachen base camp at Partapur to drop supplies at the 'Sonam post'. The pilots, one of whom fell into a crevasse, were rescued by Army troops for whom they had ferried supplies. Luckily, the copter did not roll down the heights or burst into flames. "The injuries to both the pilots are minor in nature," a senior Army official said. A court of Inquiry has been ordered.
Helicopters are used to maintain supplies to several posts on Siachen glacier. The Army has a dedicated aviation wing for the purpose. Dhruv Mark-III is produced by Hindustan Aeronautics Limited. The version of the twin-engine copters was first inducted into the force in 2011.
The Siachen glacier has been a flashpoint between India and Pakistan since 1984. The Army has a Brigade-level (5,000 troops) deployment at the glacier. Supplies have to be dropped by helicopters.
Army Chief may visit J-K on May 16
Army Chief General Bikram Singh is likely to visit Jammu and Kashmir on May 16
He had earlier visited the state on April 23 and 24 at the time of the Chinese intrusion and visited areas under the jurisdiction of the Nagrota-based 16 Corps
Sources said the Chief is expected to conduct a security review. He will be briefed by senior Army commanders