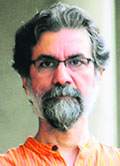 His cinema, his way
His films speak the language of revolutionaries and rather compellingly, forcefully bring forth the idea of revolution. Yet internationally acclaimed documentary filmmaker Sanjay Kak comes across as anything but fire-breathing or venom-spewing radical. In Chandigarh for the screening of his latest film Red Ant Dream, the man who constantly questions the way democracy works in India, in fact, does affirm faith in the Indian democracy, however, flawed it might be.
In black & white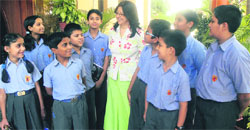 Anita Roy, while growing up in Buckinghamshire, often wondered how it would be like to work in India given her half-English half-Indian descent. Her work in the publishing industry brought her here with an intention to stay for a year or two. It's been eighteen years now and she has continued to work in India.
Comic caper


Repetitiveness can be more lethal than being executed in an electric chair! For an actor this clearly indicates the End. Surprisingly there are some people, actors in this context, who have the craft of bringing something different out of monotony each time. Manoj Pahwa has made us giggle as and when he has appeared on screen and this is what he has been doing for a long time
Creative platform
If you fancy collecting authentic art pieces that speak volumes about the artistís creative indent, itís about time you headed to Art Portfolio, Sector 9, Chandigarh, where Neepa Sharma, curator, exhibits a collection of art works of various artists from across the nation.



Different strokes: From colourful Rajasthan to serene Buddha, Art Portfolio offers something for every art lover. Photos: Manoj Mahajan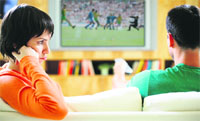 Problem in paradise
I am a 32-year-old woman happily married for the last eight years. But, I suddenly feel that my husband is not giving me enough attention. This is creating some problems between us. Can you suggest something?
Sweet success
Sindhis Sweets, which had been synonymous with the food scene of Chandigarh since it started operations in 1976, has added another outlet in the city.
Master Chef
An all-time tested and proved way of getting nutrition and taste is to go in for sprouts. No need of reaching out to bottles of those multivitamin tablets if you include sprouts regularly in your diet. Here, we give you the stepwise procedure to make sprouts and then a delicious soup thereafter.
Out of the mess
Mess induces stress. Do not fool yourself that an untidy room is acceptable because you know where things are. Do not rely on technology and the paperless effect to rescue you. We are constantly looking for excuses for being messy.
Get, set, floored...
Pergo, the global leaders in laminate flooring, has launched the Original Excellence collection which is designed for handling high wear public places or home environments with very high wear.