M A I N N E W S
32 firms to get notices on undeveloped coal blocks
Trouble for big fish Jindal Steel, NTPC, Tata Steel, SAIL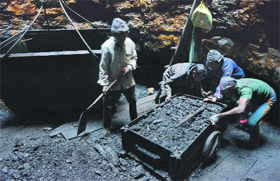 New Delhi, May 14
The Government is likely to issue show-cause notices to allocatees of 32 captive coal blocks, including Jindal Steel and Power, NTPC, Tata Steel and SAIL, for failing to develop the blocks on time.
The decision to crack down on the companies that were allocated the blocks was taken by the inter-ministerial group on May 1, sources said, adding the show-cause notices would be issued soon.
The developers would be given up to a month's time to respond as to why their blocks should not get cancelled owing to the delays in the development of their respective blocks.
Of the 32 blocks in which show cause notices were likely to be issued, four blocks belong to Congress MP Naveen Jindal-led Jindal Steel and Power's Utkal B1, Ramchandi Promotional Block, Amarkunda Murgadangal and Urtan North. Pakri Barwadih and Talaipalli blocks allocated to NTPC and North of Akrapal block given to Tata Steel for coal to liquid project also feature in the list.
Besides, three blocks — Brinda, Sasai and Meral — of Abhijeet Infrastructure, one block (Sitanala) of SAIL, one block (Tokisud North) of GVK Power (Goindwal Sahib) would also be issued notices, sources said. The crackdown is part of the government's exercise to ensure that the allocated blocks do not remain unproductive for long.
The proposed move is significant as last year, country's top auditor CAG, in a report, had estimated undue benefits to the tune of Rs 1.86 lakh crore to private players on account of coal blocks allocation to them without resorting to auction.
The captive coal block allocation issue has also taken political overtures. Besides, the CBI is also investigating the matter. — PTI
Cracking the whip
The crackdown is part of the government's exercise to ensure that allocated blocks do not remain unproductive for long
Developers would be given up to a month's time to respond as to why their blocks should not be cancelled
Last year, the government had issued show-cause notices to 58 coal block allocatees and deallocated blocks of some developers