M A I N N E W S
MiG-29K a game changer for Navy
Ajay Banerjee/TNS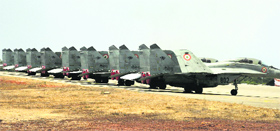 New Delhi, May 14
Indian Navy's first supersonic fighter MiG-29K will be a "game changer" as the country expands its sea-going fleet in line with its growing aspirations of a regional power controlling the security of the Indian Ocean while attempting to match pace with China.
The first lot of 18 MiG-29Ks was commissioned this week at Goa and will be based on the deck of the sea-borne aircraft carrier Admiral Gorshkov (renamed INS Vikramaditya), which is slated to arrive this yearend.
Once the MiG-29K is based on the deck of the carrier, it will enlarge the sweep, the speed and the reach of the naval air fleet like never before. In terms of technology, ability to fire at targets in air, at sea and on land, the new lot of MiG-29K is four times more potent than the present lot of deck-based fighter jet Sea Harrier, inducted over 30 years ago.
The aircraft has a range of 1,650 km and can be further extended as it can be refuelled mid-air by the IAF's IL-78. A real time working scenario will include an IL-78 flying close by — some few hundred miles away — to refuel the fighter when needed on a longer mission. It can fly in all weather conditions day or night and perform multiple roles.
New Delhi aims to induct 45 of these machines which will cost $ 2.4 billion (Rs 13,200 crore). A squadron each will be positioned on board INS Vikramaditya and the indigenously-built aircraft carrier slated for sea launch on August 12. "The MiG-29K will be a game changer in the Indian Ocean. It will allow us to fly longer distances and maintain a better vigil. The arc of the influence of the Indian Navy in the Indian Ocean region now stands increased and strengthened," Vice-Admiral Shekhar Sinha, Flag Officer Commanding Western Naval Command, said at Goa.
Russia has classified MiG-29K as a generation "4-Plus" fighter. It carries beyond visual range missiles, two kinds of anti-ship missiles, nine weapon stations, a Zhuk ME multi-mode radar, fly-by-wire technology and a helmet-mounted display for pilots.
It can hit targets on the ground without emitting a radar signal for the enemy planes or radars to pick.
The navigation suite includes a dual system of the GPS and GLONASS (Russian satellite based) updates.
The avionics are compatible with night vision goggles which pilots will wear for night flying. Its two engines — RD-33MK — are smokeless and have been tweaked for carrier operations that require great thrust to take off due to short ship-deck.
Test flying of the aircraft was completed in September last year on board INS Vikramaditya. At least 24 fighters can be based on the ship alongside eight Kamov 31 helicpoters.
Lethal firepower
The MiG-29K has a range of 1,650 km; can be refuelled mid-air by an IAF IL-78
It can hit targets on ground without emitting radar signal
Carries two types of anti-ship missiles, nine weapon stations and a Zhuk ME multi-mode radar
Offers helmet-mounted display and night-vision goggles to pilots
A squadron each will be positioned on board INS Vikramaditya and an indigenously-built aircraft carrier