M A I N N E W S
Sreesanth, 2 other Royals' players held for spot-fixing


11 bookies also arrested


All accused in 5-day police custody
Shaurya Karanbir Gurung
Tribune News Service
New Delhi, May 16
Three Rajasthan Royals players, including India paceman Sreesanth, were arrested on Thursday for their alleged involvement in spot-fixing in the Indian Premier League (IPL). The trio allegedly received upto Rs 60 lakh for conceding runs in a pre-determined over from bookies with possible Mumbai underworld links.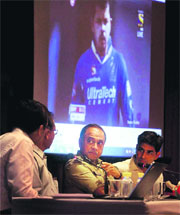 Delhi Police Commissioner Neeraj Kumar at a press conference in New Delhi on Thursday. — PTI
The special cell of the Delhi Police arrested Sreesanth and his teammates — Ajit Chandila and Ankeet Chavan — in Mumbai early this morning for indulging in spot-fixing in at least three IPL matches on May 5, 9 and 15. Eleven bookies have also been arrested from Delhi, Mumbai and Ahmedabad. The police are on the look-out for two more bookies. A Delhi court has sent the three players and all bookies to five-day police custody.
The players, who have been suspended by the BCCI, have been brought to Delhi and charged under Section 420 (cheating) and 120-B (criminal conspiracy). They are also likely to be booked under the stringent MCOCA, Maharashtra Control of Organised Crime Act, which could land them in jail without bail and their confessions before a DCP-level officer will be admissible in court.
A shocked BCCI promptly suspended the three players from the IPL and referred the matter to its disciplinary committee for further action. A top BCCI source indicated that the trio could be banned for life. Air India has suspended both Chandila and Chavan, who were employed under sports quota.
Delhi Police Commissioner Neeraj Kumar said teams had been working on the case since the start of the sixth edition of the IPL last month and is in possession of over 100 hours of conversation to nail the trio. A Delhi Police team camping in Mumbai moved in for the kill after having all of them together in the city last night, he said at a press conference. The involvement of others player has been ruled out.
The police played video-clips to show these players sent specific pre-decided signals during play to indicate to the bookies that the 'spot-fixing' of the over was on during Rajasthan Royals matches on May 5 (with Pune Warriors at Jaipur), May 9 (Kings XI at Mohali) and May 15 (Mumbai Indians at Mumbai) and runs were conceded by the bowlers, as per plan.
The police chief said teams were present in the stadium yesterday with their own recording equipment, in case players were to use a commercial break to send the signal. One of the arrested, Jiju Janardhan from Kannur (Kerala), is a close friend of Sreesanth and said to be the conduit between the bookies and Sreesanth, who allegedly received Rs 40 lakh.
The three players and others were produced before the Saket court Chief Metropolitan Magistrate Lokesh Kumar Sharma at his residence this evening and remanded to police custody for five days.
Police said preliminary raids in Mumbai, Delhi and Gurgaon led to recovery of 51 mobile phones, five laptops and one recording machine. Besides the players, the police arrested Chandresh Patel of Mumbai, Amit Kumar and Manan of Ahmedabad, while its team in Delhi picked up Deepak Kumar of Patiala and Rakesh of Delhi. Identities of others have been withheld, as the police suspect them of having links to the underworld.
Police sources said it tripped on the spot-fixing scandal while monitoring Mumbai underworld links with terrorists. Interestingly, Delhi Police Commissioner Neeraj Kumar had during his tenure in the CBI probed both the 1983 Mumbai blasts case and the cricket betting scandal.
How the players 'spot-fixed' T20 matches
May 5, Jaipur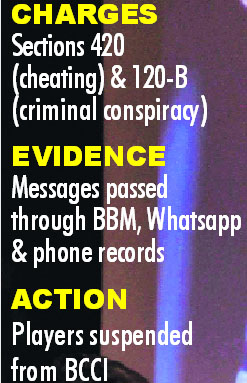 Pune vs Royals

Chandila was to pull up his shirt to indicate the manipulated over

Gave 14 runs in 2nd over, but forgot the signal; the bookies could not bet

Was given `20 lakh as advance. More was due. He had to return the money
May 9, Mohali
Kings XI vs Royals

Sreesanth was to put a towel in his trouser before his over. His friend Jiju Janardhan was in touch with the bookie

Puts in a towel in his trousers in second over

Gave 13 runs instead of the agreed 14
May 15, Mumbai
Mumbai vs Royals

Ankeet Chavan was to signal by turning his wristband before bowling "fixed" over

He allegedly agreed to give at least 13 runs in second over and was to get `60 lakh
Game Shame

The arrested players, all of Rajasthan Royals, had a deal with bookies to give a certain amount of runs in a particular over

Players were to give a "signal" about giving away runs before the start of an over

The signals included rotating watch, putting a towel in trousers, taking some time to look around the field, taking out locket or chain from shirt and lifting vest or shirt

The trio received up to `60 lakh for an over for giving away runs as per arrangements with bookies with possible underworld connections abroad