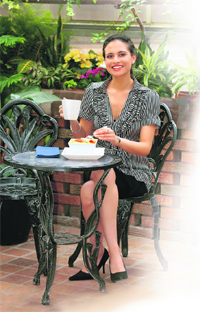 First and foremost, a coffee table is not necessarily a table where you sip a steaming cup of hot beverage. Of course, you can do that but a coffee table can also be used as a tea table, a cocktail table, or even to support a decorative, especially those glossy books that have been named after the coffee table.
Most modern houses usually have a coffee table which is not just an ornamental piece of furniture but is also functional, sturdy and durable. It can be elaborately carved or have a simple, understated styling. So it is important to consider the style of the room before buying a table. When buying a coffee table, take care that it blends seamlessly with the other furniture and furnishings.
Coffee tables can be unique in designs. Their shapes and contours can range from the stunning to the artistic and from one-of-a-kind piece to the bizarre. A sophisticated coffee table, decorated with books and artefacts, can be a standout piece of furniture in the drawing room and make a style statement on its own.
Contemporary and traditional
It does not require an interior designer to tell you that an ultra-chic coffee table would suit a contemporary home and a classic wooden or a marble-top one would best compliment a traditional home. The market is full of a variety of coffee tables. All one has to do is to spend some time shopping around, and one is sure to find a great piece that complements the home style.
Traditionally coffee tables were made of wood or glass with a wooden or a heavy metal frame. But these days, these can be made from any material that is used for making other furniture. However, there is nothing quite as versatile as a glass top coffee table. That's because glass offers an additional elegance and perfection. These beauties go with any decor and highlight any room.
Classy glass tops
A word of caution as far as glass tables are concerned. Unless these are made of thick glass, these can be delicate and fragile. However, tables made of toughened glass supported by a metallic frame can spell class. Besides creating a feeling of enhanced space, glass tops, when matched with elegant furniture, add a serious style point to the décor and beauty of a room.
However, the classic coffee table is still made from wood or its many variants like teak, oak, mahogany, walnut, eucalyptus, elm and a number of other varieties.
Interestingly, the shape, size and design of the coffee table can differ from room to room. The drawing room would require a delicate coffee table, which is decorated with books and arty objects and complements the sofa or other seating arrangement it is paired with.
A family living room would need a sturdier coffee table that can withstand rough handling. It could also have storage space like drawers to put knick knacks like spoons, knives and forks. etc.
Shapes and designs
The shape of the table can vary from design to design. Apart from the 18-inch tall rectangle, square and circular shapes, coffee tables these days come in an array of contours like oval, oblong, spiral, circular, hexagonal, pentagonal, trapezoid, octagon, elliptical and tables with special pie-crust detailing.
A number of modern designers are stretching the limits of their creativity and shaping coffee tables into over-the-top forms. It is not uncommon to see tables shaped like giant guitars or iPhones, or even like a Rubik's Cube or a chess board. A new trend is to have a live aquarium under a glass top coffee table.
The most popular contemporary coffee tables feature clean lines and minimalist design. The traditional ones are usually made from hardwood like teak or mahogany and have ornate details and could be elaborately carved with a high gloss finish.
However, while choosing a right coffee table for your drawing or living room, you would have to keep in mind the style of the room. For it to be a statement piece, it would have to blend with the furniture and décor of the room.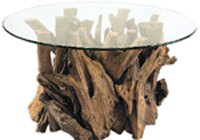 DRIFTWOOD
This coffee table is gorgeous and makes an amazing conversation piece at any party. The base of the Driftwood Coffee Table by Uttermost Company is crafted from natural unfinished teak which supports a round clear glass top. It is a great centrepiece, which will suit a modern home.
price: Rs 81,675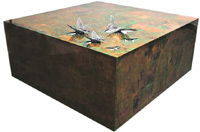 FLY FARM
Designed by Delhi-based designers Gautam Dhawan, this amazing Fly Farm coffee table is made of copper processed over a period of time to egress the rusted look. The three butterflies perched on the table are made by laser cutting in stainless steel, which gives the table a 3-D effect.
price: Rs 3 lakh onwards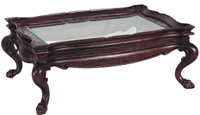 FRENCH STYLE INLAYED
This inlay French-styled coffee table by Chizzle has been intricately carved. It has a walnut veneer and is made of the most exquisite Burma Teak. The coffee table with cabriole legs is a standout piece and brings a certain character to the room. It fits well in any traditional setup.
price: Rs 82,000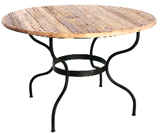 IDUS
This table is a part of the Charcoal Pret Furniture Project by Delhi-based Idus Design Studio. Other tables in the series come in different sizes and shapes ranging from rectangular, square, spiral, circular and elliptical. Whatever the shape, each table has a distinctive style and stands apart.
price: Rs 50,000 onwards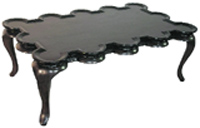 DIOR
With its fresh interpretation of the classic pie-crust detailing, the stunning Dior coffee table can work with a number of different styles. The scalloped edges, its understated traditional lines and its versatile brown-to-black finish add a touch of sophistication to any room in the house.
price: Rs 60,500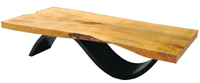 BRASILIA
This stunning solid wood, live edge Brasilia coffee table, made with a single slab of reclaimed mango wood and veneered base, is crafted by highly skilled woodworkers in Brazil, who use wood salvaged from fallen trees. The coffee table by Rotsen Furniture has a veneered base.
price: Rs 2.31 lakh
POPPY COFFEE TABLE
This amazing coffee table from Delhi-based Exhibit D is made of the finest Burma teak and seasoned over a period of time to achieve this marvelous look. The accentuated legs are made of stainless steel polished to high glass-like finish accentuating the beauty of the table.
price: Rs 1.5 lakh onwards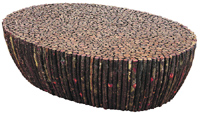 PICO
Made of natural vine stuck together with a special adhesive, this special block coffee table is available at the World Bazaar on the Delhi-Gurgaon road. This all-natural table would add a touch of green and make a wonderful addition as a centerpiece of a living room.
price: Rs 35,000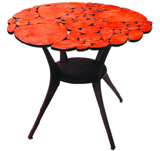 WOODEN CIRCLES
This coffee table, comprising small wooden circles, has been made by celebrated German designer Michael Arras. It is a contemporary assemblage of shapes in high-grade birch plywood. Each segment is connected to the others with strong joints making it a solid whole.
price: Rs 16,500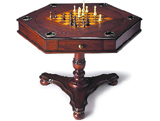 GAME BOARD
Sip a steaming cup of coffee while playing a game of chess on this hexagonal games-cum-coffee table by Butler Furniture. The reversible game board plays chess on one side while the other side is laminated green felt for playing cards. It has three drawers with brass knobs.
price: Rs 61,600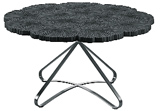 Bouquet
The Bouquet coffee table by renowned Philippines designer Kenneth Cobonpue is an elegant piece of art with floral pattern that will create an illusion of an uneven surface when seen from afar. Its top is made of fibre glass-reinforced polymer and it has a stainless steel base.
price: Rs 68,475