Summer sojourn
Puneetinder Kaur Sidhu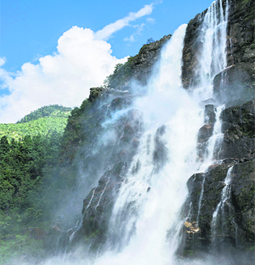 Indian-born Sir Cliff Richard had no experience of the famed Indian summer when he sang Summer Holiday, "....We're going where the sun shines brightly, we're going where the sea is blue, we've all seen it on the movies, now let's see if it's true"! For us residents of the North Indian plains, you will agree, summer is the least favourite time of year. We are already plotting our escape from the soaring temperatures and dust-laden hot winds. Blessed with the Himalayas in the North and North-East, and the Nilgiri biosphere in the South, the many hill stations that dot these ranges remain ever popular. Endowed with amenable climate throughout the year, and with a provision of all manner of activity, a mountain escape is your best bet for rest, recreation and rejuvenation. As you ready your travel plans, we decided to provide our readers with a much-needed headstart.
---
Getaway
Wanderful adventures
Taru Bahl
Dehradun and its adjoining areas have something for everyone — religious tourists as well as adventure enthusiasts
Come summer and you want to head to cooler climes. Dehradun is a good option. If you make it your base, you can see half a dozen places, each a destination in itself. From temples to trekking trails, noisy touristy mall roads to quiet unspoilt picnic spots, there is much to choose from. With the magnificent Himalayas, Shivalik Hills, the sacred Ganges and Yamuna rivers, the valley can be explored at leisure. There is Haridwar, Mussoorie, Tehri, Rishikesh, Dhanaulti, Chamba and Chakrata, among others which you can pack in as independent day trips or spend a weekend, depending on your time and interest.
Valley vignettes
Taru Bahl
After years of militancy and turmoil in the state, Kashmir's reputation as a tourist destination is being revived. Many tourists are venturing out once again to the picturesque Gulmarg, Sonmarg and Pahalgam
For most of us, images of Srinagar evoke the era of the 1960s in Bollywood when Shammi Kapoor serenaded his lady loves on houseboats, shikaras and the Sal lake. From being such a preferred destination with filmmakers, honeymooners and all those in search of "heaven on earth", the Valley turned silent. Today, after many decades, it has once again started buzzing with activity. From a trickle of bold tourists, braving the taut and curfew-ridden environment, tourist groups have finally started venturing once again to Gulmarg, Sonmarg and Pahalgam.
---
Greenscape
The jungle house
Renu Manish Sinha
The setting is almost worthy of Rudyard Kipling's The Jungle Book. An offbeat eco-resort near Jaipur helps you translate into reality the childhood fantasy of living in a tree house
It is up in the air .....but safe'.......This may be an oft-heard sentence during a cricket commentary but to apply it to a resort is something that just defies your imagination. Tucked away in the beautiful Syari Valley at Nature Farms, the Tree House Resort, as the name suggests, is literally perched on tree tops. Forty km from Jaipur on the Delhi-Jaipur highway, it is the world's largest resort of its kind.
Mowgli days
Renu Manish Sinha
Come summer vacations and the trees in the lawn beckoned the school-weary kids. The mango trees in the backyard offered a perfect getaway in the long summer afternoons. The more enterprising of us climbed these perches armed with a few books and goodies to enjoy a longer stay. A few enterprising hoteliers have tried to encash this fairy tale for grown-ups who have not the let the child within them die.
---
Globetrotter
Continental collage
Winging across time and space, we savour the wonders of five continents and bring back picturesque memories
by Hugh & Colleen Gantzer
Salman Khan discovered Cuba long after we did. His Ek Tha Tiger had been shot in that beautiful Caribbean republic. It was a great choice. Cuba is warm, welcoming and bubbling with life. Beyond the huge picture windows of our room in the Havana Riviera hotel, Cuba's capital spread in the highrises and broad roads of a sanitised Mumbai. A blue-eyed blonde girl and a statuesque ebony man strolled hand-in-hand on the marina, her head on his shoulder, cocooned in their own world.
---
Browser
Get booked
Vibha Sharma
"Travel brings power and love back into your life" — Rumi
Travelogues instigate and lure some to plan, pack and plunge into yet another adventurous travel while they offer glimpses of the world out there for the ones who don't want to forego the comfortable confines of their homes.

Where travellers bond
Pooja Dadwal
Kunzum, a hangout in Hauz Khas Village, is a tourists' delight
In the kitsch, ever-popular by-lanes of Hauz Khas Village, New Delhi, there are myriad options for lounging around. The Village turns you into an infidel of sorts, if with nothing else then a night's furtive rendezvous with each place to tick off your bucket list.
Quenching the thirst for wanderlust
Pooja Dadwal
A passionate rover spills the beans on her sightseeing and talks about the joy of navigating different countries it was as a child, while reading books and following her favourite characters as they traipsed around the world, that she first dreamt of travelling. But it was decades later, while in her early twenties, that she swore to have a well-stamped passport before she hit the big three-O. And get it stamped, she did.
Blogs for the cutting-edge tourist
Vibha Sharma
Blogging is a boon for those who travel and chronicle their experiences as well as those who want to follow them
While travelogues have enjoyed a sincere fan following ever since, travel blogs have managed to create their own niche readership too. Well-chronicled and updated blogs have a clear edge over the rest of the resources in a very significant aspect that the information is almost live on them.
---
Cinemascope
Bollywood panorama
Seema Sachdeva
From song sequences to movies in exotic foreign locales, the Indian film industry has been a window to the world for the average cinegoer. Many countries are now tying up with filmmakers to showcase their land and tap the potential Indian market
---
Note: Some regular columns are being withheld
this week due to this special issue on travel